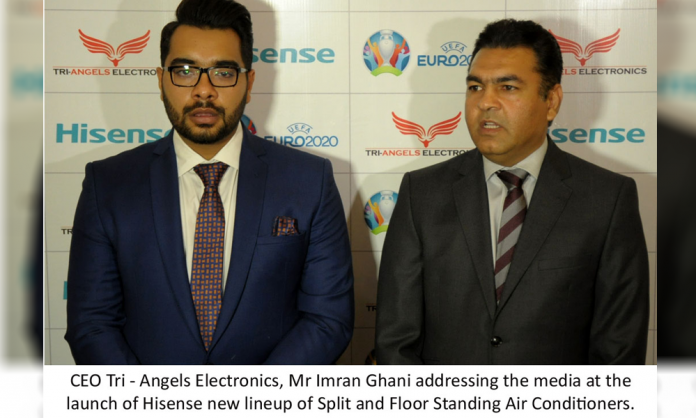 Tri-Angles Electronics (Pvt.) Ltd. – the official manufacturers and distributors of Hisense LED TV in Pakistan today unveiled their new lineup of Split type and Floor Standing type Air Conditioners in Pakistan.
Tri-Angels started with a small-scale unit and launched a state-of-the-art LED TV manufacturing facility in the year 2018 in Karachi. In their short tenure of operations, the company has grown into a fully established network of branches with over 210 employees and 400+ dealers across the country.
The company has invested heavily in the LED TV and Split Air Conditioner segment over these years in the field of production, resource mobilization, and distribution. This has also earned Top of Mind awareness for Hisense amongst the Pakistani consumers known for its quality in the ULED TV segment as well as the high-end Laser TV 100" inch.
Hisense Appliances globally is very well known for its Air Conditioner lineup including Split AC, dehumidifier, portable AC and smart AC. Hisense is one of the leading Air Conditioning brands in China with exports to over 130 countries.
Speaking on this occasion, CEO Tri-Angels Electronics Mr. Imran Ghani said that Pakistani consumers seek cost-effective solutions in electronic appliances which is why we have introduced 60% and up to 75% energy savings Split AC in the market which will fulfill their expectations.
Moreover, we will also offer Floor Standing AC which is ideal for corporate and institutions as the design, quality and aesthetics of our product will fit perfectly for their respective environment. He further added that with the technical and training support of Hisense, this will further augment companies' R&D capabilities and meet the market's demand for the best quality and features hence benefiting the end-consumer.
The newly launched factory which is based in Karachi is compliant to international standards and fulfills all the requirements of engineering quality products. With intelligent and high technology manufacturing system, Hisense AC factory will help to promote Hisense to be of the leading AC brand in Pakistan in the near future.
This is all made possible with the support of Hisense Chinese engineers who have implemented International quality standards and firm production guidelines.