If there's one person who has the ability to land themselves in uncharted waters just by what saying things or doing some unknowingly, it's none other than Hira Mani.
Just last week, Hira Mani made some inappropriate statements while roaming the US.  She called Americans phatoos (cowards) for practicing self-isolation and she was slammed for that certain move.
The Meray Paas Tum Ho actress is under fire again for a particular post.
Hira took to Instagram to share the announcement that she has tested for COVID-19 and the results came back negative in typical Hira fashion – she shared a picture cuddling up to husband Salman Saqib, both of them wearing surgical masks. "Stay home and be safe," she wrote.
After that, it wasn't long before social media took notice and schooled the actress on the precise meaning and point of self-isolation.
One user stated that Hira Mani never misses a chance to seek attention from the public  
Hira Mani ki jahalat bari pyari cheez hai, attention seeking ko bhi tou samjho ❤ pic.twitter.com/ZVGNdK817v

— 𝘗𝘢𝘳𝘢𝘤𝘩𝘢 (@ThatsARipper) March 22, 2020
One user asked the actress that what exactly does she want from life? 
Ye chahti kya hai apni zindagy sae pic.twitter.com/qn9AoRXTsn

— Soha (@SohaTazz) March 22, 2020
People also began to question her sanity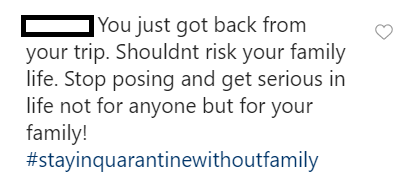 While celebs like Shahzad Roy, Mahira Khan and Ahmed Ali Butt are vocal about staying indoors and staying safe – actors like Hira Mani are entirely negating the entire point of COVID 19.
With over 800 cases of the deadly virus in Pakistan, it's high time our celebs speak up and spread hope amongst the masses.
What do you all think about Hira Mani's latest post? Does this make any sense to you?