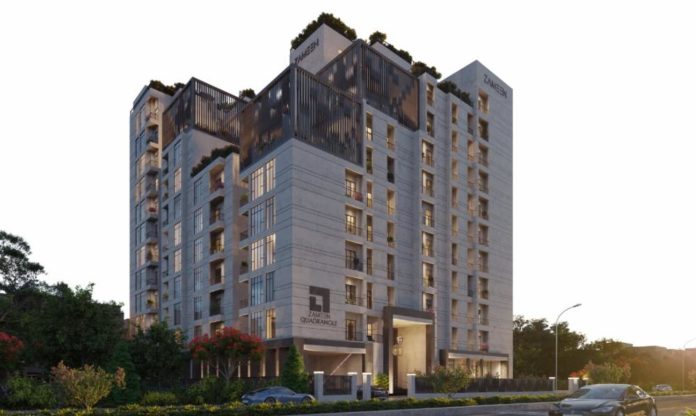 The word "unique" is perhaps not sufficient to describe the notable architecture, immaculate design, and array of amenities offered at Zameen Quadrangle — a G+11 building in the heart of Lahore that has captivated genuine buyers and investors alike. Boasting linear simplicity, this innovative apartment building is the highly anticipated flagship venture of Zameen Developments, which is the development wing of Emerging Markets Property Group (EMPG) and one of the most reliable names in the real estate industry of Pakistan.
This progressive vertical development addresses the ever-growing need for upscale apartments and promises a community-centric in Lahore. Comprising 11 floors of apartments and two basements, the building focuses on providing its residents with a healthy and socially inclusive lifestyle while ensuring utmost privacy, security, and comfort.
From its outstanding location to its impressive inventory, every single feature of Zameen Quadrangle highlights the unique expertise of the in-house team of DESIGNS by Zameen Developments — the architecture and design studio of the developer.
Let's explore some of the most noteworthy factors that make Zameen Quadrangle an extraordinary apartment project in Lahore.
A Prime Location That Is Hard to Beat 
Strategically located on the Zafar Ali Road opposite the Lahore Gymkhana golf course, Zameen Quadrangle is the latest addition to the thriving urban landscape of Gulberg – the epicenter of high-rise developments in the city. The central location offers highly accessible infrastructure and favorable green spaces, which contributes to its popularity as one of the top areas for buying property in Lahore.
The multipurpose neighborhood is connected to all major arteries of the metropolis through Main Boulevard, Jail Road, Canal Bank Road, and Mall Road. Moreover, some of the most renowned residential projects, commercial complexes, corporate towers, medical centres, educational institutes, shopping malls, sports grounds, restaurants, and recreational venues in the city are situated in this vicinity.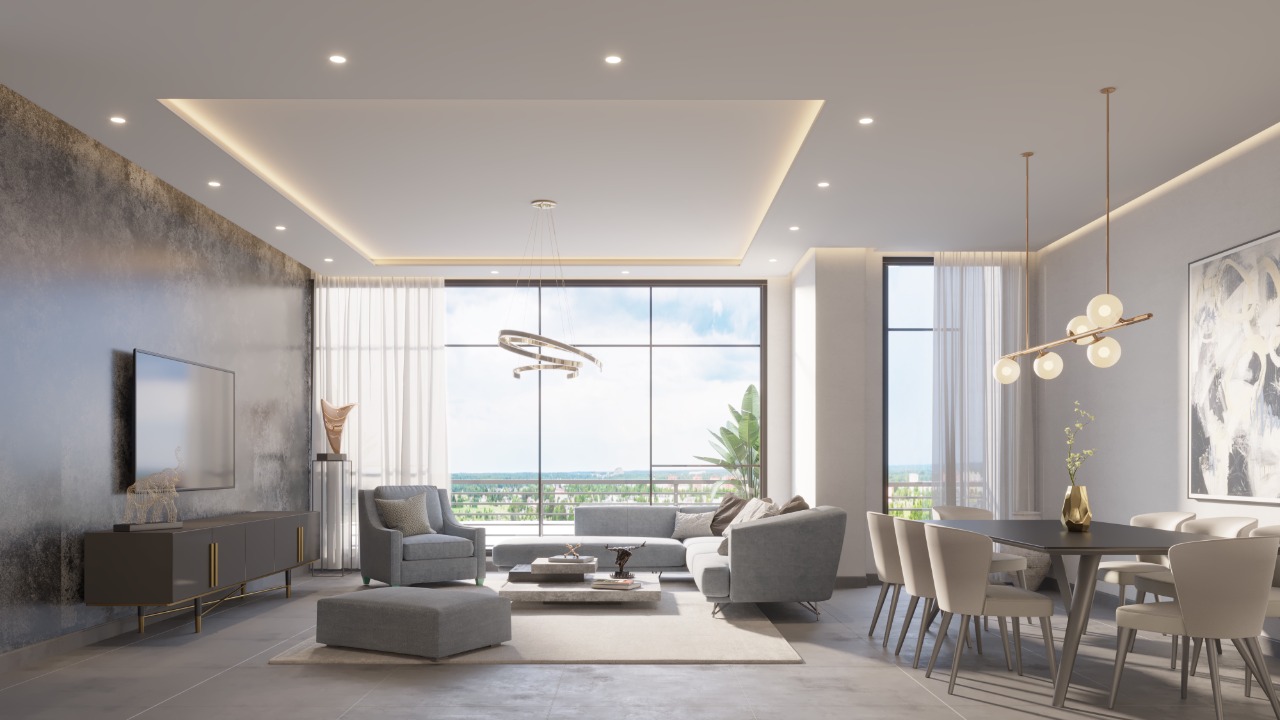 In addition to that, the rising real estate prices and growing demand for apartments in Gulberg are among the most notable reasons that make Zameen Quadrangle a one-of-a-kind project.
A Minimalist Design Concept
The smart design concept of Zameen Quadrangle makes it a refreshing addition to the skyline of Lahore. The project capitalises on the power of minimalism by featuring symmetrical lines and geometrical accents. The stepped form, green spaces, and modular floorplans of the apartment building display its distinct design palette.
Due to its iconic location, Zameen Quadrangle has been designed in a way that each apartment, regardless of its orientation, enjoys a picturesque view of the gorgeous vicinity. The penthouse units especially boast panoramic skyline views, with lap pools that offer tranquility even at the 11th floor.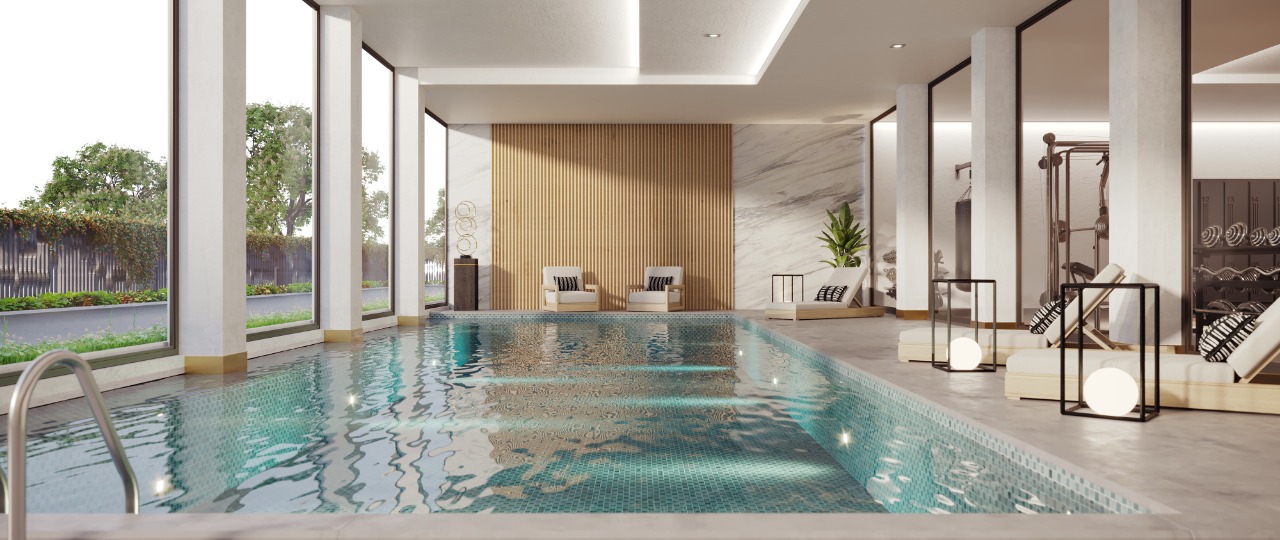 The stunning interior of Zameen Quadrangle is envisioned with Scandinavian design principals in mind. The minimal theme focuses a simple yet functional design with quality finishings and carefully curated features.
A Community-Centric Lifestyle
Boasting a striking exterior, the residential building has been structured around a central courtyard called "The Quad," which seeks to promote a community-focused lifestyle by providing residents with a shared interactive space.
Another distinctive feature of the building is its outdoor community terraces, positioned on various floors with direct access from internal corridors. These beautiful recreational areas provide the residents of Zameen Quadrangle with shared spaces where they can indulge in a variety of social activities, like organising a barbecue, hosting a get-together, conducting/attending fitness classes, and so much more. The community terraces will also serve as open-air theatres and play areas for children, encouraging a community-centric lifestyle that isn't usually associated with apartment living in metropolitan areas.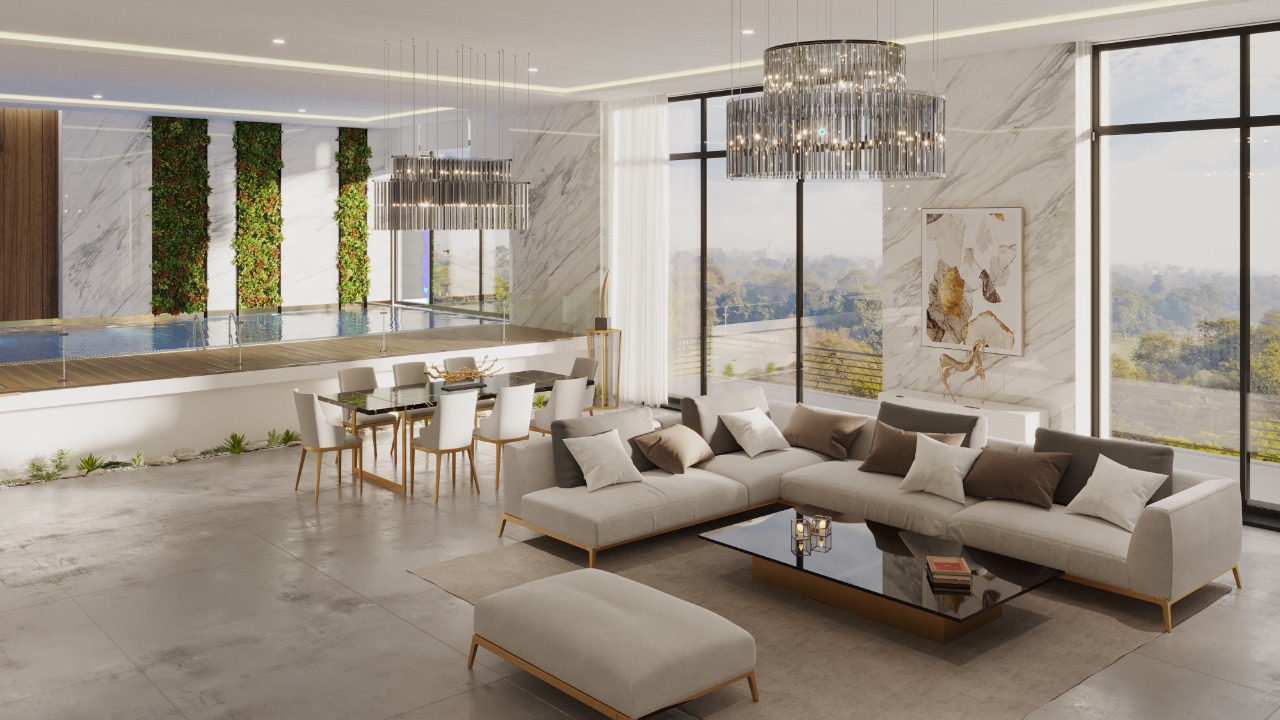 High-End Facilities
An epitome of form and functionality, the top-tier facilities offered at Zameen Quadrangle are hard to beat.
While the central courtyard and community terraces are undoubtedly the most significant design elements, other features such as a double-height lobby and dedicated car parking also stand out as the top reason to invest in this project.
Those living in Zameen Quadrangle will also be able a swimming pool, well-equipped gymnasium, spa & sauna, mini-cinema, residents' lounge, residents' café, advanced security measures, outdoor seating area, and more.
Impressive Inventory and High Return on Investment 
Zameen Quadrangle offers domestic and overseas investors a wide variety of investment options in one of the most premium localities of Lahore.
The project features spacious 1-bedroom, 2-bedroom, and 3-bedroom apartments, along with a limited number of 4-bedroom penthouses. The residential units in Zameen Quadrangle are available on a simple instalment plan spanning over 36 months.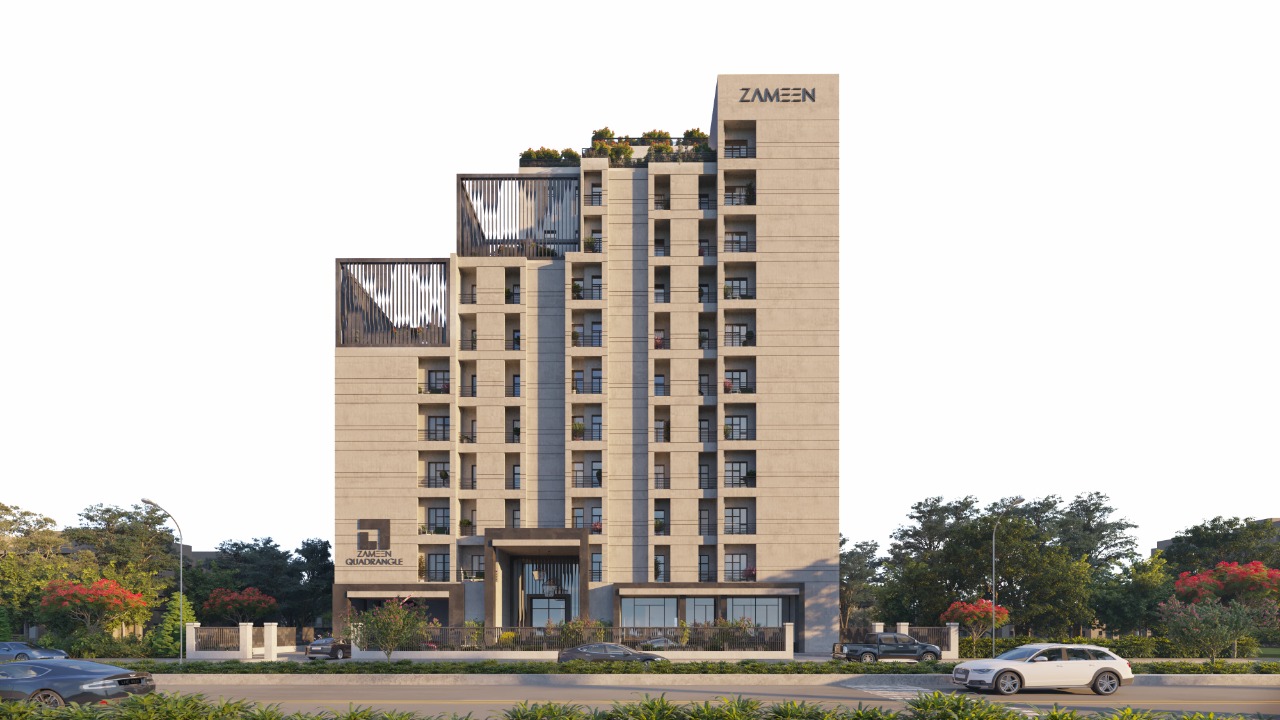 The high standards of construction combined with all the contextual design features and quality facilities ensure significant capital gains in the medium term. Moreover, a rental yield of up to 7% is expected annually from this project.
It is also pertinent to mention that Zameen Quadrangle has been approved by the Lahore Development Authority (LDA) along with being registered with the Federal Board of Revenue (FBR), which essentially means the buyers and investors will be exempt from disclosing their source of income while booking a unit in this highly sought-after project.