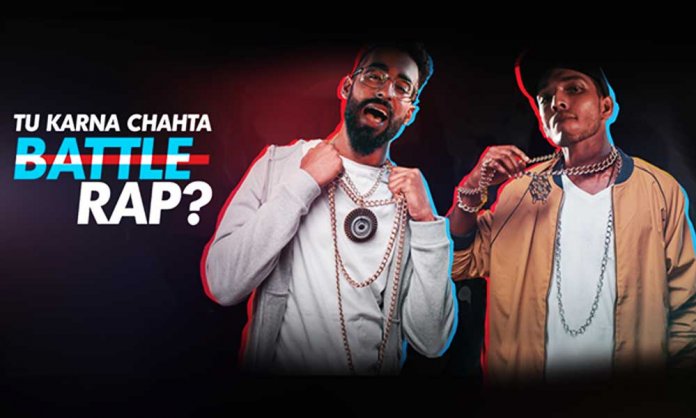 Young Stunners won the hearts of the youth with popular hits like Burger-e-Karachi, Laam se Chaura, Maila Majnu, and many more.
The boys earned name and fame in a very short span of time. However, when the rappers announced that they are parting ways, social media felt the tremors.
YouTuber, Irfan Junejo ( who also happens to be a fan of the rap band ) stepped in and told the boys to solve their problems with a battle – but of another type! He proposed a rap battle to settle things once and for all.
Pepsi Black took on the initiative to bring together the young influencers for the ultimate rap challenge in which Irfan Junejo collaborated with the Young Stunners for the first time on-screen.
The campaign video starts with some shots of the Kot Lakhpat Railway Station, Lahore and we catch a glimpse of Junejo gulping down some Pepsi Black to start the battle.
The Young Stunners then take each other on face-to-face. Talha Anjum starts off by saying 'Tu sure hai? Tu karna chahta hai battle rap! Kha jata rappers mein, need me a Pepsi Black, back to back yeh train unstoppable, rap ek phenomena and mein hun phenomenal'.
To this, Younus replies; 'One in a billion koi mukabla nahin janta hai, bache yeh lafz nahi chanta hai, tera har ek banda mujhe janta hai, legend manta hai, tu bhalay karak logon ke liye, andar se dhancha hai'.
Together the boys called out all the rappers in Pakistan who think they have what it takes to be the next sensation to express their stories through their own words. The challenge is for everyone, from the youth to the ladies.
Pepsi has been one of the leading brands in Pakistan to support music and Pepsi Black now provides a platform for talented individuals to make a name for themselves.
The winner of  #PepsiRapBattle will get a music video collaboration worth Rs. 1,000,000.
Rappers just need to upload their original rap video (minimum 30 seconds) on Facebook/Twitter/Instagram account with the hashtag #PepsiRapBattle and tag Pepsi Pakistan.
The settings of the video or the accounts must be made public. Shortlisted entries will be uploaded on Pepsi Pakistan's handles and the entry that receives the most likes will be selected as the winner.
Rappers from All Around Pakistan are Looking for the Next Big Thing!
Xpolymer Dar rap/hip-hop artist is also one of Pakistan's most recognized rappers. His work has been recognized on various different platforms, including the track Power Di Game which was a part of Mahira Khan's Verna.
He is also the founder of Rap Engineers a Hip Hop/Rap band consisting of Xpolymer Dar, Maddy Khan, Yaruq Malik and Ghauri. Rap Engineers has also come a long way setting a strong foothold in the world of rap and hip hop.
Another phenomenal artist contributing at large is Adil Omar. Adil is a recording artist, rapper, record producer, singer and songwriter from Islamabad who produced his debut album in 2018. Since then, he has brought the genre a long way from there with hits like Mastery and Mission.
Pepsi Black has brought together and has united all the biggest names in Pakistan. The platform is a chance for emerging artists to give it their best shot and rise to fame with a prestigious name backing them.
Make sure to upload your entry by 18th October for a shot at winning the rap battle as well as a chance at a music video collaboration worth PKR 1,000,000!
So, tu karna chahta battle rap? It's time to get your rap on!