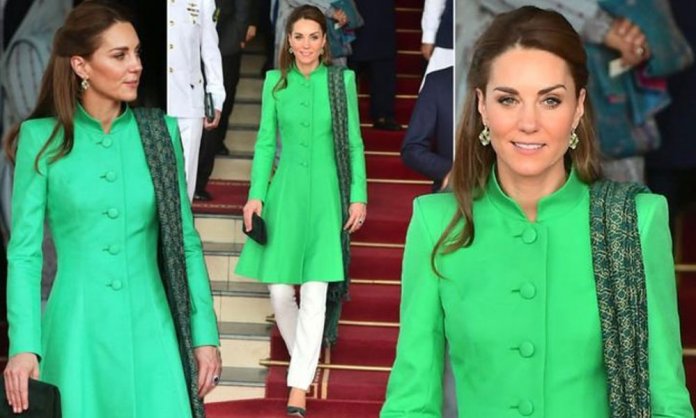 Prince William and Kate Middleton's royal visit to Pakistan has been eagerly awaited and warmly welcomed.
The Duke and Duchess of Cambridge are in our nation for the first time making us super excited and proud.
Kate has always been admired as a fashion icon and of course everyone eagerly awaited her wardrobe.
The celebrations have been highly festive but what has been more endearing is how the lovely Kate Middleton carried herself from the night she landed, donning a beautiful dress that reminded us of the beautiful Princess Diana.
All her outfits have been so carefully chosen keeping in mind the Pakistani culture, traditions and even the national colour!
Kate's outfit while meeting the Prime Minister, Imran Khan, was also highly appreciated and adored. The graceful princess wore a bright green coat with a high collar and large buttons, cream trousers and carried a classy poly-silk green dupatta with gold screen print and silk thread tassels on each side.
The Duchess matched this with a small dark green clutch bag that she carried in her hand and earrings to match. She chose to wear her hair tied up and carried a natural makeup look with some mascara and clear lipgloss.
But here's a secret, we know how you can also pull-off this royal look and dazzle everyone around.
The green tunic was designed by Catherine Walker tunic paired with a pair of white pants from Maheen Khan, earrings from Zeen and a patterned green scarf from Satrangi Bonanza.
Here's a more detailed breakdown for those who would like to know more about how to replicate Kate Middleton royal ensemble.
1. Coatdress with Large Buttons
The beautiful shade of green caught everyone's eyes! Catherine Walker's iconic tunic became the talk of the town. The long coat was a perfect fit for Middleton and she carried it really well.
Although not many local brands have such coat-dresses available, a good tailor can always be persuaded to follow the pattern.
PS you can always experiment with buttons and other final touches to add even more charm.
Gorgeous in green! Duchess Kate looked amazing in her second outfit of the day in Pakistan: a green Catherine Walker tunic, white pants from Maheen Khan and a patterned green scarf from Satrangi! #RoyaltourPakistan #RoyalVisitPakistan
(Photo: Getty Images) pic.twitter.com/t6xjfq8Al1
— HELLO! Canada (@HelloCanada) October 15, 2019
2. White/Beige Trousers
White trousers are literally available anywhere and everywhere. However, you can drop the white and opt for a beautiful light beige dobby-trouser with an elegant print to match the pacheri (dupatta) from Satrangi. You can even opt for the brown jacquard style trouser. If you prefer something plain yet eye-catching, then the gray/white dobby-trouser is for you.
3. Printed Dupatta
Last but not least, the final item you need for your royal look to come together is a stole or dupatta. The gorgeous emerald chiffon dupatta with gold screen-print that Kate Middleton wore is available at Bonanza Satrangi stores and online.
Are you ready to mesmerize in this enchanting look?