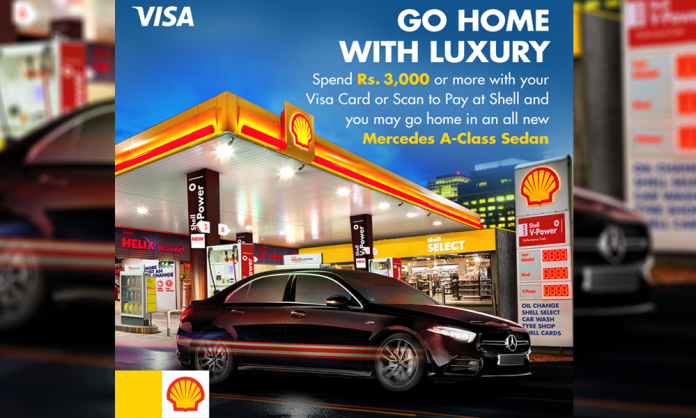 525 views
It is not every day when you get a chance to take home a brand new Mercedes A-Class Sedan!
In order to make your dream come true, one of the country's leading integrated energy brands, Shell Pakistan is partnering with Visa, a leading financial services company.
You can qualify to win and take this luxury ride home with three simple steps:
In order to qualify to take the new ride home, you simply have to pay the bill at selective Shell Forecourts via any Visa Card, and you will be eligible to participate.
So easy right?!
For that, you can purchase fuel, lubricants, even shop for food and other goodies at Shell Select, and make the most out of other services such as the Shell Carwash.
When you spend more than Rs. 3,000 you will automatically become a part of the lucky draw.
However, if you want to take home this luxury then hurry as this campaign commenced on November 1st, 2019 and will end on January 31st, 2020.
This campaign is being run at a few selected sites only, the details of which can be found if you, click here.
Furthermore, it is also important for participants to keep in mind that McDonald's is not part of this campaign. Spending more than Rs. 3,000 at McDonald's will not be counted. All other Alliance partners on Shell Pakistan sites are included in this promotion.
PS. There is no limit to entries, which means the more you spend, the higher the chances you have of taking a Mercedes A-Class Sedan home.
Shell is always rewarding its customers on their sites through exclusive promotions.
Make the most of it before someone else does!
So what are you waiting for? Bring this sweet ride home with you today before someone else does!