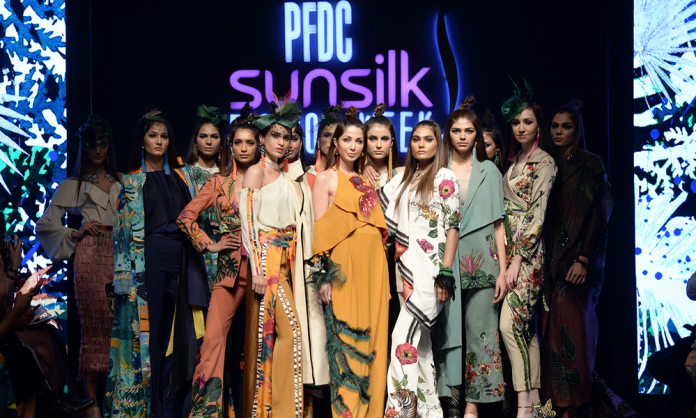 Pakistan's avant-garde prêt-à-porter platform, Pakistan Fashion Design Council (PFDC) Sunsilk Fashion Week 2018 brought a joie de vivre gala to Lahore, with style being celebrated like never before!
Showcasing a new glossy venue and a refined format, the three-day long event hosted a glitzy lineup of rising and veteran designers.
With the right razzmatazz and the perfect pomp, the fashion week opened with a handful of collections that bowled us over with their exquisiteness.
Beginning with a High-Fashion Punch!
Successfully managing to raise the fashion quotient, the extraordinaire Sana Maskatiya's 'Color Dash' was the highlight of the debut day.
Characterizing the contemporary women, Maskatiya's designs were a funky blend of corporate and trendy style statements.
However, it was the young designer Hira Ali's  Luxury Prét collection "Woman is Future" that became the talk of the town for its bold take on women empowerment.
Showcasing savvy slogans along with her line-up, Ali has smartly seized the social media spotlight for her out-of-the-box approach.
Ensembles by Debutante 'Arjumand Bano' were not really groundbreaking but exhibited extreme sartorial potential.
And the collection of up and coming designer, Hussain Rehar too were applaudable!
Also introduced this year was the PEL Craft/Design show with GOLD by Reama Malik showcasing 4-piece capsule collections by  Akif Mahmood, Hamza Bokhari, Shahroz Tariq and Zonia Anwaar.
A Heavy Rain of High Street & Luxury Pret on Day Two
Injecting some more sass to the fashion week were the solo shows by Nida Azwer and Saira Rizwan.
In an ostentatious display of tie-dyes and preppy patterns, Saira Rizwan's upbeat collection 'Tribal Bijoux' single-handedly stole the limelight.
Meanwhile, Nida Azwer's Mughal Court theme left us in awe.
The collection was the epitome of elegance and was oozing with royalty, brandishing eastern silhouettes and subtle shades.
Making some cheeky style statements on the ramp was the new menswear brand 'Rici Melion' with his 'Uleysses' collection. Spotted on the runway was a clown, a king with a stuffed tiger on his shoulder and a dramatic prankster to name a few.
Though the collection was quite eccentric, it managed to attract all the eyeballs it wanted.
Making some vibrant, saucy noise on the runway was Saira Shakira with her neon based collection  'Canvas'.
Creating a summer romance with chikan fabric on the ramp was Image with Dance Of Spring.
But it was Shireen Hasan that brew up a viridescent storm as she flaunted the art of block printing to the fullest.
The Finale was all About HSY!
With names like Zonia Anwaar, Rang Rasiya, So Kamal, KHAS and Rouge, day 3 was an impactful one with HSY shaking things up in the end.
The courtier's 'Knight' Collection had created a massive buzz on social media prior to the showcase.
Enunciating the fact that women are their own saviors, HSY's sleek line-up delved in hues of black and gold, with dazzling sequins and delicate adornments.
Bringing in the cool element to catwalk was Omar Farooq's Republic.
Inspired by Japanese manga comic art, the chic collection rolled out casual jackets, hoodies, sweatshirts and track pants.
Fahad Hussayn made us fall in love with drapes and gowns all over again with  'The Gilded Wastelands' collection.
A dose of Pablo Picasso was splashed out on the ramp with Mona Imran's striking imageries and eye-catching geometrical accessories.
PFDC Sunsilk Fashion 2018 surely added a plethora of trendsetting moments to the bona fide fashion industry of Pakistan. The extravaganza that began with profusions of glamor came to an equally glamorous end.
Stay tuned to Brandsynario for more updates!