The brand evaluation consultancy Brand Finance enlists five steps to evaluate a nation's brand value. These elements are determining brand strength, royalty rate, revenues, discount rate, and brand valuation. Through this process, they calculated and consequently released the nation brands ranking for the year 2020.
We found it pertinent to share the findings, considering the year 2020 was affected by COVID, leading to the worldwide lockdown. As a result, commercial activities and not-so-commercial activities equally were halted. In such a condition, it is essential to know what happened to the nations' brand value worldwide and who emerged in the top ten. The idea, of course, is to put a dollar value on countries' brand image.
World's Most Valuable Nation Brands 2020
Below you can find a list of the top ten most valuable nation brands.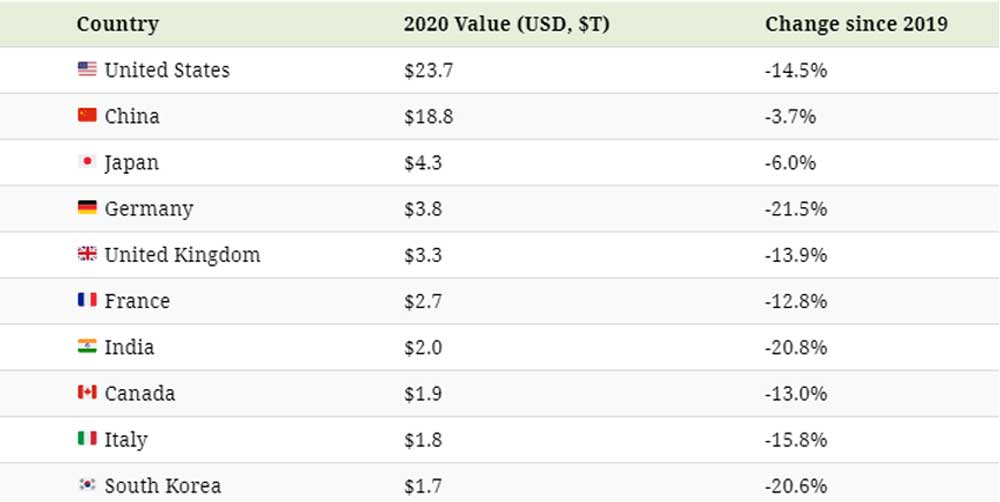 In 2018, when the list was released, the USA was valued at more than 25 billion dollars. But in 2020, the value stands at 23.7 billion dollars. As compared to 2019 only, the brand value has gone down by 14.5 percent. At the end of the top ten nation brands is South Korea which saw its value at $1.7 billion. And South Korea, too, witnessed a downward trajectory compared to 2019. The change for them was a negative 20.6 percent.
One thing consistent about the entire list was that all ten countries had seen a negative change compared to 2019. It doesn't say outright that this was due to COVID but considering everyone suffered due to the pandemic, it is a point favoring our hypothesis.
India that occupied the 9th position in 2018 now seats at 7th, so even though covid affected the country, their progress in 2019 must-have helped them retain their place in the top 10.
Strongest Nation
David Haigh, the CEO of Brand Finance, commented on Germany being the strongest nation:
"Germany remains a beacon of stability both across the continent and globally. As Merkel prepares to step down as Chancellor in 2021 – a position she has held since 2005 – Germany will be hoping that its history of reliable leadership during times of increasing polarisation across Europe will stand it in good stead in the coming year as the nation works towards a post-COVID recovery."
Pakistan's brand value was 53. This should be a reminder for us to do better and rise in the ranks.
Stay tuned to Brandsynario for the latest news and updates