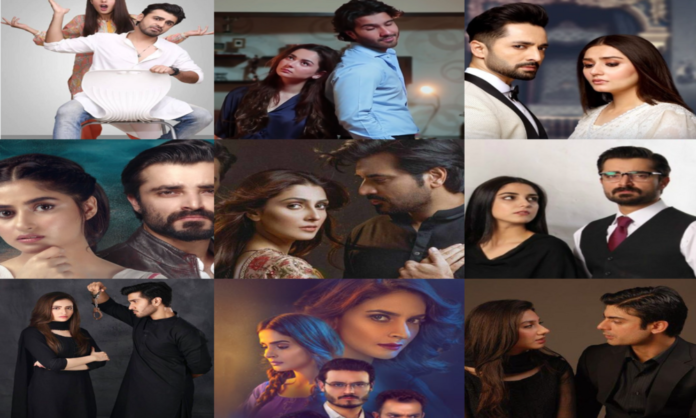 The Pakistani TV drama industry has produced many masterpieces over the years. As much as the drama series were liked, there were some OSTs that were liked even more. The audience showed so much love to those OSTs that they're still fan favorites to this date. Along with the older audience, the youngsters have also fallen in love with them. Here's a list of the 10 most loved OSTs if you want to update your playlists.
1. Humsafar
Humsafar is a 2011 Pakistani drama telenovela based on the novel of the same name by Farhat Ishtiaq and directed by Sarmad Sultan Khoosat. The OST was sung by the talented Quratulain Baloch and was composed by Naseer Turabi and Waqar Ali. The video alone has got 30M+ views on Youtube.
2. Mann Mayal 
Mann Mayal is a Pakistani romantic drama television series that aired on Hum TV on 25 January. The OST soon became a fan favorite. The official Youtube video got over 20M+ views.  This again was sung by Quratulain Baloch. Shuja Haider not only just sang the song but also wrote and composed it.
3. Baaghi 
Baaghi (Rebel) is a drama serial that premiered on Urdu 1 on July 27th of 2017. Shuja Haider wrote and sang this song. Soon, it gained popularity with over 20M+ views on Youtube.
4. Khaani 
Khaani (Feminine version of Khan) is a 2017 Pakistani drama television series premiered on 6 November 2017. With a whopping 95M+ views on Youtube, this OST is still a favorite of the younger audience. The infamous Rahat Fateh Ali sang this piece.
5. O Rangreza
This popular OST was written by Saji Gul and sung by Sahir Ali Bagga. O Rangreza is a Pakistani romantic drama serial that aired on 28th July 2017. The music video has gotten over 15M+ views on YouTube.
6.  Alif
Alif is a 2019 Pakistani spiritual-romantic TV series created by Sana Shahnawaz and Samina Humayun Saeed. The OST was sung by Momina Mustehsan and Shuja Haider. The drama and the OST both received an immense amount of love from the fans.
7. Suno Chanda 
Suno Chanda is a 2018 Pakistani Ramadan special romantic comedy series. The singer was Farhan Saeed along with Naveed Nashad was his composer. The OST hit around 20M+ views on Youtube.
8. Meray Paas Tum Ho 
It is a 2019 Pakistani romantic drama television series produced by Humayun Saeed and Shahzad Nasib. The extremely popular Pakistani drama was loved globally and so was it's OST. Rahat Fateh Ali sang and composed the song. It got 150M+ views on Youtube alone.
9. Ishqiya
Ishqiya is a 2020 Pakistani television series that launched it first episode on 3rd February. It's OST is a very popular OST, even now. It was sung, written, composed and directed by the singer super star Asim Azhar. The video gained more than 20M+ views and also earned an OST award.
10. Kesi Teri Khudgarzi
This is last on our list because it is the most recent and popular drama OST. Kaisi Teri Khudgarzi is a Pakistani television drama series produced by Abdullah Seja. The OST received over 25M+ views across Youtube. It was sung by Rahat Fateh Ali Khan feat. Sehar Gul Khan.
This list includes many top hit dramas of the Lollywood TV industry. Although, we had to leave some out because this list is based on the number of views. But, honorable mentions are Digest Writer, Ehd e Wafa, Hum Kahan Ke Sachay Thay, Mere Humsafar and many more. 
Which ones are your favorites? Let us know in the comments below!
Stay tuned to Brandsynario for more updates!