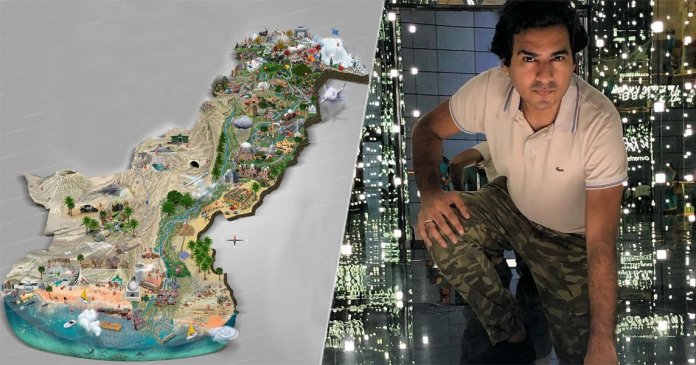 In case you're planning a Pakistan tour but are clueless about the must-visit destinations, fret not since help is here!
Where to travel to in Pakistan
Graphic designer and artist Assam (Pakistani Travel Blogger) has designed a very resourceful tourism map of Pakistan that you can refer to while planning your next trip.
Pakistan has great potential when it comes to tourism and Assam had noticed that at a very early age in life.
Pakistan Tourist Map
The map highlights highways and road networks connecting major cities and tourist attractions all across the country.
"Since my childhood to adult age I had been hearing from general people about my country Pakistan, that it has huge potential, including 5 kind of weathers, 6 kind of beaches, agricultural lands, highest mountains, roof of the world, oldest civilization, all the minerals and resources, heritage and different cultures.
So, I decided to create a picture of those voices to showcase Pakistan to the world, what we actually have, and how many undiscovered areas we still have to explore," Assam revealed the inspiration and drive behind the idea.
Speaking of the recent visa policies and Pakistan's plan to promote tourism, he added that he thought this map would really be useful for those who love to travel.
When I was looking for Pakistan tourist map I found nothing helpful or interesting, so I decided to take the initiative and it took 8 consecutive days to create this High resolution Pakistan Tourist Attraction Map which represent overall beauty of Pakistan."
Here is a list of the 71 breath-taking locations in Pakistan that are a must-visit!
1- Khunjrab Pass (Pak – China Border)
2- Atabad Lake – Hunza KKH
3- Baltit Fort – Hunza Valley – (8th CE)
4- K2 – (2nd Highest Mountain in the World)
5- K2 Base Camp
6- Shangrila Skardu
7- Deosai Plains – Roof of the World
8- Sharda Peeth Temple – (724 CE)
9- Neelum Valley Kashmir
10- Saif ul Malook & Ansoo (Tear) Lake
11- Shandur Polo Festival
12- Nanga parbat – (9th Hightest Mountain)
13- Kalash Valley
14- Ski Resort Malam Jaba
15- Tea Plantation Shinkiari
16- Buddha Swat – (7th Century)
17- Khanpur Dam – Sajikot Waterfalls
18- Khyber Pass – Peshawar
19- Taxila Stupa – (2nd Century CE)
20- Pakistan Monument
21- Muzaffarabad – Kashmir
22- Naluchi Bridge
23- Centaurus Mall – Islamabad
24- Faisal Mosque – Islamabad
25- Katas Raj Temple – Potohar Plateau
26- Khewra Salt Mines
27- Qila Rohtas Jehlum – (16th Century)
28- Hiran Minar Sheikhupura – (17th CE)
29- Kartarpur Sahib Temple
30- Shahi Qila & Badshahi Mosque
31- Minar-e-Pakistan Lahore
32- Clock Tower – Faisalabad
33- Amb Sharif Temple – Khushab
34- Power Plant
35- Harappa Civilization (3300 BCE)
36- The Cathedral of the Holy Redeemer
37- Shah Rukn e Alam Tomb – (1320 CE.)
38- Noor Palace Bhawalpur
39- Uch Sharif – Bhawalpur – (12th CE)
40- Qila Derawar – (9th Century)
41- Cholistan Desert
42- Mohenjo daro (Built in 2500 BCE)
43- Ziarat – Quaid Azam's Residency
44- Hanna Lake – Quetta
45- Phir Ghaib Waterfalls
46- Quetta City
47- Riqo Diq Copper Mines
48- Mud Volcanos
49- Golden Desert
50- Moola Chotok – Khuzdar District
51- Ranikot Qila (Fort) – (8th CE)
52- Clock Tower Hyderabad
53- Bootar Laker
54- Makli Graveyard – (400 Years Old)
55- Gori Temple – (1375 CE)
56- Nagarparkar Temple – (1376 CE)
57- Coal Mines
58- Frear Hall Karachi
59- Kimari Fish Harbour
60- Clifton Beach
61- Hawksbay Beach
62- Paradise Point & French Beach
63- Princess of Hope
64- Sphinix of Pakistan
65- Hangol National Park
66- Cave City
67- Gwadar City
68- Astola Island Gwadar
69- Churna Island – Karachi
70- Bolan Pass
71- Parachnar
Do you find this map useful? Comment and let us know.
Stay tuned to Brandsynario for more news and updates.