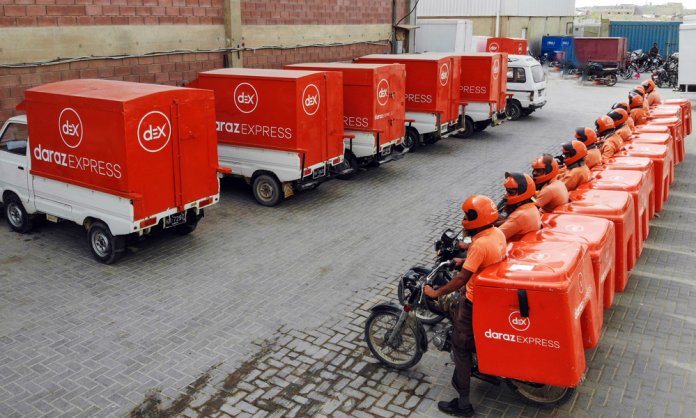 Pakistan's e-commerce industry is one of the fastest growing in the South Asian region. In the past few years,  the market size of the industry has grown significantly and changed the way customers interact with – and pay – businesses. 
Despite this accelerate growth, the e-commerce industry in Pakistan still faces certain challenges; mainly in terms of logistics and infrastructure. Daraz, the leading e-commerce platform in the country, has invested in infrastructure and logistics development over the last few years and found creative solutions to these challenges.
Primarily, the company has built a reliable, digitised logistics model. Secondly, Daraz has invested in an integrated infrastructure ecosystem. Lastly, through initiatives such as Daraz University and DExports, the company has worked actively to empower local sellers.
1. Webbing Out Pakistan's Biggest e-Commerce Logistics Company
Last year, the company launched Daraz Express (DEX) – Pakistan's first logistics company designed specifically for e-commerce operations. 
Running 24 hours with over 1,000 riders – DEX Heroes – behind its success rate of delivering 30,000 packages in a day, through DEX, Daraz has been able to improve customer service tremendously. From efficient pickups to deliveries, Daraz's fulfillment rate has reduced by 1 to 2 days which means happier customers and more business.
2. An Integrated Infrastructure Ecosystem For Relief
Having a logistics system is just half of the equation, the other half is an integrated infrastructure ecosystem big enough to help. Daraz has established 47 hubs in 19 cities including Sarghoda, Jhelum, Hyderabad, Multan, Karachi, Lahore and Islamabad. 
These hubs are called Daraz Shops. A Daraz Shop is the most convenient stop for both customers and sellers to carry out their business. Daraz Shop is the point where customers can return packages and from where DEX employees can pick up packages from sellers and deliver them to customers.
On the other hand, to make the experience even more comfortable for the customer, Daraz representatives present at the shops can assist customers in returning orders, and browsing the Daraz catalogue to place orders..
In addition to this, four digitized warehouses have been set up in Karachi, Lahore, and Islamabad covering 200,000 sq feet and they store 30% of the top-selling products. These digitised warehouses help ensure that product quality is up to mark and that order fulfillment is swift.
3. Empowering sellers
Daraz strives to ensure that local manufacturers and business owners have the knowledge they need to build their online retail stores. Through Daraz University, the platform educates 2,000 new sellers every month on e-commerce operations.
Through intensive tutorials new and existing sellers are taught how to package their products, how to price and how to ensure product quality meets the mark. So far, over 20,000 sellers have been educated through Daraz University. 
In collaboration with Alibaba, Daraz has launched DExports – a program that will give local sellers the opportunity to list their products on Alibaba's B2B website, thus, enabling them to reach a larger, global customer base.
Daraz is providing complete support to local exporters to help them capitalise on this opportunity in the form of free-of-cost trainings, knowledge sharing and offering a full ecosystem of payments and logistics support. 
4. Expanding Across Borders With Global Collections
Daraz wants to ensure its customers find exactly what they have been looking for without having to go anywhere else. This also requires being able to meet and keep up with constant change in customer demands.
With Global Collections, customers now have a vast market at their disposal with more brands, and more high-quality items to choose from that are not easily available in local markets. Daraz has an assorment of 2 million products parked under Global Collections.
Thus, by focusing and investing in logistics, infrastructure and customer demands, Daraz has pushed Pakistan's e-Commerce industry forward and has helped it become more ready than ever for the digital era.