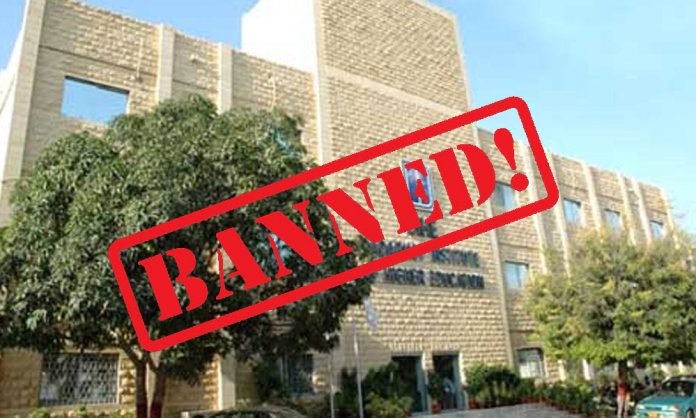 Higher Education Commission (HEC) has banned admissions in two major universities of because of their irregular operations, mismanagement and setting up of illegal campuses.
The Universities Rusticated By HEC are:
Dadabhoy Institute of Higher Education
Sindh Institute of Management And Technology.
Reason For The Ban
Apparently, these institutes violated standards for quality set by the educational watch-dog. HEC was receiving complaints of irregularities in educational and administrative affairs
Hence, these institutes cannot permit any student an admission in their unapproved and unaccredited faculties, departments or programmes. Degrees of banned programmes will not be recognized and attested by HEC.
Earlier, HEC has banned admissions in four universities hailing from Karachi, Azad Jammu and Kashmir and Lahore because of their irregular operations and mismanagement.
Following were the universities earlier banned by HEC:
Preston Institute of Management Sciences and Technology (PIMSAT) in Karachi,
Global Institute in Lahore
Imperial College of Business Studies in Lahore
Al-Khair University in Azad Jammu and Kashmir.
Beware: Do not get admission in the institutions stated below pic.twitter.com/fdcv83km8J

— HEC Pakistan (@hecpkofficial) July 23, 2017
Parents and students have been warned not to take admissions in these institutes because of the faults discovered in their management.