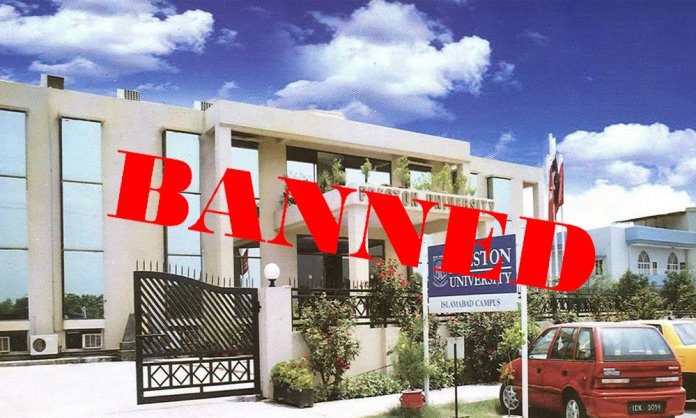 In its latest movie, HEC has banned Preston University and its campuses, including Kohat Campus, Islamabad Campus, Peshawar Campus, Lahore Campus, Karachi Campus (CCMIT Malir), Karachi Campus (North Nazimabad) and Karachi Campus (Main) from taking new admissions.
Apparently, the varsity has  remained unsuccessful to meet the  quality criteria set by the Commission, reports Pakistan today
HEC has disapproved Preston University as various cases were reported of academic irregularities, mismanagement. Also, it did not abide by mandatory standards as set by the authority.
No new student will be allowed to be admitted in the university until Preston works on the failures in its management.
HEC has asked the Preston University to set up hostels and dorms at the main campus, appoint a registrar, controller examination, a treasurer on a permanent basis and improve its quality enhancement cell
Already, HEC has banned Preston's Bachelor of Science (BS) and Masters of Sciences (MS) program. 
Do not take admission in these universities or their affiliated institutes. Find list of recognized institutions @ https://t.co/Lolt5hTrzI pic.twitter.com/NMKOePV2di

— HEC Pakistan (@hecpkofficial) August 11, 2017
A list of recognized institutions, as well as accredited programmes, is present on the HEC website and it doesn't include Preston University.
PUBLIC SECTOR UNIVERSITIES/DEGREE AWARDING INSTITUTIONS – Campuses
Total: 80
Federal Territory
S. No
University/DAI
Campuses Location
1
COMSATS Institute of Information Technology,  Islamabad
Abbottabad
Attock
Lahore
Wah
Vehari
Sahiwal
2
Federal Urdu University of Arts, Sciences & Technology, Islamabad
Karachi
3
National University of Modern Language, Islamabad
Lahore
Faisalabad
Peshawar
Multan
Karachi
Hyderabad
Quetta
4
National College of Arts, Lahore
Rawalpindi
5
Bahria University, Islamabad
Karachi
Lahore
6
Air University, Islamabad
Multan
7
Virtual University of Pakistan, Lahore
Islamabad
Rawalpindi
DG Khan
Faisalabad
Gujranwala
Multan
Sahiwal
Badin
Ghotki
Karachi
Pashin
Peshawar
Muzaffargarh
Hyderabad
Jhelum
8
Karakorum International University, Gilgit Baltistan
Sakardu
Punjab
S. No
University/DAI
Campuses Location
1
University of Engineering and Technology (UET), Lahore
Kala shah Kako
Faisalabad
Rachna College,  Gujranwala
Narrowal
2
University of Punjab, Lahore
Gujranwala
Jehlum
3
Lahore College of Women University, Lahore
Jhang
4
University of Education Lahore
Okara
DG Khan
Faisalabad
Joharabad
Multan
Vehari
Attock
5
University of Veterinary & Animal Sciences, Lahore
Patoki
Jhang
6
Bahauddin Zakarai University, Multan
Sahiwal
Layyah
7
Islamia University Bahawalpur
Rahim Yar Khan
Bahawalnagar
8
UET Taxila
Chakwal
9
Agriculture University Faisalabad
Toba Tek Singh
Depalpur
Burewala
10
University of Gujrat, Gujrat
Lahore
Sialkot
Narrowal
11.
Government College University, Faisalabad
Layyah
Sahiwal
12.
University of Sargodha, Sargodha
Lahore
Bhakkar
Mandi Bahauddin
Gujranwala
Faisalabad (Women)
Lyallpur
Mianwali
Sindh
S. No
University/DAI
Campuses Location
1
University of Sindh, Jamshoro
Mirpur Khas
Badin
Dadu
2
Mehran University of Engineering & Technology, Jamshoro
Khairpur
3
Shah Abdul Latif University, Khairpur
Shikarpur
4
Quaid-i-Awan University of Engineering & Technology, Nawabshah
Larkana
Khyber Pakhtunkhwa
S. No
University/DAI
Campuses Location
1
UET Peshawar
Abbottabad
Mardan
Bannu
Jalozai
Kohat
2
Shaheed Benazir Bhutto University, Sheringal, District Dir (Upper)
Wari
PRIVATE SECTOR UNIVERSITIES/DEGREE AWARDING INSTITUTES – Campuses
Total: 31
S. No
University/DAI
Campuses Location
1
University of Lahore, Lahore
Islamabad
Sargodha
Gujrat
2
Preston University, Kohat
Islamabad
Peshawar
Lahore
3
SZABIST, Karachi
Islamabad
Larkana
Dubai
Hyderabad
4
Sarhad University of Science & Information Technology, Peshawar (Distance Education Centres)
Comwave Institute of                Information Technology, F-8 Markaz, Islamabad.
National Textile Institute (NTI), G-6/3, Islamabad
Islamabad Federal College (IFC), Plaza# 154, St.No#30, I&T Center, G-9/1, Islamabad.
College of Business & Technologies, Comsats University Road, Mandian, Abbottabad.
Comwave Institute of Sciences & I.T Opposite New China Market, Near Noor Surgical Hospital, D-Stop, Abbottabad Road, Haripur.
Abbott Group of Colleges,
Adjacent Zarai Taraqiati Bank, P.O Jhangi, Mansehra Road,Abbottabad.
Abbott Group of Colleges,
Opposite WAPDA Grid Station, Near Dhangri Chowk, Shahra-E-Resham, Mansehra.
Comwave Institute of Sciences & I.T, Near Sultan Plaza, Supply Area, Mansehra Road, Abbottabad.
ANSI Institute of Education, Science &Technology (AIMS), Nowshera Road, Mardan.
Institute of Education & Management Sciences,
University Road, D.I. Khan
Bannu Institute of Education, Science &Technology (BEST),
Kacharey Road, Bannu.
Al Noor College of Engineering & Technology, Rawalpindi Road, Near Bypass Bridge, Opposite U.E.T Campus, Kohat.
Swabi Engineering College of Technology (SECT),
Ahmadabad, Shah Mansoor, Swabi.
College of Business & I.T,
Khaar Road, Opposite Saddam Petrol Pump,
College Colony, Batkhela.
Chakdara Polytechnic Institute, G.T Road, Amir Abad, Chakdara Distt: Dir (L)
Dir College of Science & Technology, Saddo, Timergara, Dir Lower.
Saidu Polytechnic Institute,
Park Avenue, College Colony, Saidu Sharif, Swat.
Indus Polytechnic Institute,
G.T Road, Odigram, Swat.
5
ISRA University, Hyderabad
Islamabad
Karachi
6
IQRA University, Karachi
Islamabad
Quetta
7
National University of Computer and Emerging Sciences, Islamabad (FAST)
Lahore
Karachi
Peshawar
Chiniot, Faisalabad
8
Abasyn University, Peshawar
Islamabad
9
Hamdard University, Karachi
Islamabad (Subject to the renewal of NOC in December 31, 2017)
10
National College of Business Administration & Economics, Lahore
Multan
Bahawalpur
Rahim Yar Khan
11
Qurtuba University of Science and Information Technology, Dera Ismail Khan
Peshawar
12
University of Management & Technology, Lahore
Sialkot
13
The Riphah International University, Rawalpindi
Lahore
Faisalabad
14
Al-Hamd Islamic University, Quetta
Islamabad
15
Greenwich University, Karachi
Mauritius
16
Hajvery University, Lahore
Sheikhupura
17
Aga Khan University, Karachi
Institute for Study of Muslim Civilisations, London
The students of Preston university has been warned that HEC will not attest their degrees or certificates.
Source: Pakistan Today