The North Nazimabad neighborhood of Karachi is now being overseen by a supercool, stylish, individual. With his mixed ancestry, Hazim Bangwar is setting out on a mission to transform Pakistan's bureaucracy. The 30-year-old police officer is from a well-to-do family; his mother is of Iraqi heritage, and his father had previously worked as a police deputy inspector general (DIG). Bangwar had no trouble being amazing and in charge, it might be said. The bureaucrat who recently relocated from New York is eager to help Karachi's North Nazimabad. 
"North Nazimabad, it's a privilege to serve you as your new Assistant Commissioner," Bangwar recently tweeted.
North Nazimabad, it's a privilege to serve you as your new Assistant Commissioner. pic.twitter.com/MG0yc6YosY

— Hazim Bangwar (@HazimBangwar) February 1, 2023
Many people are curious to learn more about Bangwar because he is so drastically different in all aspects from his peers. Luckily, we have done our homework. Bangwar, who was born in Karachi on December 30, 1993, relocated to New York and attended Midwood High School. His mother, Feroze Akbar, is from Iraq and is a professional architect. In Pakistan, his father, Ali Akbar Bangwar, held the position of DIG. Bangwar spent six years in London after relocating there, where he completed his first degree in fashion design and marketing from AIU London and a second degree in law from a London-area university.
Bangwar spent his free time in the studios while studying in London, where Evan Rogers heard his demos before sending them to Interscope Records, where Jay Brown, an A&R executive, was one of the first to hear them. Interscope Records CEO Jimmy Lovine signed a two-year contract with Bangwar after hearing the demo.
Achievements 
Hazim released "One Man Army" his debut mixtape for Interscope Records, in 2013 with the lead single "Run Em" which went on to be used by a number of other artists, including Havana Brown. Dwayne Michael Carter, Jr. made Bangwar an offer to sign on with Young Money Entertainment as a singer/songwriter after learning that he had written songs for artists like Jessie J, Future, Ciara, Juelz, T-Pain, Jason Derulo, and Nicki Minaj.
Bangwar released "Haram" his debut single, in November 2019. It peaked at #5 in India, #5 in Egypt, #1 in Hungary, and #5 in South Korea. Bangwar became the first Pakistani singer to do so with an English song, making history in the process. Bangwar's second song, "Hell Ya" which he released in February 2020, debuted at number one in Ghana, as well as in France, South Korea, Austria, and South Korea. He released "Tujhko Bhulaya" his debut Urdu song, in 2021. The accomplished singer also attended major music awards in Hollywood.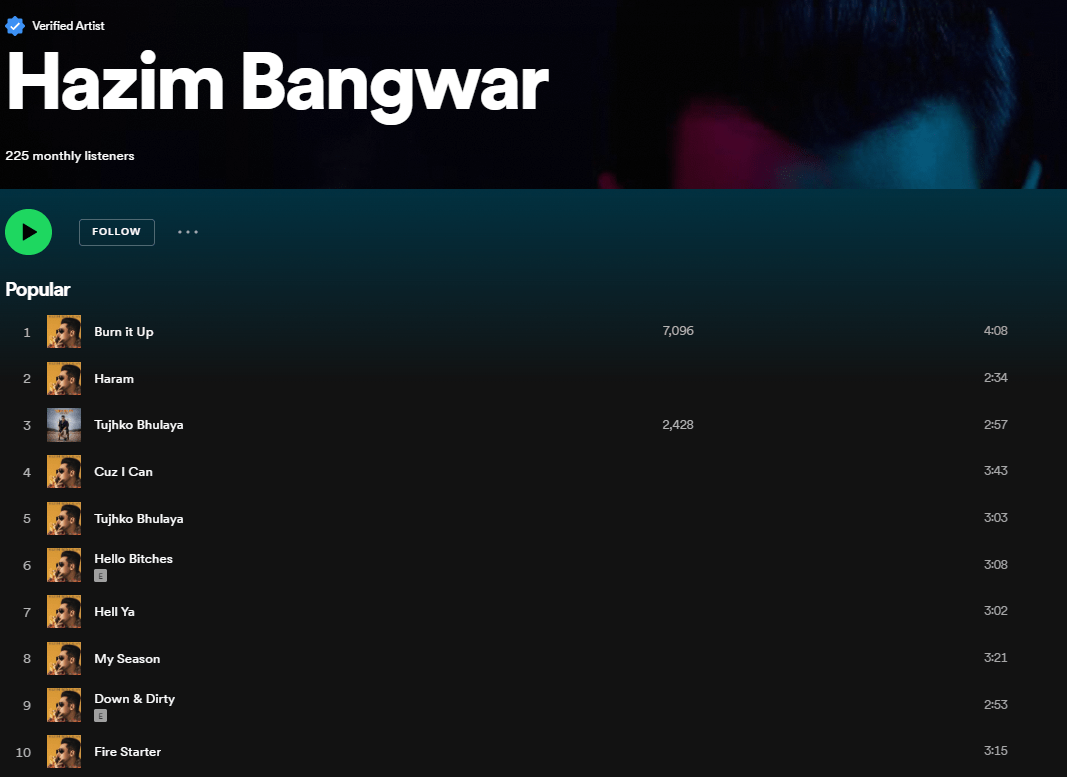 Bangwar passed the SPSC exam after arriving back in Pakistan and was hired as a PMS Officer. He is the Karachi Central Assistant Commissioner at the moment.
What do you think about this? Let us know in the comments below.
Stay tuned to Brandsynario for more news and updates.