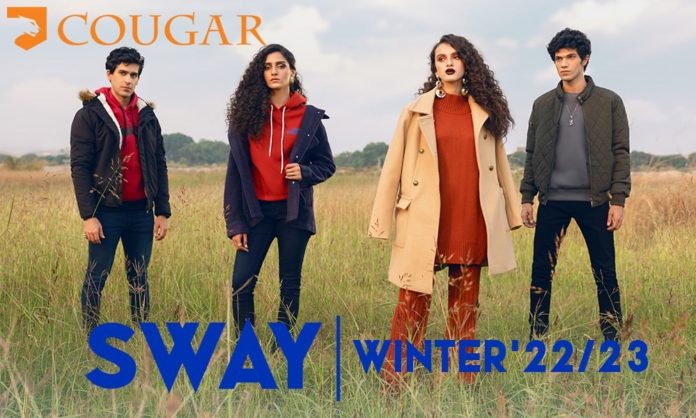 The chilly breezes of winter spread a sense of coziness in people and everyone begins to wear their winter clothes. On the other hand, people also wish to look stylish while layering warm and heavy coats or jackets. Keeping this in mind, Cougar presents its artfully crafted kicky and high-class winter collection to let you flaunt your classy look to welcome the season. It's time to get high on style with Winter Collection 2022-2023 for carefree and pleasant looks.
Get ready Peeps! There is good news for you that Cougar has recently launched its new winter collection named SWAY.
Casual Menswear
It's high time to upgrade your wardrobe with men's winter wear from Cougar to keep yourself stylish and cool. The western casual menswear is sure to surprise everyone with delight. The reason is that it covers everything for you; jackets, sweatshirts, hoodies, sweaters, jeans, trousers, casual shirts, t-shirts, polo shirts, etc. This winter collection for men in Pakistan is just amazing as it holds exclusive winter clothes to amp up your looks for late-night campfires, tea parties, or hangouts.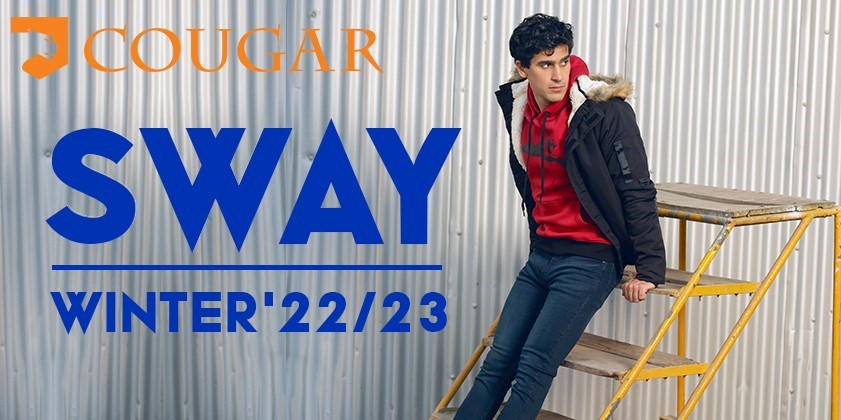 Jackets Games are on for winter
Men always seek for best jackets that are perfectly tailored for an accurate fit. You can pull off the look with a la mode jacket from Cougar. You may don these casual jackets for attending an office meeting or catching up with friends or running several errands. These men's jackets are fashion-forward outerwear to make you look debonair during these cold days. Skillfully crafted bomber jackets, denim jackets, parachute jackets, diamond quilted jackets,s and many more stylish jackets are available. Cougar is one of the best jacket brands in Pakistan that is honored to provide the best quality and latest styles of jackets to its customers.
On Fleek & Comfy Sweaters
Winter season sometimes becomes too gloomy to handle and for this purpose, we need colors to get rid of that feeling. Sweaters for men are full of colors to enliven your style. At Cougar, you can get an amazing variety of sweaters such as color block sweaters, knitted sweaters, zipper sweaters, jacquard sweaters, and many others. These sweaters for men will prove to be a fantastic addition to your closet.
Hoodies are your go-to outerwear
Hoodies for men are evergreen cues of fashion that never get out of style. You can finish off your smart looks by pairing them with trousers. These best men's hoodies are ready to become must-haves for your casual looks. Cougar, as usual, facilitates you with a variety of hoodies with eye-catching designs and trims to fulfill your nifty fashion desires in the winter season such as printed hoodies, zipper hoodies, front open hoodies, sleeveless hoodies, and many others. Now, you easily get best men's hoodies in Pakistan as Cougar has covered every trendy design for extra cozy vibes.
Casual Womenswear
When winter arrives, most women become so excited to bring back chic charms to their wardrobes. The women's collection includes laid-back casual outfits and comfy winter outerwear. The winter clothes for women available at Cougar cover everything for fashionable women who always keep their voguish desires at their peak. Whenever you want to look trendy, and modish, visit Cougar or shop online for instant attainment.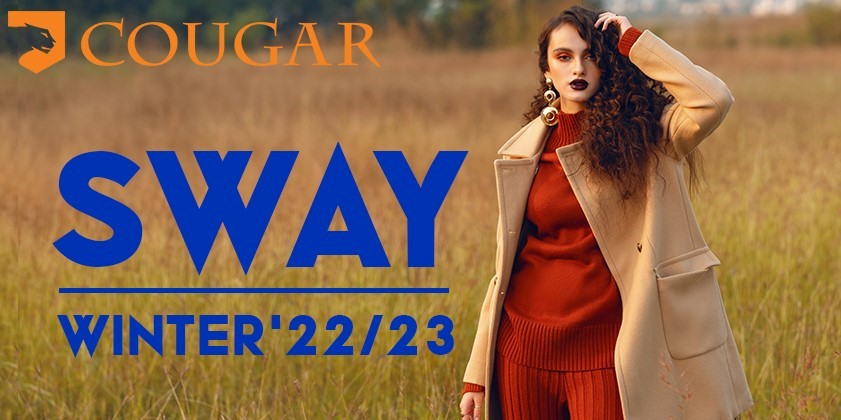 Plushy Jackets are wardrobe essentials
Winter Jackets for Women can have impressive looks by layering the jackets from Cougar. Jackets are very cozy which remain perfect with any outfit and also keep you warm during winter. Cougar Winter Collection is full of stylish jackets to make you look no less than others.  These winter jackets for women include parachute jackets, bomber jackets, leather jackets, embroidered jackets, jacquard jackets, and many others. You can pair your classy jacket with your favorite outfits and relish the cold afternoon of winter.
Trendy and Colorful Coats
Wear a coat when you want to add that extra plush and class to your look. The coats for women available at Cougar hold the captivating charm that you will hardly find at anywhere else. The versatile variety of coats for women present at Cougar has different silhouettes, collar styles, hemlines, and closures to add the factor of versatility to each coat.  These stylish coats are essential to your winter wardrobe. The comfy feel of the coat caters efficiently to the coziness of winter.
Unique Sweater Assortment
Whenever you choose a sweater, you must ensure the right fit as per your requirement. The outstanding assortment of sweaters for women at Cougar is very diverse as it contains knitted sweaters, sleeveless sweaters, checkered sweaters, turtleneck sweaters, and many other designs. Cougar offers complimentary colors of sweaters to complete your winter wardrobe. You can look chic and snazzy at a time by layering the sweaters from Cougar winter collection.
Let's Conclude
It is easy to conclude that Winter Collection 2022-2023 offered at Cougar Clothing is the trendiest to finish off the smart looks you have always desired. If you wear these outfits, you are sure to turn heads. These winter clothes from Cougar are going to make your winter special and fashionable. So, don't get late and set the stylish vibes and move ahead to show off your timeless looks without any hesitation. You can visit your nearest Cougar's outlet or shop online.