[Update]: Nabila was accused by Nadia Hussain of not having a sportsman spirit when the latter more or less copied her product. She took to her Instagram posting her side of the story and man, is she throwing some shade.
She basically gives facts about how original and novel her idea was. And quoting Oscar Wilde, she hinted that she is flattered that other people are copying her idea.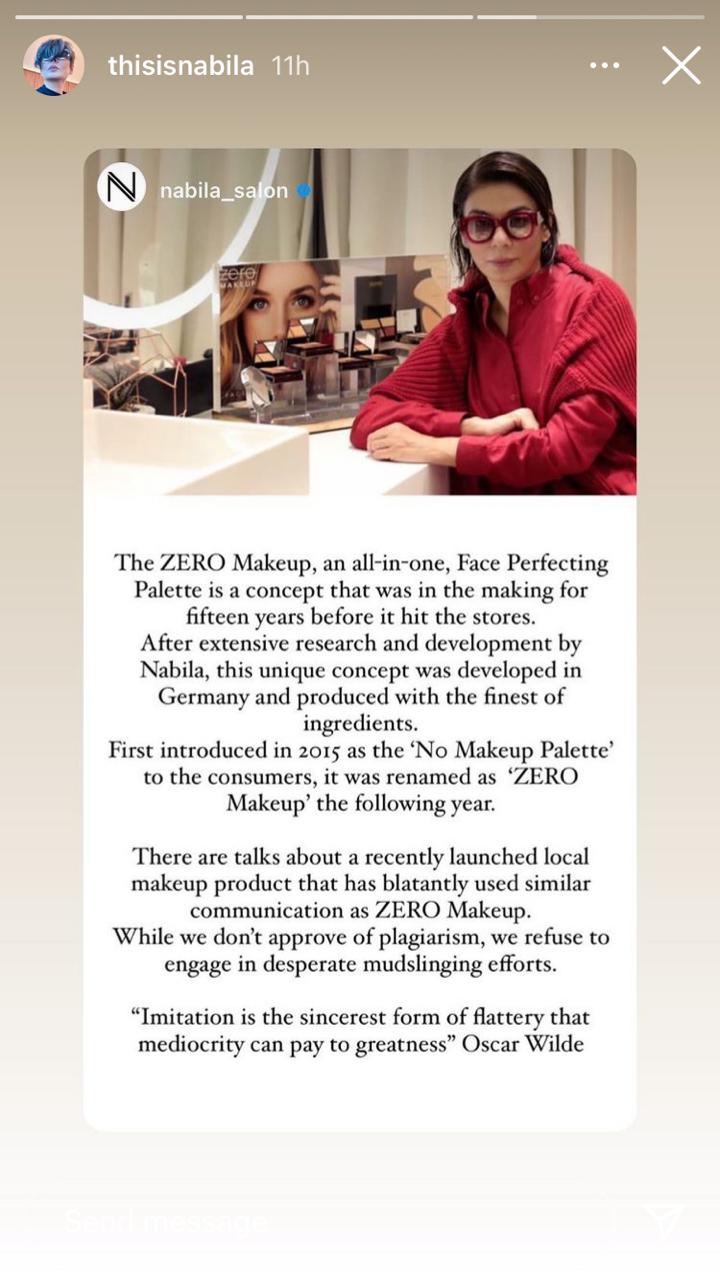 ---
---
[May 24th, 2021]:
Has Nadia Hussain Ripped Off Nabilas Make Up Palette?
Nadia Hussain hoped to launch her latest GO Makeup Palette in high spirits. However, it seems her competitor lost the sportsmanship and decided to rain on the parade. Learn more about the trouble in paradise, the makeup industry edition.
Go Makeup Palette by Nadia Hussain
Nadia Hussain recently revealed a product she had been working on for a long time. It's called the GO Makeup palette and the name is as self-explanatory as it gets! 
View this post on Instagram
With this palette, she hopes to reimagine makeup with ease instead of an inconvenience. You have somewhere to be ASAP? Pick up the portable palette which has all the essentials. You'll look your best in no time! 
View this post on Instagram
Featuring conceal, cover, contour, highlight and colour, it has everything you need to make you look your best. Get all this in only Rs.3500.
Nabila's Zero Makeup Palette
The problem arises when the palette is compared to Nabila's ZERO palette. One has to be living under a rock to be unaware of this palette now. Multiple times award-winning makeup artist Nabila launched this product several years ago.
View this post on Instagram
It is a compact kit featuring four ingredients for a flawless face! Conceal, cover, contour and colour. It comes in various shades according to skin colour in which the four compartments are adjusted accordingly. It has enjoyed incredible popularity and is priced at Rs. 5900.
Showdown between Competitors
Soon after Nadia Hussain announced the Go Makeup palette, Nabila sent her a message! Nadia Hussain has attached all screenshots and proofs to show her side of the story. Sure Nabila's message reading "do you have no brain of your own" could've been better worded.
View this post on Instagram
On-the-go makeup kits have become the norm globally and both creations are only a contribution to the trend. Nadia Hussain's product is neither a copy of Zero nor a dig at Nabila. Then why the conflict?
Such conflicts are common when the skeletal design may be the same. For instance, both are compact kits offering the same ease to their customers. However, the go palette does feature 'highlight' which Zero makeup does not.
Stay tuned to Brandsynario for the latest news and updates.