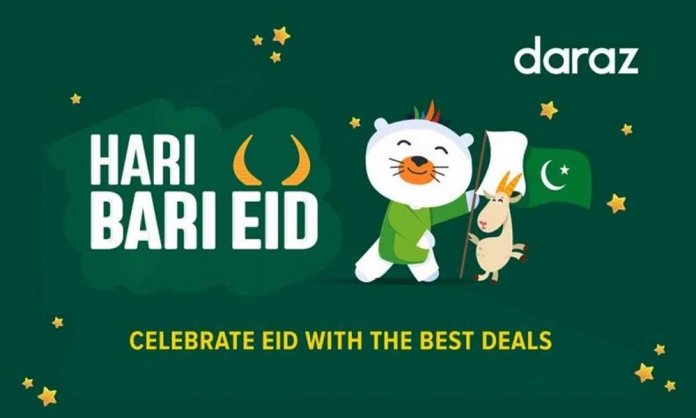 When Eid ul Adha and Independence Day fall around the same time of the year, it means you double the celebration and have twice as much fun.
Daraz's Hari Bari Eid sale offers attractive discounts available from the 1st to 5th August to heighten the festivities this season.
Vouchers and Rush Hour Sessions – Daily!
You can make the most of Hari Bari Eid by collecting vouchers that refresh every day at 12 pm. Customers have already started collecting their vouchers for the sale since the 28th of July and availing additional discounts on the products they wish to buy.
1500 Vouchers from over 1000 sellers and brands are available on the platform.
Moreover, Daraz will host daily rush hour sessions on the app during the sale so that consumers can collect exclusive vouchers.
Bank Discounts and Daraz Wallet
Daraz Wallet is the smartest way to pay on the Daraz app! Customers can also enjoy 5% off on every deposit they make into the Daraz Wallet – the more you deposit the more money you save!
Paying through the wallet means customers can check out faster and have access to exclusive bonuses. Plus, in case a return is initiated by the customer, the refunds are instantly deposited back into the wallet!
Furthermore, Daraz has partnered up with Habib Bank and Meezan Bank to bring customers an additional 15% off on their purchases. These bank discounts will be available throughout the sale.
Fun Features like Shake Shake and Gamezone
The online portal also has fun features such as Shake Shake that allows customers to earn vouchers, prizes, and exclusive bonuses by simply shaking their phone.
Shake Shake sessions began on the 28th of July, giving customers lots of time to collect vouchers to use during the sale! These sessions will continue during the sale, taking place every day at 3 pm! Not only this, but shoppers can also play in-app games, such as "Fruit Ninja" and "Running Daz", for exclusive giveaways.
With prices so affordable on all products from clothes to electronics and exciting flash sales happening every day, customers should make sure to grab their favorite goods.
D League
Your favorite influencers are now your personal shopping guides and will help you make the most of the upcoming sale!
A few months ago, Daraz launched D League where you can get tips and tricks from influencers such as Ramish (YarRamish), Mubashir (Village Food Secrets), Bilal Munir (Video Wali Sarkar) and Maroosha (Maroosha's Makeup).
If you're looking for advice on what to get during the Hari Bari Eid Sale, check out the D League page on Daraz to get all the help you need from the experts.
Learn how Maroosha does her makeup and how Ramish grooms his beard! If you're hosting an Eid lunch or dinner, learn from Mubashir how you can impress your guests with an exotic menu! The best part: all the products they use are available on the app!
Daraz, the Only 'Shop Entertainment' Online Platform
Daraz is the only 'shop entertainment' online platform in the country that provides its customers with a holistic experience through which they can not only buy their favorite products but also have fun while they're on the app.
So what are you waiting for?
Gear up for an exciting August and a Hari Bari Eid with Daraz!
Stay tuned to Brandsynario for more news and updates.