Hamza Ali Abbasi and wife, Naimal Khawar, have just welcomed their bundle of joy into the world. The star couple has been blessed with a baby boy, and they and their fans are thrilled with the good news.
A Father's Wish
Their baby has been named Muhammad Mustafa Abbasi, and the father had the sweetest message to share for little Muhammad Mustafa. Read it for yourself here! 
Allah has blessed me and Naimal with a baby boy, Muhammad Mustafa Abbasi. I pray that he becomes a grateful servant of Allah, a good, humble & honest human being and may Allah bless him in this life and the next. Please pray for us❤️

— Hamza Ali Abbasi (@iamhamzaabbasi) August 2, 2020
Here's How The Mother Made The Reveal!
Naimal Khawar Khan put up the cutest picture on Instagram with a heartwarming caption. Check it out here:
View this post on Instagram
Netizens Overjoyed
Hamza Ali Abbasi may be the source and centre of several controversies or debates but nobody held back from congratulating him on this news. Following his tweet, there was a huge influx of Mashallah(s) being replied under with some hilarious gifs as well.
His tweet has also received 32K likes alone! Seems like people were waiting for this news. Hamza Ali Abbasi is also trending on twitter given the amount of love he's receiving on the good news.
Mashaallah! Congratulations! May Allah bless the little one. He he become te light of it eyes.May Allah bless him in this life and after

— Fariha Siddiqui (@FarihaSiddiqu14) August 2, 2020
— kash (@kashblue) August 2, 2020
Hamzaaaaa, I am so happy for you i feel like main bhi phupo ban gayi 😭😭❤️❤️❤️❤️ Allah bless him in this life and hereafter. All my love.

— abeera. (@abeerayy_19) August 2, 2020
The Baby's Looks
The congratulations and happiness were expressed later. The first thing on everyone's mind was— how gorgeous the baby going to be! The father and the mother both have received immense praise for their good looks. Hamza Ali Abbasi has always had his fair share of fans for his looks alone. Then came Naimal! Naimal is a beauty through and through and her grace and simplicity are unmatched.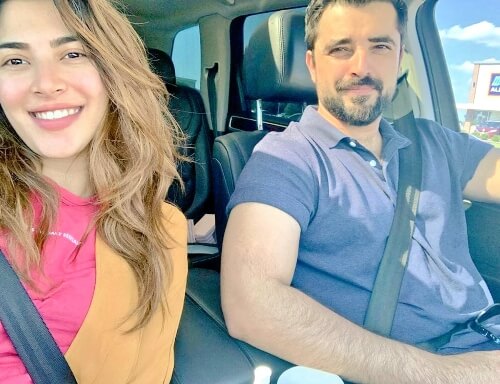 Meet Muhammad Mustafa Abbasi!
This coupling was truly one that people could not hate upon. Muhammad Mustafa is going to be stealing hearts before he can even learn to walk!
A Celebrity's News
Whether a celebrity is hated or loved, the news of an offspring always makes people elated and forget their reservations. Being happy at the news comes later, people often become obsessed with keeping a track of many celebrity pregnancies. Naimal and Hamza Ali Abbasi also did not intimate before yesterday that they were expecting a baby. 
Take also for example, Gigi Hadid! Gigi has been keeping on the low ever since she announced. However, the star exclaimed in a live on Instagram how she's received hundreds of messages asking her to show her tummy! 
Then there was the curious as well as a sensational case of Kylie Jenner who also disappeared off of the face of the Earth. To each his own as this time is one of the most grounding and private times for a couple.
Stay tuned to Brandsynario for the latest news and updates.