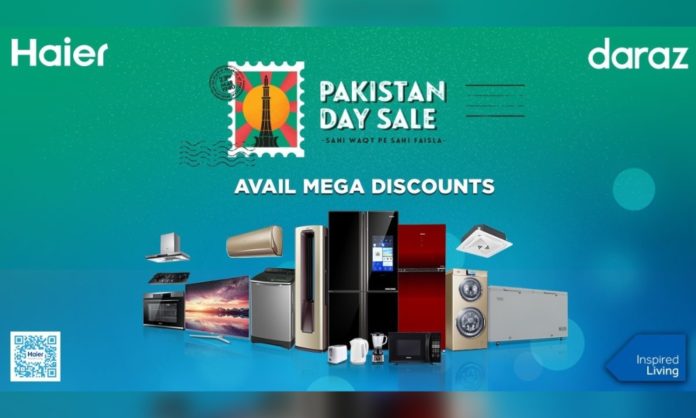 Haier has always worked with a mission to keep its customers satisfied and which is why it continues to lead the appliances market. Haier is Global No 1 Home Appliances brand as well according to the Euromonitor International Research Study. We take pride in the quality of our products and after sales service so you can purchase your favorite Haier product with the peace of mind that Haier offers.
The moment you all have been waiting for is finally here. Haier presents the Pakistan Day sale! In celebration of the of the heroic efforts of our leaders to pass the Lahore resolution on the 23rd of March 1940, Haier brings to you this amazing sale where you can buy your favorite products at amazing discounts from the 17th March till 24th March on our Daraz Haier Flagship Store and in dealers network nationwide.
Haier is providing customers with ever inspiring and user-friendly smart solutions! Being the leading appliances brand of Pakistan Haier believes in providing its customers with the best in every category be it Washing Machine, Refrigerator, Air Conditioner, LED TV or our range of kitchen appliances. It is Haier's promise to provide you comfort with its inspiring range of products. This is a limited time offer and so don't miss out on this opportunity to buy your favorite appliances at the best prices.
Don't forget to follow us on our social media platforms for more upcoming offers!
Website: https://www.haier.com/pk/
Facebook: https://www.facebook.com/HaierPakistan
Instagram: https://www.instagram.com/haierpakistanofficial/
Twitter: https://twitter.com/HaierPakistan