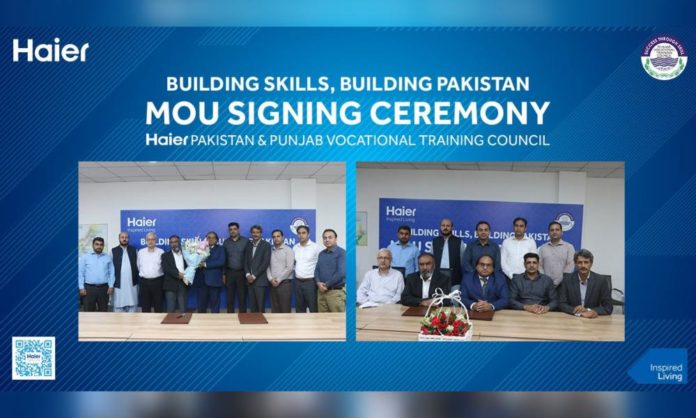 Haier has always been inspired to bring positive change to Pakistan. Unemployment and lack of a skilled workforce are major issues faced by Pakistan's economy. In this respect, Haier continues to work with the Pakistan government to create not just more employment opportunities, but also enhance the skills of existing workers.
Haier, in collaboration with Punjab Vocational Training Council (PVTC), the Government of Pakistan will be providing technical training to students. These technical skills will not only impart technological expertise, but they will also create hope for a better tomorrow for thousands of families of skilled workforce across Pakistan.
The MOU signing ceremony was held at Haier Pakistan Head office where Haier Pakistan the Mr. Muhammad Akbar Director Customer Service, Mr. Shahid Alvi Director Human Resources and Mr. Hamayoun Bashir Director Marketing and from PVTC Major (R) Ghazanfar Abbas Senior Manager Staff & Teachers Training Institute (STTI) and Mr. Amjad Ali MD Punjab Vocational Training Council graced the event with their presence.
In the first phase of the program, students will be provided with technical training to build a skillset. The skills gained will then be tested and evaluated. The best performing students will be offered internships at Haier, where they will truly get an opportunity to showcase their learning in the real-world industrial environment. Haier will also be evaluating the progress of these students and the best performers will be offered permanent jobs at Haier.
Together with PVTC, Haier hopes to create a better and more empowered Pakistani workforce that can meet the technological challenges and bring positive change to their future.
Facebook: https://www.facebook.com/HaierPakistan
Instagram: https://www.instagram.com/haierpakistanofficial/
Twitter: https://twitter.com/HaierPakistan