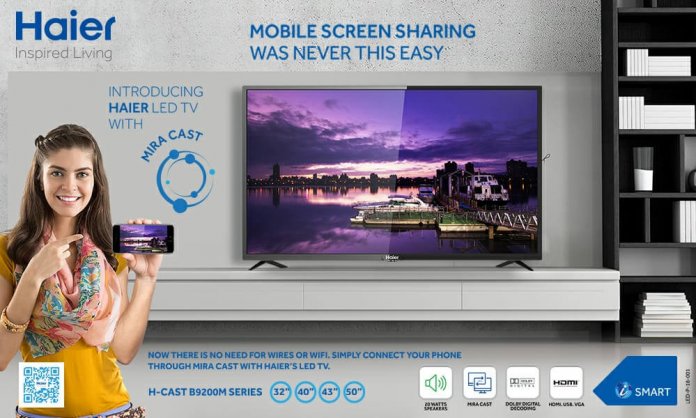 Mobile phone screen sharing made as easy as 1-2-3. Haier introduces a lineup of high quality, flat screen LED TVs with Miracast.
Miracast is an android app that offers a mirroring function allowing you to send an image or sound from your smartphone to you Haier LED TV without wires and even without Wi-Fi. With Miracast you can now stream data such as videos, audio, photos, games and other apps on your Android Smartphones and devices to your TV.
Available in screen sizes of 32, 40, 43 and 50 inches the new H-Cast B9200M Series come with many smart features to make infotainment a real pleasure.
The latest LED TV series features 20 watts' speakers and Dolby Digital surround system with 5.1 channels of high-quality audio that envelopes you from all directions for an amazing 360 degrees of sound experience. AVL (Auto Volume Leveler) is another great feature that lets you enjoy watching TV programs without the annoying Volume fluctuations when switching between channels.
IF you want to connect multiple devices at once, the H-Cast B9200M Series features Multi HDMI Connections, USB Ports and VGA that allows multiple entertainment gadgets to be connected at the same time.
Elegant and affordable, Haier's ingenious feature packed H-Cast B9200M LED TV Series is bound to give you a memorable and pleasant viewing experience.
Complete List of Features: MiraCast, 20 Watts Speaker, Full HD, Dolby Digital Sound System, HDMI, USB, VGA and AVL (Auto Volume Leveler)