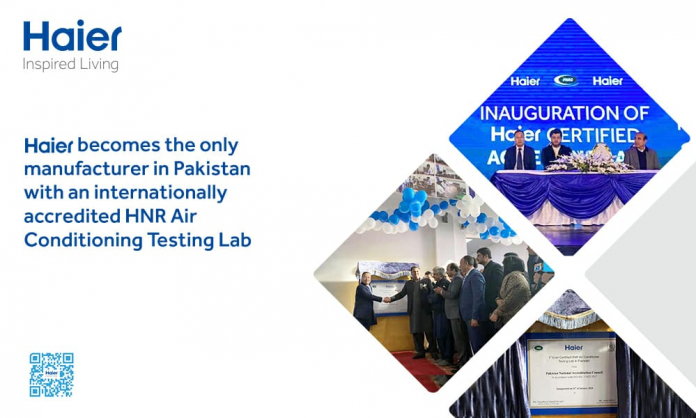 Haier Pakistan's air conditioning division was established in 2002 and soon Haier air conditioner became a prestigious brand in the minds of Pakistani consumers.
With the greatest market-share in Pakistan, Haier has been leading the Pakistani air conditioning market for the last 10 years.
For many years, there had been no national standard for air conditioning in Pakistan. The quality of products in the market is not good and some small scale local manufacturers advertise false information without any verification from any certified laboratory.
In 2017 the National Energy Efficiency Standards Committee and Air Conditioning Certification Committee were set up, to develop and implement energy labeling (Energy efficiency) standards.
Haier established its first air enthalpy difference lab in 2002 for testing of air conditioner products at different conditions, which was the first lab developed and still is the only air conditioner testing lab available in Pakistan.
In 2015 Haier's accreditation team worked tirelessly for 2 years to get the lab certified by PNAC (Pakistan National Accreditation Council).
In 2019 a formal application was forwarded to PNAC to check the compliance of the lab management system (ISO 17025:2017) which after pre-assessment and complete assessment issued the certification in November 2019.
After this certification, Haier is actively taking the initiative to participate in standards development. Now Haier is also authorized to provide testing services for external customers (other brands), as they have no such facility.
The certified air enthalpy difference lab has testing capabilities to assess a wide range of commercial air conditioners and split air conditioners and test their cooling capacity, heat capacity and air volume.
The products are checked and tested according to the standard (ISO 5151) to ensure that products manufactured are qualified according to international standards.
The accreditation of Haier's HNR AC Testing Lab proves that Haier is committed to not just international quality manufacturing, but also international quality testing to ensure that its products can stand equal as compared with air conditioners manufactured anywhere in the world.