Bykea is the app that is probably one of the most used apps in Pakistan today. It is a bike transportation service that helps people get from one place to another. Just like Uber, it offers bikes instead of cars. Many such apps send weekly and even daily notifications to remind their users to book rides with their apps. Many of those notifications are very interactive and even funny at times to convince users and leave a mark in their minds. But what happens when those notifications go horribly wrong?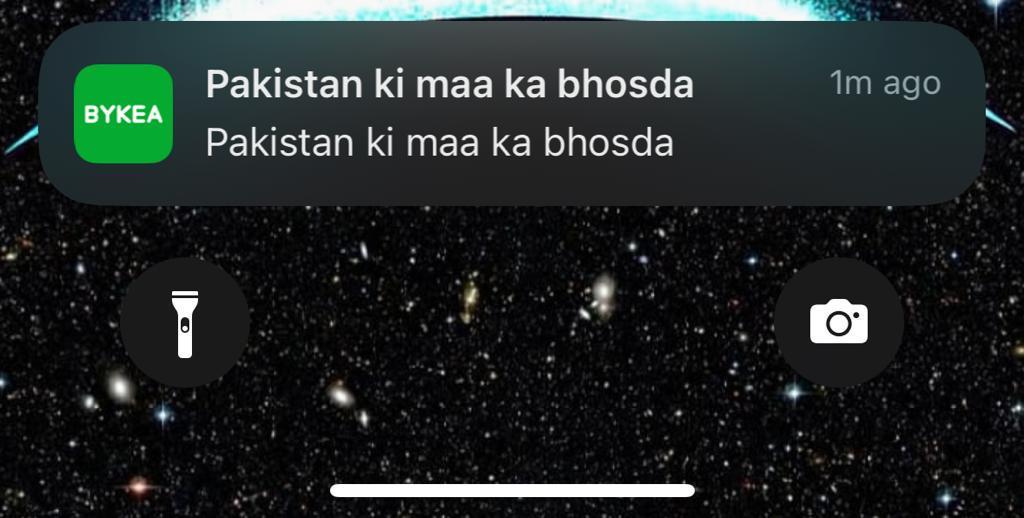 Now I know this can be a little triggering for some readers but what can we do? Maybe Bykea woke up on the wrong side of the bed today and just wasn't in a good mood. As if the notification wasn't bad enough, it got sent to the whole country because people on Twitter started to go crazy when they got their notifications. Here have a look.
Damn bykea got hacked xD (or did they)
*menacing music* pic.twitter.com/Qb5scaOa0G

— Saltafa (@saltafa) June 13, 2023
Bykea is not having with pak 😭 pic.twitter.com/V7F7TPpfpG

— عمر (@Keyb0ardMujahid) June 13, 2023
#bykea jaani what is this behaviour pic.twitter.com/CwnPq8b3TF

— Mubashir Bhania (@BhaniaMubashir) June 13, 2023
Lmaoo whats up with bykea😭😭 pic.twitter.com/rZu0V5dpfl

— Syed Yasir Ali (@izyasor1) June 13, 2023
bro what is bykea high on?😭 pic.twitter.com/H2iS380jgV

— talha (@hatesdotcom) June 13, 2023
Either someone got unfairly fired from Bykea or they're rightly getting fired now 😂

— Alif (@vanillasky458) June 13, 2023
Bykea should fire the guy and come up with a genuine PR campaign now

"Pakistan ki maon ka bharosa"

— Anas Tipu (@teepusahab) June 13, 2023
Wtf @bykeapk what is this? Though it's really funny but also very unprofessional and bykea will be getting stick from various people. pic.twitter.com/CoO4Zvk99E

— Hammad Jamil (@hammad_jamil97) June 13, 2023
Someone at Bykea woke up today and chose violence 🤷🏽‍♂️ pic.twitter.com/ZNaLdCsAje

— Pir Faraz Ali (@pirusaein) June 13, 2023
I think Bykea has an angry employee 💀💀 pic.twitter.com/zwsLDAm1KV

— H™ (@MahatmaaGanji) June 13, 2023
After the notification went viral, the users received another notification after 30 minutes which said that the app is still hacked!
Now did it 'actually' get hacked?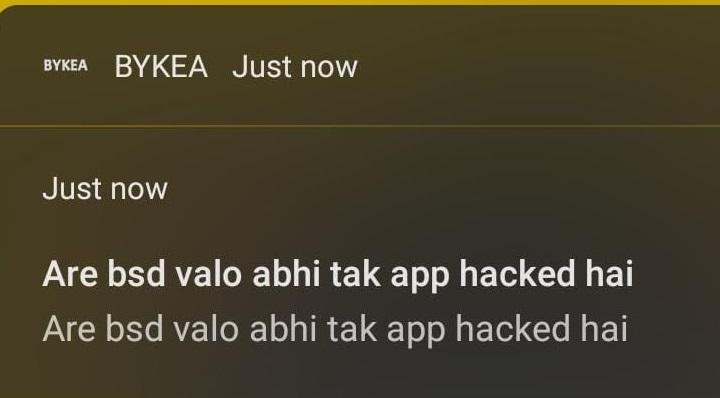 Did the employee get angry? What is going to happen next? Who knows? Tell us your thoughts in the comments below.
Stay tuned to Brandsynario for more news and updates.