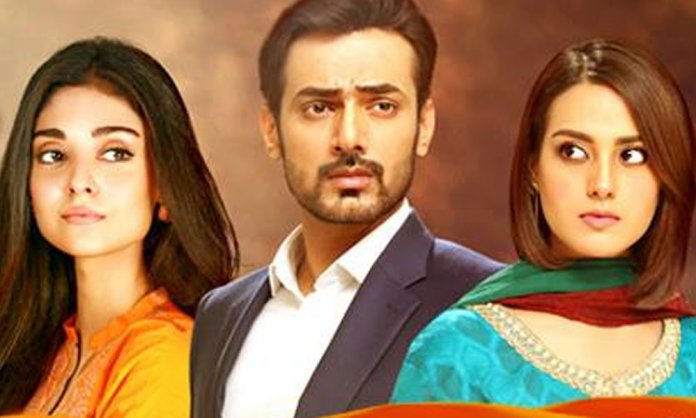 The first episode of a new show holds immense importance. It can either make or break the show. It must grab the attention of viewers in order to make them fall in love with the plot.
The pilot is usually spent in knowing about characters, the area they live in and the challenges they are being faced. The first episode of Gustakh Ishq on Urdu1 successfully nailed this formula yesterday.
The drama stars the much-handsome Zahid Khan, alongside the rising actresses Noor Khan and Iqra Aziz. It is penned by Mustafa Ayub and directed by Furqan T Siddiqui.
Plot
The first scene opens with two girls going to a mazaar. One of them is visibly uninterested and barely manages to stifle her irritation. The other one, Najaf, played by Iqra Aziz, however, wants to visit the place. It is apparent that Najaf is confused by the twists and turns of her life. Apparently, she thinks that her fate is, in simpler words, cursed. This is what she discusses with the peer.
The peer tells her that it is just a phase. And that such challenges and difficulties must not trample with a person's fate. The character's trait that we get to know through the conversation is that the girl is nice, helpful and caring. But she doesn't get rewards for her goodness. The notion that good things deserve to have a fortunate ending is untrue for the young girl who lost her birth mother too soon. Her father, too, recently got a job offer in a foreign country. We'd later come to know that this has opened new problems for Najaf since her stepmother doesn't want to take Najaf to her brother's house. The peer, however, assures her that better times are ahead.
Our heroine also has a lot of enemies who are jealous of her stellar academic record. In fact, her so-called friends also plot against her. A group of her friends asked her to have a meeting with the owner of the college, Sikander played by Zahid Ahmed and ask him to reconsider his plan for establishing a factory next to a college building. She gathers the courage to visit him and request him to reconsider his decision, however, Sikander turns out to be arrogant and tries to brush her away.
She gathers the courage to visit him and request him to reconsider his decision. However, Sikander turns out to be arrogant and tries to brush her away.
The owner is naturally upset that a young college girl. He visits the school's principal and complains about Najaf. When she is called into the room, Najaf, however, shows no sign of remorse. She is adamant that she was right and she will not apologize. This leads her to be suspended from the college.
Out of nowhere, Najaf finds her life getting torn apart. The episode ends on this note, making us curious what is to happen next.
The promo of the next episode gives us a hint that Najaf will be soon united with Noor Khan, who is probably her sister. But would this mean her troubles will end or will they double? Let's wait and watch!
Review
It will be too early to give an opinion on the drama. But we must admit, that Gustakh Ishq has launched itself with an intriguing start. The best part of the serial remains Zahid Ahmed. His acting prowess makes us want to watch him more and more. And his broody looks are a cherry-on-the- top.
Iqra Aziz too has impressed us with her genuine acting.  We are waiting for Noor Khan's performance. She is the new favorite of everyone and is reaping alot of love.
For those who don't know, Gustakh Ishq airs on Urdu1, Friday at 8 PM.
Contributed by: Aiman Siddiqui