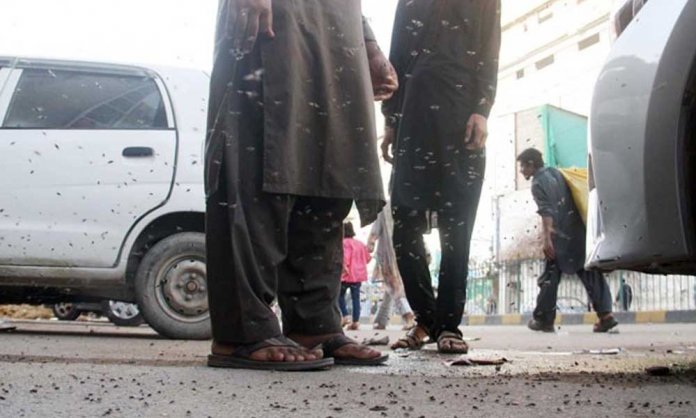 Bakra eid 2019 in Pakistan this year coincided with heavy monsoon rains, leaving Karachi in a horrible state.
Rain in Karachi already does enough damage, thanks to the lack of infrastructure and initiative from the government's side. Pair it with bakra eid and you have blood and animal hides and insides floating all over the city, turning the already dirty water red, and ensuring the city smells even worse than the usual sewage stench.
Needless to say, this also resulted to an increased population of houseflies in Karachi.
Yes this is the city of housefly 😂
Khana nh makhiyan tal k khao 😂#Karachi #LetsCleanKHI pic.twitter.com/e0CvwNB8vb

— Naqeeb akhter Qureshi (@Naqeebakhter707) August 25, 2019
So much so that, instead of the mausam, makhiyaan became the new small talk topic.
Karachi City of lights❌

Karachi City of Makhiyan✔️
😹

— ShahZaib💯 (@IMirrza) August 25, 2019
People have been discussing how houseflies have conquered Karachi, what sprays they are using to battle the problem, and how irresponsible the government has been in this regard.
Commander Safeguard where tf you at? Dirtoo has taken over karachi with these makhiyan.

— OGGY🇵🇰(Thor ka Bday 🎂) (@Yousuf_Says) August 24, 2019
So the good news is, over the weekend, the government took the initiative to start a fumigation campaign on the directive of Mayor Karachi Wasim Akhtar. For the campaign, around 40 vehicles have been deployed to clean every district of Karachi.
Insecticide spray has been done in all zones of District Malir, while District East will be looked after on August 25; while fumigation drive will be conducted in districts Central, West, Malir and District Council on August 26, 27, 28 and 29 respectively.
The Mayor specifically instructed that no area shall remain without fumigation and, if required, the drive would continue as long as the end result is achieved.
It is good to see the Pakistani government taking responsibility to help improve the city's condition.
What are your thoughts? Let us know in the comments.
Stay tuned to Brandsynario for more news and updates.