In a surprising turn of events, Google's Pixel phones have made significant inroads into Japan's smartphone market, challenging the long-standing dominance of Apple's iPhones. This shift comes as Apple's iPhones become increasingly expensive, pricing out some Japanese consumers and making room for alternatives like Google's Pixel.
Pixel's Record-Breaking Growth
Data from Counterpoint Research reveals that Google's share of the Japanese smartphone market reached an all-time high of 12% during the June quarter, representing a remarkable six-fold increase compared to the previous year. Conversely, Apple's iPhone experienced a notable decline, falling from 58% to 46% year-on-year.
Japan is a pivotal player in the global smartphone industry, boasting the world's third-largest economy and serving as a significant market for mobile software and gaming. Apple's iPhone has historically dominated the Japanese market, much like it has in the United States. However, this summer marked a turning point as Apple's market share dipped below 50% for the first time in two years.
Currency Impact on iPhone Pricing
One contributing factor to this shift is the depreciation of the yen, prompting Apple to increase iPhone prices in Japan ahead of other global markets. This price hike has made iPhones less accessible for Japanese consumers, especially when newer iPhone models lack groundbreaking features.
Tom Kang, an analyst at Counterpoint, notes that Japanese consumers are becoming more pragmatic in their smartphone choices. This shift in mindset has opened the door for alternative brands, with Google making particularly significant gains.
Google's Success in Japan
Anshel Sag, principal mobile analyst at Moor Insights & Strategy, highlights Japan's newfound success story for Google and the Pixel team. A substantial part of Google's triumph in Japan can be attributed to its budget-friendly Pixel 6a and 7a series, effectively capturing the middle segment of the Japanese smartphone market.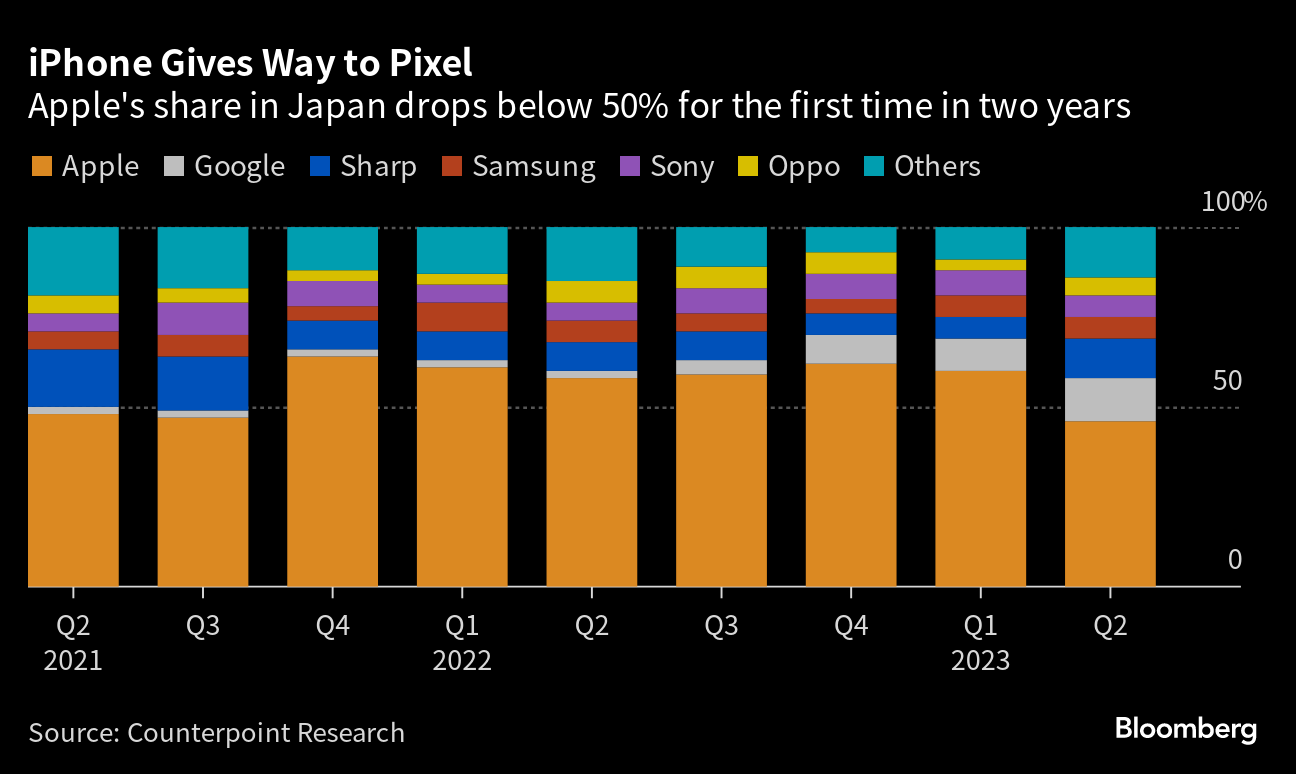 The upcoming Google Pixel event, slated for the following Wednesday, holds the potential to further sway Japanese consumers towards the Pixel 8 and 8 Pro instead of Apple's iPhone 15 and 15 Pro. With competitive features, including an exceptional zoom camera, Google's Pixel phones are making a compelling case for themselves.
Apple's Overheating Concerns
Apple has been grappling with customer complaints about overheating issues with the iPhone 15 Pro and Pro Max. Users report excessive heat during usage or charging, posing concerns for Apple's flagship product.
As competition heats up in Japan's smartphone market, both Google and Apple will undoubtedly intensify their efforts to win over Japanese consumers with innovative features and compelling offerings. The landscape is evolving, and it remains to be seen which brand will ultimately emerge as the preferred choice for Japanese smartphone users.
Stay tuned to Brandsynario for the latest news and updates.