American Supermodel Gigi Hadid, known for her glamorous shoots and fashion, took the Pakistani internet community by storm when he shared her spices' collection, which surprisingly shows Shan Masala. Gigi, who is in a public relationship with ex-One Direction member and British-Pakistani artist, Zayn Malik recently gave birth to her daughter back in September amid a pandemic.
Why Did The Super Model Decide To Post Pictures Of Her Pantry In the First Place?
A few days ago, the supermodel hopped on the bandwagon and decided to do the "Post A Picture Of" challenge that urged the followers to ask for pictures of a certain day, event or a random occasion.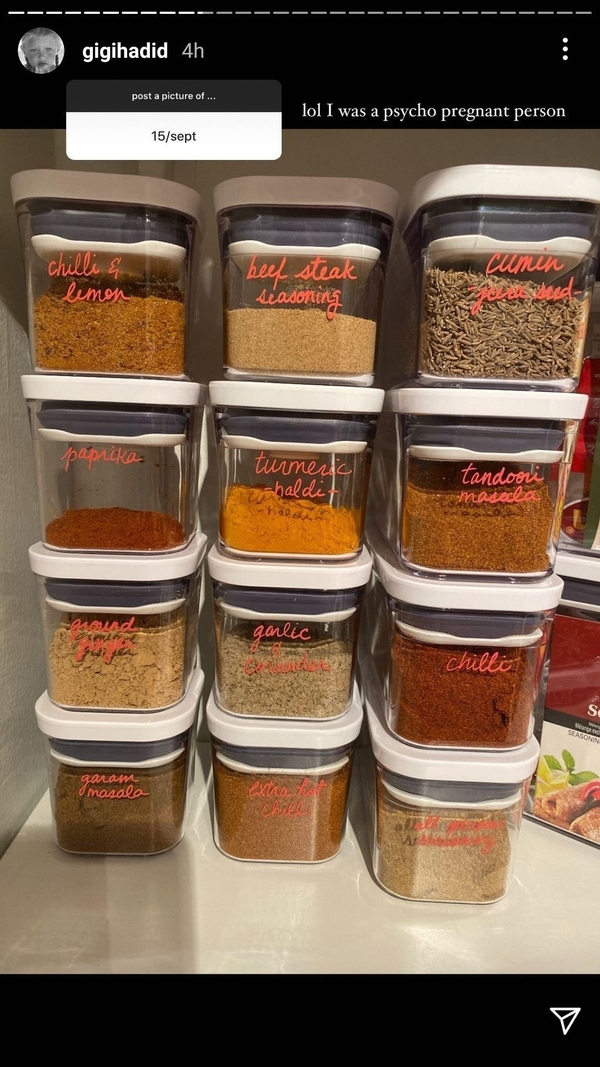 The Desi Twitter completely lost it and started to trend #GigiGotShan when one of her fans randomly asked her to post a picture from 15th September 2020. She shared the collection of Masalay that she used during her pregnancy. Surprisingly, everyone could see the image of a box of Shan Masala, which is a familiar household brand, not only in Pakistan but in the houses of Desi communities all around the world.
Desi Twitter exploded with joy upon spotting the box of Shan
Upon catching a glimpse of a Shan masala box in Gigi Hadid's Pantry, desi Twitter took pride and expressed their joy, poking fun at the desi influence her relationship with Zayn must have had on the American model of Dutch descent.
Say What????Gigi use shan masalas, I mean loook at her pantry👀#GigiGotShan pic.twitter.com/U8fQC8tALf

— NimrahMemon (@NimrahMemon) December 30, 2020
Gigi Hadid American supermodel advertised Shan Masala more than Masala TV ever did😂❤️Idk why but i am feeling proud of this,Shan really made desis proud!!
If you guyz don't know,Let me tell you again that @GiGiHadid also uses Shan Masala,ab sari umar yad rkhna sb😂#GigiGotShan pic.twitter.com/swvF52ZBsO

— Laraib Ather (@itsLaryb) December 30, 2020
National foods to Gigi Hadid rn. #GigiGotShan pic.twitter.com/GpFXPDhiTK

— ردا (@RidhaAlii) December 30, 2020
Turns out @GiGiHadid is also a fan of desi food and Shan Masala. #GigiGotShan pic.twitter.com/G2hqCbWn3P

— Sadaf Alvi (@TheGrumpyDoctor) December 30, 2020
After numerous people identifying the box of Shan masala and tweeting about it, #GigiGotShan started to trend on Twitter.
I have always been shan fan, but now I love it more being a fan of gigi 🙈#GigiGotShan

— ~ (@TweetsofPak) December 30, 2020
Just saw the recent Instagram Story of Gigi Hadid and came to know that she also uses Shan Masala just like me. Glad to know. #GigiGotShan pic.twitter.com/8olWyf2wxL

— Dania Waheed (@daniawaheed3) December 30, 2020
Gigi going desi with Shan Masala. I'm sure Zayn is the reason.#GigiGotShan pic.twitter.com/CN4XwoWYtg

— Rahman A. (@arraymaan) December 30, 2020
The barrage of tweets pointing out Shan Masala's box in the supermodel's pantry got a hashtag #GigiGotShan to trend, which shows her influence and the love desi people expressed for her choices.
Gigi Hadid gave birth to her daughter in September and had shared her journey of pregnancy and motherhood on her social media.
The couple reportedly quarantined at a farm in the rural area of Pennsylvania since May because of the Covid 19 pandemic.
She broke the news of the birth of their daughter in Instagram which was met with love and support from people all around the world.
After the birth of her daughter, she often takes time to reflect back on her pregnancy and shares intimate details with her 64 million followers on Instagram every once in a while.
Lets see how much Gigi Hadid shares with her fans in the future and only time will tell whether Shan Masala is the only thing Desi about her or is there more to her that we Desi people are yet to see.
Follow Brandsynario for more news and updates.