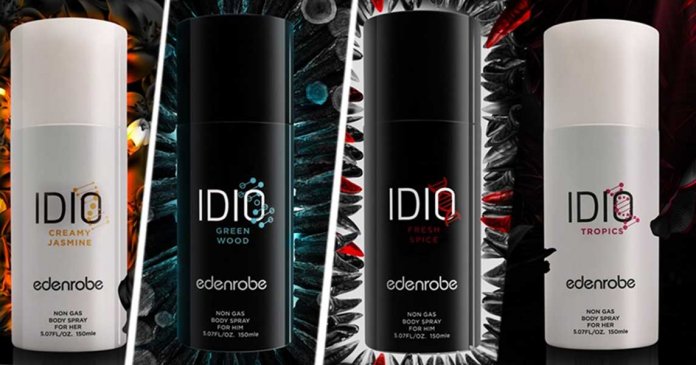 Ever feel invisible? Have you been in a situation where you're among people but nobody seems to notice you?
Yes! We've all been there at some point in life and it sure seems depressing. After all, it's only human to crave for attention and the desire to be noticed is natural.
Some people have a natural tendency to stand out and get attention. However, if you're not one of them, don't worry!
edenrobe Beauty's IDIO deodorant line promises to be your savior from now on.
Offering five various scents, three for men and two for women, edenrobe Beauty's Idio deodorant line claims to be the perfect way to #GetNoticed!
edenrobe Beauty's latest campaign reveals that it's not uncommon to want or yearn to feel noticed. In fact, even the most famous celebrities we admire love and crave for attention.
To prove this, the brand got stars like Muneeb Butt, Minal Khan, and Yasir Hussain involved in the campaign. They shared their individual stories of demanding attention and wanting to be noticed under the #GetNoticed hashtag, making us realize that we aren't really alone in this struggle.
The brand also collaborated with Mangobaaz, Karachi Vynes, and the gorgeous Hina Altaf as well.
Moreover, vloggers and social media influencers also partook in the campaign.
#GetNoticed Takes Over Social Media
edenrobe's #getnoticed campaign has stood out from other brands when it comes to virality and campaign impact. The approach the brand used to get celebrities to share meaningful stories has pleased many individuals.
The hashtag soon enough picked up pace and everyone got involved in sharing their own stories of how they put in a lot of effort just to be noticed by others. Even publications like Something Haute, Niche Lifestyle and FHM got involved in the campaigns!
Commercials released for the campaign look interesting and depict the struggling of individuals trying hard to get noticed. Each story looks relatable in some way or the other.
Not just the campaign, the product has also become a super-duper hit as everyone cannot stop praising the fragrances and the packaging. IDIO has become the new favorite go-to deo for both men and women in Pakistan!
If you want to #getnoticed, rush to your nearest outlets or edenrobe Beauty kiosks to pick a scent that defines you best!