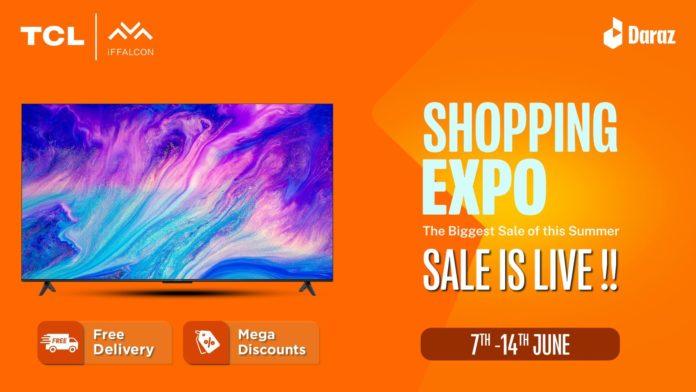 TCL, the top LED TV brand in Pakistan, is delighted to reveal its highly anticipated summer sale in partnership with Daraz, the largest e-commerce platform in the country. From June 7th to June 14th, customers can benefit from amazing discounts, free shipping, convenient monthly installment options, and enticing super vouchers on TCL products. This summer sale offers an irresistible chance for customers to enhance their entertainment experience by upgrading their devices.
During the TCL Summer Sale on Daraz, customers will enjoy amazing discounts on a wide variety of TCL and iFFALCON products including 4K QLED TVs, UHD TVs, Smart TVs, Standard LEDs, ACs and Vacuum Cleaners. These premium offerings deliver stunning picture quality, immersive audio, and innovative features, taking the home entertainment experience to new heights.
TCL ensures free shipping for all purchases made during the summer sale, providing the convenience of home delivery and eliminating any concerns about logistics. Additionally, TCL's easy monthly installment plans provide an accessible pathway for customers to bring home their favorite TCL and iFFALCON products without straining their budgets. An added benefit during the summer sale on Daraz.
TCL introduces super vouchers that can be redeemed on future purchases. These vouchers offer customers additional savings on purchases, making the summer sale an investment in long-term value and satisfaction. TCL invites customers to mark their calendars from the 7th to the 14th of June and seize this golden opportunity to upgrade their homes with TCL and iFFALCON premium products. By taking advantage of the summer sale, customers can embrace the perfect combination of innovation, affordability, and convenience.
For more information, please visit:  https://shorturl.at/xBEQ3
According to Majid Khan Niazi, Head of Marketing at TCL Pakistan, "We are excited to bring our customers the TCL Summer Sale on Daraz. This event offers unbeatable discounts and exclusive deals on our premium products, enabling customers to enhance their home entertainment setup without breaking the bank. We believe this summer sale will truly elevate the overall entertainment experience for our valued customers."
Ibrahim Khan, Head of Brand at Daraz.PK, shared his enthusiasm, stating, "Collaborating with TCL for the biggest summer sale of the year is a great opportunity for our customers. TCL's cutting-edge technology and innovative features have made them a household name. With this sale, customers can enjoy significant savings on TCL and iFFALCON products and bring the cinema experience right into their homes."