Gamer Pakistan Inc. achieved a significant milestone by becoming the first Pakistani entity to list on a U.S. exchange, marking its trading debut on Nasdaq. However, the excitement was followed by a rollercoaster ride in the stock market.
IPO Success and Valuation
In its initial public offering (IPO), Gamer Pakistan raised an impressive $6.8 million by selling 1.7 million shares priced at $4 each. This IPO resulted in a valuation of $102.4 million for the company, with 25.6 million shares outstanding. The company now trades on Nasdaq under the ticker symbol "GPAK."
GPAK's stock had a promising start, trading above its IPO price in the early hours. However, this initial enthusiasm was short-lived, and the stock's trajectory took an unexpected turn.
WestPark Capital Inc., a New York-based investment bank specializing in emerging growth companies, played a pivotal role as the lead underwriter for the IPO. The company's co-managers, including Alexander Capital LP, Spartan Capital Securities LLC, and RH Lafferty & Co. Inc., contributed to the successful listing.
The Vision of Gamer Pakistan Inc.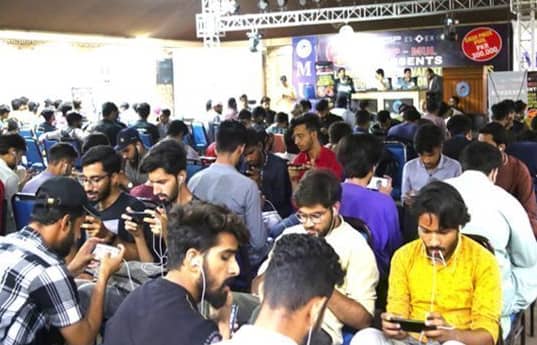 Gamer Pakistan Inc. defines itself as a development-stage interactive esports event promotion and product marketing company, with its roots tracing back to November 2021. The company's inspiration for this venture came from an unlikely source – a football game between Pakistani and Indian college students held in 2012.
This football match, set against the backdrop of historical tensions, served as a catalyst for Gamer Pakistan's founders. The game showcased the power of sports to bring rival nations together in friendly competition and camaraderie.
Esports in Pakistan: A Logical Choice
Esports emerged as a logical choice for launching college sports programs in Pakistan. The country recognized esports as a legitimate sport, appealing to its youthful population. With approximately 65% of Pakistan's 231 million residents under the age of 30, the country is a hotspot for gamers. Moreover, Asia leads the world in esports, representing 46% of the global gaming community.
From Colleges to the World
Gamer Pakistan's initial focus revolves around creating esports events for college and university teams, catering to both men's and women's divisions. However, the company envisions a broader expansion, reaching international markets and even venturing into live sports.
The long-term ambition of Gamer Pakistan is to establish a series of events where Pakistani college all-stars can compete against teams from countries like India, the U.S., China, and South Korea. With the rise of esports' global popularity, this vision appears increasingly attainable.
Monetizing Through Franchises and Partnerships
Gamer Pakistan aims to create 10 to 20 team franchises in Pakistan, generating revenue through franchise fees. Additionally, the company intends to explore opportunities in name, image, and likeness (NIL) rights, merchandising, and broadcasting partnerships.
While currently pre-revenue and without profits, Gamer Pakistan is gearing up to modernize Pakistan's advertising ecosystem and tap into the growing market for university sporting apparel and goods. Challenges lie ahead, but with its innovative approach and a burgeoning esports scene, the company is poised for an exciting future on the global stage.
Stay tuned to Brandsynario for the latest news and updates.