Coming from a society where marrying your phuppo ka larka (cousin) is as normal as drinking chai, we are no strangers to people calling someone hubby they have been calling bhai. While bhai to hubby is common, so is baji to beau, as we can see from Azeem Khan and Saba Qamar event.
Azeem Khan, Saba Qamar's beau
Azeem Khan has been a piece of trending news ever since it was revealed that Saba Qamar is dating him. The influencer/blogger, with a 42.5k following, got almost 20k more followers within a few days.
Content that would seem very meninist, Azeem Khan posts his own commentary on current issues and also posts his followers' voice notes. Among these posts was one from mid-2020. It was a response to Saba Qamar's video that she released during the covid induced lockdown. He captioned 'Saba Qamar Baji Jawab toh banta hai'.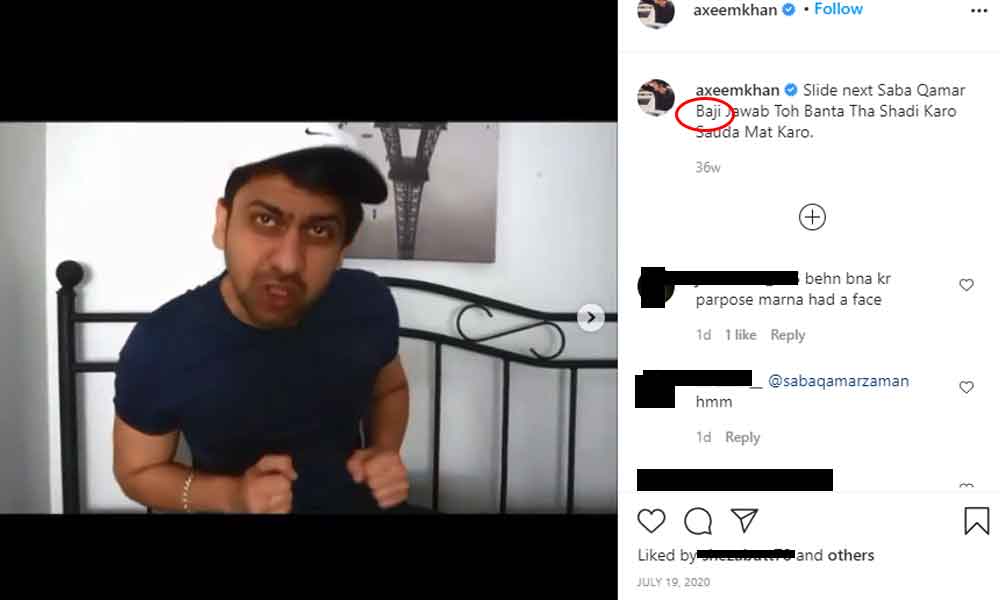 His past track record
If you want to put yourself through torture to listen to this series of video clips, be my guest. But I will tell you that they reek of anti-logic. You know how some people are; whenever someone wants to present a current issue, they have to negate it. This is exactly what happened. When Saba mentioned how women are maltreated in the name of marriage, instead of acknowledging it, he contradicts the entire issue by saying, "But we are also exploited."
And when someone invalidates a whole community's experience because they want to say that they are also important, one knows they are full of shit.
Is this person now DATING Saba?
It is still as shocking as we heard it the first time considering her views are totally opposite of what he conveys in his videos.
It is a baji to beau journey I would like Saba to convey because of the way Azeem conveys it, trying to be funny, he only comes off as irritating and annoying.
Stay tuned to Brandsynario for the latest news and updates!