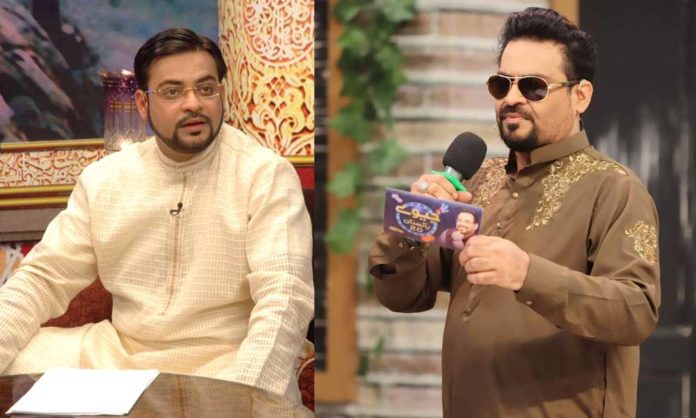 Aamir Liaquat is a personality that got introduced to the general public from Aalim Online, a show that featured various religious scholars. It was there that we saw Doctor Aamir Liaquat Hussain. And now, in 2021, we see Aamir Liaquat doing Naagin Dance on the set of Jeeeway Pakistan. The audience finds it hard to digest. Why? Because our first interaction has established him as a religious scholar.
Jeeeway Pakistan 2.0
In almost every episode of Jeeeway Pakistan 2.0, we get to see Aamir Liaquat doing something that doesn't sit well with us. First, it was the Naagin dance where he started moving as a Naadin would and then started rolling all around the floor.
Another instant was when Saboor Aly was invited to his show and she felt so uncomfortable that she had to call him out on live television requesting him to keep his eyes away from her. Moreover, he insulted Fahad Mustafa by saying he is not worthy of being a host. The reason he gave was that Fahad insults his guests. He further goes on to doing self-praise saying he would never insult his guests. But in every episode, we have seen him insult his guests' general knowledge (Zarnish Khan), their knowledge of Urdu (Ali Ansari), their personal life (Sanam Jung).
Not to mention how in the most recent episode, Aamir Liaquat kept pestering Ayesha Omar and Nabeel to get him a role at BulBulay.
Of course, people do say that it is all scripted. But just because it is scripted, does it justify what an influencer displays to the masses?
Aamir Liaquat and his performances
All that aside, these days when you watch the second season of Jeeeway Pakistan, it seems like Aamir sahab conducts the show as his own 1 hour 15 minutes long audition where he starts off by singing. He then moves on to displaying and proving himself right in every discipline. As the show segments change, he also delves into dancing and acting. And he does all that by ensuring that the guests say the least possible words.
So what happened here?
From what we can see, it seems that Aamir Liaquat wants to be known as an entertainer. An entertainer who can sing, dance, get casted in dramas, films, and also make intimate jokes with female guests. While all that, he also wants to be the highlight in general knowledge because he is a scholar. Now, here is the thing. When you delve into education to the deep end, your personality develops and you grow. You become a better version of yourself. But with Dr Aamir Liaquat, it did not happen. He claims to be a doctor and he continues with his behaviour that does not align with his education level. And this disjuncture is what people are finding hard to consume. Especially since the person we see in Jeeway Pakistan seems a step down from who we used to see in Aalim Online.
Stay tuned to Brandsynario for the latest news and updates!