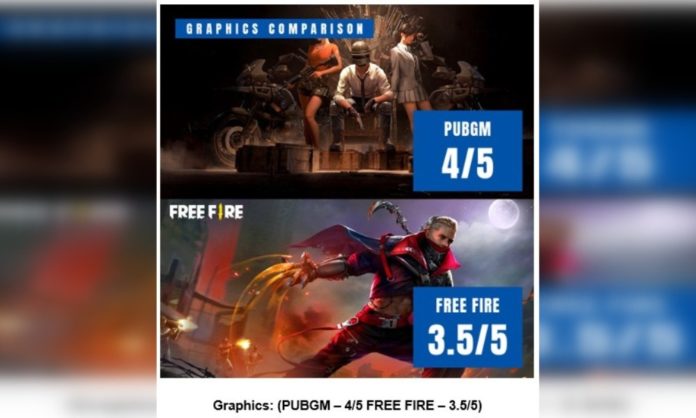 Moving towards the digital era, advanced gaming functions have become a commonplace expectation from smartphone devices. The gaming & esports culture in general has been on the rise in Pakistan, even before the offset of the pandemic where it peaked on a global scale. The growing trend presented a vacuum that 2 leading battle royale games captured, namely Free Fire and PUBG.
Gamers and fans from both sides have often sparked debates on which game is superior. We're here to settle the debate:
Free Fire:
Free Fire is a world-class mobile shooting game with a very fun and diverse gameplay that offers gamers numerous modes such as Battle Royale & multiplayer. The game is renowned for its ingenious matchmaking system which makes it suitable for all kinds of players (newbie to pro) pairing you with similarly ranked players. Its inherent optimization makes it compatible with all kinds of devices (1Gb-12Gb RAM). As such, it's been the indisputably most downloaded game globally for 3 consecutive years, with more than 1 billion downloads to date.
Free Fire has become more than just a game to a social platform where individuals can interact with each other. Garena Free Fire focuses on providing a wide variety of content and experiences allowing the gamer to explore new and engaging adventures before even the game starts.
PUBGM:
PUBGM is a player versus player shooter game which offers upto 100 players inside its battle royale mode. PUBG has amassed a great feat of 500M+ downloads globally, from its release in 2017. The game is renowned for its 'real' concentration on gun play, with their gun classifications & recoil standing out from the rest. PUBGM offers a number of unique options to mobile gamers such as the mini zone mode, war mode, and sniper mode in the arcade mode which are available for both TPP and FPP servers.
Despite being in the same genre, the two battle royale games are vastly different from each other. While the Krafton classic has more 'real' gameplay that is rooted in gunplay, Free Fire's character abilities and numerous engaging game modes add additional elements to the mix.
Let's compare the two: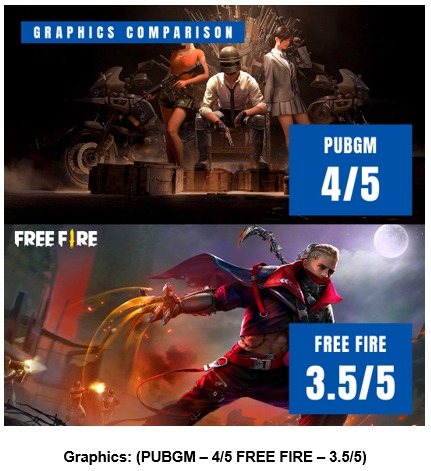 PUBG is more inclined towards replicating real life battle scenarios and does a great job displaying it on a mobile screen using the Unreal Engine. Free Fire has a more fun-based theme which includes animations to attain their perfect blend of realism and fantasy.
It's hard to judge which one is better since they have 2 different art style directions, but we still give PUBGM the edge as it's our personal preference of the realism art style. Nonetheless, if you want to play a fun game with vibrant graphics and colors, we would still recommend Free Fire who did a better job at this.
Gameplay: (PUBG – 4/5, FREE FIRE – 4.5/5)
Both games are market leaders which they do have their fun and superior gameplay to thank for. Free Fire has the edge in terms of having varied gameplay with a well-developed character system and many more fun and creative modes such as Craftland & Lone Wolf. PUBGM, on the other hand, focuses on serving the hardcore Battle Royale players, with many similar function to the hit PC version of the game.
Overall, we've given Free Fire an additional 0.5 points because the gameplay is more diverse, game duration is a lot shorter. Hence it's well-catered to gamers with all type of experience, from soft to hardcore.
Performance and Stability: (PUBGM 2/5, Free Fire 4/5)
For this one, Free Fire is a clear winner. PUBG Mobile is often under fire for its game lagging and app crashes, users have often complained about how the game only runs well on higher-end phones. Free Fire has optimized its game to run smoother on all phones with lower reports of glitches.
Gaming Community in Pakistan: (PUBGM 3.5/5, Free Fire 4.5/5)
Free Fire has a rampant community, with regularly scheduled meet-ups, online tournaments and unique initiatives like the Campus Challenge and Battle of Cities. PUBG too has a sizeable community and also engages its user through localized community campaigns like the Campus Empower Challenge.
Overall, judging from the size and the frequent engagements of the community, we have to give it to Free Fire in this category.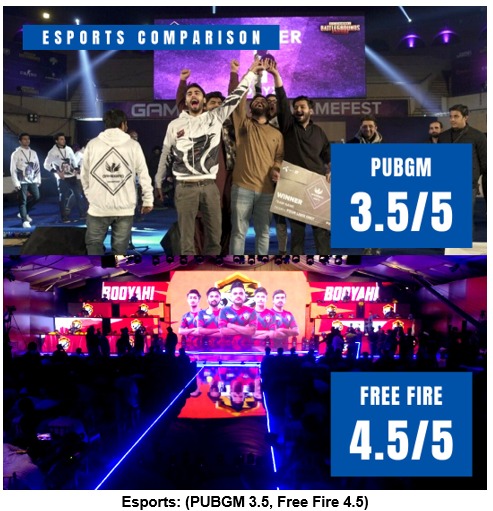 Free Fire has been visibly investing in esports in Pakistan, by setting up the first professional esports league of Pakistan and their winners, HOB represented Pakistan at the grand World Series in Singapore and have other national tournaments such as the Soobai Series. PUBGM has recently affiliated itself with Galaxy Racer where they too will host a large scale esports tournament with a sizable prize pool. We look forward to both games raising the level of esports in Pakistan.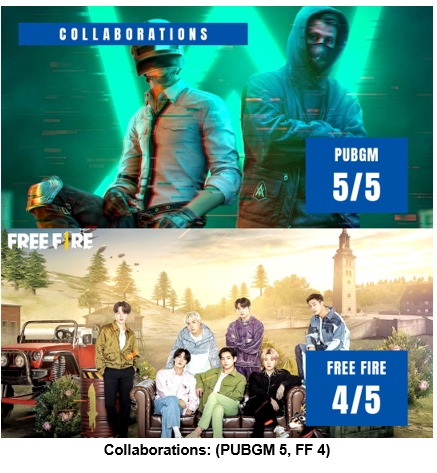 PUBG Mobile has made some notable international collaborations with the likes of Liverpool FC, Tesla, Neymar and Spiderman (which featured in-game as well). They timely captured the Ertugral craze in Pakistan when they announced their collaboration. Free Fire itself has numerous noteworthy collaborations worldwide, such as Christiano Ronaldo for their in-game 'Chrono", BTS and Hrtihtik Roshan. They have shown a more local approach in Pakistan with more local collaborations such as cricketing icons Babar Azam & Shadab Khan. Perhaps it is just the difference between the marketing approach of the game publishers. However, we still give it to PUBGM for this category because of the frequency and how deeply integrated the collaboration is in the gameplay of the game.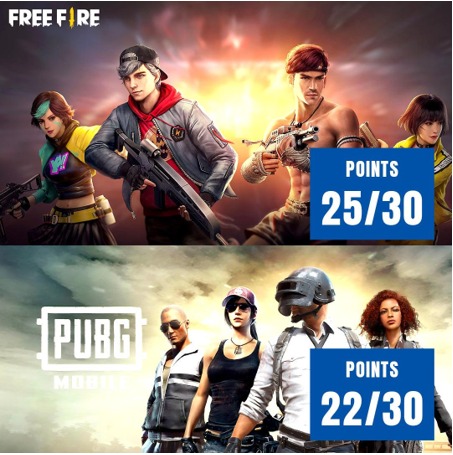 In conclusion, Free Fire earns 25/30 points, whereas PUBGM earns 22/30 points. This is just an aggregate score of how we would rate the game functions overall, it does not necessarily mean one game is better than the other. Afterall, some gamers might just choose to play a game over just one of the factors above and everyone has their own unique preferences. Hence, we'll leave it to you to decide whether a Booyah or Chicken Dinner suits you best.