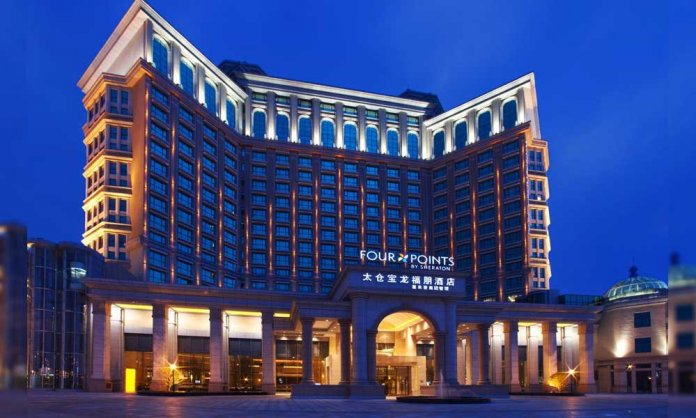 Update: Marriott International Inc has announced the opening of Four Points by Sheraton Lahore in a prestigious partnership with Lahore Regency Private Limited.
Four Points by Sheraton Lahore was previously known as Hospitality Inn Lahore.
While addressing the present individuals at the opening of the hotel, Alex Kyriakidis, President and Managing Director, Middle East and Africa, Marriott International mentioned that the team is delighted to have open the first Four Points by Sheraton Hotel in Pakistan.
Four Points by Sheraton brand's fast-growing global portfolio of over 250 hotels in nearly 40 countries.
He added:
We are delighted to open our first Four Points by Sheraton hotel in Pakistan.  The hotel is a testament to our conversion-friendly strategy that allows independent hotels to quickly join our portfolio and benefit from our distribution and the power of our loyalty program,

Four Points by Sheraton has proven to be a global hit with its distinctive identity and ability to meet the increasing demands of the modern, everyday traveler and is experiencing an incredible growth momentum. We are confident that with the brand's signature uncomplicated and comfortable service, the hotel will meet the rising demand for high-caliber lodging in this fast-growing market.
The location for the hotel is very ideal, it is approximately 25 minutes away from the Allama Iqbal International Airport surrounded by different attractions including Lahore Zoo and Jinnah Gardens etc.
Asides this, the hotel has may salient features including:
120 well-equipped guestrooms, all featuring the Four Points Signature Bed.
Fitness center.
Rooftop swimming pool.
Three banquet halls.
Two meeting rooms – equipped with state-of-the-art technology.
---
---
April 9th, 2019: In the latest bid to promote tourism in Pakistan, the government is doing everything in its will to welcome outsiders.
One of the developments in the industry is that Marriott International is planning to add at least 20 properties in the Middle East and Africa by the end of 2019.
Lahore Regency Private Limited and Marriott International signed an agreement to open the first Four Points Sheraton hotel in Pakistan.
"Our growth across the Middle East and Africa is fuelled by strong demand for our diverse range of well-established brands, each offering different attributes that cater to this region's ever-changing and evolving marketplace," said Jerome Briet, Chief Development Officer, Middle East & Africa, Marriott International.
This region continues to present us with opportunities to further grow and enhance our portfolio across new and established markets.  While the majority of our growth will be through new-builds, we are seeing an increasing number of conversion opportunities, especially in the luxury space. – he added
As a part of its expansion and demand, the company expects to bring projects to the UAE and expand the Four Points by Sheraton portfolio by opening a branch in Lahore, Pakistan.
We are delighted to collaborate with Marriott International to open Four Points Sheraton Lahore – said Lahore Regency's Managing Director and Chief Executive Khurram Khawaja 

With the tourism market in Pakistan set to grow in the coming years, we are looking at ways in which we can redefine travel experiences for travelers from across the globe
The Four Points by Sheraton will feature 120 guestrooms featuring the Points Signature Bed. The hotel will also cater to a diverse range of food and beverage outlets including:
Red Lotus (Chinese)
Koyla (Desi)
Lahore Gates Cafe
The Pastry Shop and more.
Furthermore, it will also have a fitness center, a rooftop swimming pool, three banquet halls and two meeting rooms equipped with state-of-the-art technology.
More will be unveiled as time passes on and more information about the project surfaces.
Stay tuned to Brandsynario for more news and updates.
Marriott Hotels Hacked: Credit Card Details & Guest's Data Stolen