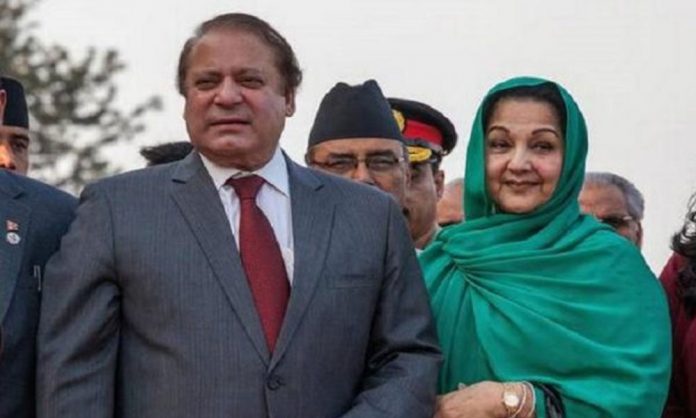 Three-time former First Lady of Pakistan Begum Kulsoom Nawaz passed away in London after the prolonged illness.
The former first lady was born to a Kashmiri family and married the former Prime Minister in 1971. The couple had four children; Hussain, Hassan, Asma, and Maryam.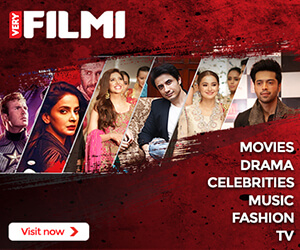 She was battling against cancer (early-stage lymphoma) since August last year after doctors in the UK confirmed the diagnostics.
Despite going through several surgeries and chemotherapy sessions, she suffered a cardiac arrest in June and was placed on the ventilator.
In July, the family had reported improvements, however, her health started to deteriorate on Tuesday and she was rushed to the hospital, where she took her last breath.
Celebrities Offered Their Condolences to the Sharif Family
It is never easy to bear the news of your wife's or mother's death while you are in jail. May Allah give them courage to bear the loss.
Rest In Peace #KulsoomNawaz!!!

— Rabia butt (@Iamrabiabutt) September 11, 2018
إِنَّا لِلّهِ وَإِنَّـا إِلَيْهِ رَاجِعون

COAS expresses his grief and heartfelt condolences to the bereaved family on sad demise of Begum Kulsoom Nawaz. "May Allah bless the departed soul eternal peace at Heaven-Amen", COAS.

— Maj Gen Asif Ghafoor (@OfficialDGISPR) September 11, 2018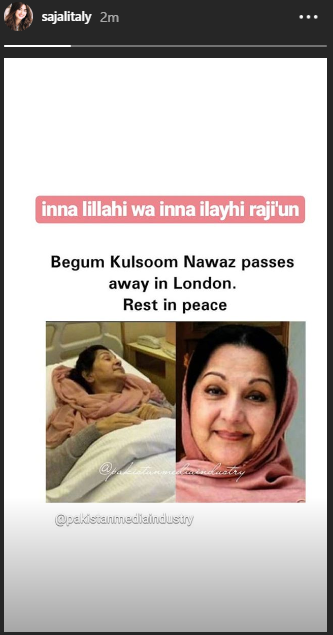 Sincere condolences to the Sharif family. May her soul Rest in Peace.#KulsoomNawaz

— Fahad Mustafa (@fahadmustafa26) September 11, 2018
We surely belong to Allah and to Him we shall return. Very Sad to hear about the demise of #KulsoomNawaz Sahiba. May Allah rest her soul in peace and give her highest place in Jannah. My heartfelt condolences with all the family members @Hussain_NSharif @MaryamNSharif @CMShehbaz

— Syed Mustafa Kamal (@KamalPSP) September 11, 2018
Innalillahi wa inna alaehi rajioon

I would like to extend my condolences on the sad demise of #KulsoomNawaz
May Allah grant her Jannah.

— Dr. Yasmin Rashid (@Dr_YasminRashid) September 11, 2018
No matter what someone has done, the passing of your wife and your mother while you are in jail is not a laughing matter nor is it something to be celebrated. Hoping the trolls will spare #KulsoomNawaz at least in her death.

— Alia Chughtai (@AliaChughtai) September 11, 2018
#KulsoomNawaz died not knowing till the End that her Husband and Daughter are in Jail, kept asking about them every time she was conscious that why they don't come to see her anymore.

— Rabia Anum Obaid (@RabiaAnumm) September 11, 2018
#KulsoomNawaz Inna lillah e wa inna aleyhey rajioun. May Allah have mercy on her soul. Its a request to please not disrespect the deceased by politically manipulating her death & giving opinions like Nawaz & Maryam should be freed because Kulsoom sahiba died etc etc. Please! pic.twitter.com/QdrfGN0Zx6

— Hamza Ali Abbasi (@iamhamzaabbasi) September 11, 2018
— Hamza Ali Abbasi (@iamhamzaabbasi) September 11, 2018
کلثوم نواز جب وینٹیلیٹر پر تھیں تو نواز شریف کے مخالفین نے مذاق اڑایا بیماری کو ڈرامہ قرار دیا اللہ کرے کسی کو ایسے کم ظرف دشمنوں سے واسطہ نہ پڑے #KulsoomNawaz

— Umar Cheema (@UmarCheema1) September 11, 2018
*This is a developing story.
We offer our heartfelt condolence to the family.
Stay tuned to Brandsynario for more news and updates.