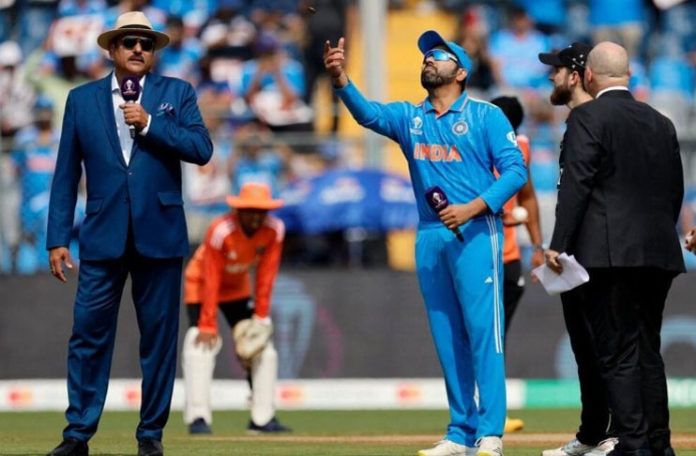 Former Pakistani cricketer Sikandar Bakht recently stirred controversy by alleging that Indian skipper Rohit Sharma intentionally threw the coin far away during toss of the first semi-final between India and New Zealand.
Bakht claimed that Sharma's coin-tossing strategy aimed to prevent New Zealand's captain, Kane Williamson, from clearly seeing the outcome.
Speaking on a local TV channel, Bakht suggested a consistent pattern where Sharma, when in charge of the toss, would toss the coin in a manner that obstructed the opposing captain's view of the result.
Very strange the way Rohit Sharma throw the coin at toss, far away, don't let other Captains to see, compare to other Captains in the WC , any reason?? @BCCI @TheRealPCB @CricketAus @CricketSouthAfrica #sikanderbakht #WorldCup23 #IndiaVsNewZealand @ImRo45 @ICC pic.twitter.com/KxhR2QyUZm

— Sikander Bakht (@Sikanderbakhts) November 15, 2023
"When Rohit Sharma tosses the coin, he always throws it far away from the other captain. It's almost impossible for the other captain to see the actual outcome," Bakht asserted.
During the semi-final toss, Williamson had to rely on the match referee's declaration of the toss outcome as the coin landed several meters away. The quick announcement confirmed India's victory in the toss. Consequently, India chose to bat first, posting a commanding 397-8 and ultimately securing a 70-run triumph in the match.
A recent report by Fox Cricket referenced a New Zealand camp insider, indicating that Sharma's toss tactics had been a cause for concern within their team during the tournament.
Another former pace bowler Aaqib Javed also echoed the same sentiments and expressed doubts over the way Rohit Sharma flips the coin during the toss.
'Rohit Sharma throws the coin and does not flip it properly! What's the point of toss when opposition captain doesn't see the side of coin? BCCI is controlling cricket and ICC does not speak in front of them. This World Cup is planned, India will win it and India's win in 2011… pic.twitter.com/cn9zNxZids

— Farid Khan (@_FaridKhan) November 16, 2023
The controversy surrounding the semi-final clash began even before the match kicked off, with media reports suggesting that the Board of Control for Cricket in India (BCCI) pressured the International Cricket Council (ICC) to utilize a used playing surface instead of a fresh pitch for the crucial encounter.
Notably, Rohit Sharma-led India has won five out of ten tosses during the ongoing ICC World Cup 2023.
Stay tuned to Brandsynario for the latest news and updates.