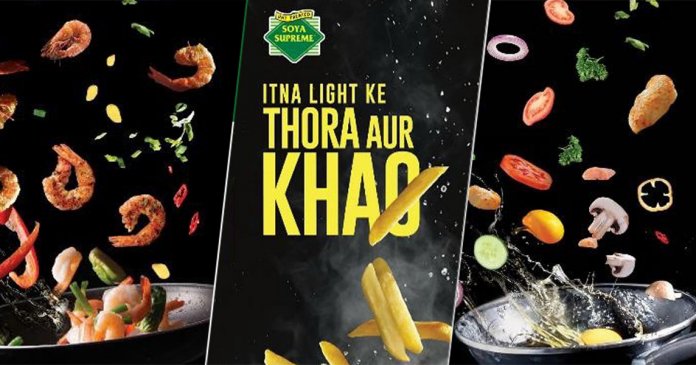 Food is LOVE! Being Pakistani, we take great pride in our dishes be it Sindhi biryani, Peshawari chapli kabab, Lahori chargha and murgh channay or Balochi sajji.
Unfortunately, despite our foodie-nature, we often feel the need to compromise on eating our favourite cuisines as we try to prioritize health and fitness.
But what if you could eat everything you wanted without having to compromise on a healthy heart, mind, and body?
Soya Supreme is a brand we are all familiar with. As one of the most renowned names in Pakistan, the oil brand has always encouraged us to eat smart and healthy.
In their latest campaign 'Thora Aur Khao', the brand gives its audience the good news that people don't need to hold back on their favorite foods anymore. They can have a second helping of that spicy plate of delicious biryani, a sizzling plate of fish or a scrumptious round of BBQ fresh off the grill because food cooked in a light and healthy Soya Supreme oil gives them room to eat just a little bit more.
The most attractive feature of the entire campaign is the catchy jingle that has become the new anthem for foodies all over the country. From the moment it starts, viewers are absolutely hooked to the mesmerising visuals that are well complemented by the jingle.
All our moments in life can be associated with food and the campaign picks up this insight cleverly.
 It starts off with 'Daal pe laaga tarka maa ke pyaar ka'
"Qormay ne zimidari nibhai"
"Halwa puri se chutti manai"
"Burger, Chinese, pizza khila ke, doston se yaari nibhai"
 "Dil toota toh French fries!"
"Match jeeta toh curry and rice"
"Job laagi toh jalebi banai"
"Mian se laar ke spaghetti khai"
Catch the rest of the 'Thora Aur Khao' jingle below – but beware, you will not be able to stop humming it!
https://youtu.be/9YxFRSw5_3Q
Launched in the 1990s, Soya Supreme was the only cooking oil in Pakistan that treated the oil at Ultra High Temperature.
It is the flagship brand of Agro Processors & Atmospheric Gases (Pvt.) Ltd (APAG), and is one of the top three players in the premium segment of edible oil category.
The campaign seems to be aimed at a younger TG who is now more health-conscious and the strategy used has a contemporary and light-hearted feel.
The best part about their latest campaign is that everyone is a foodie, young or old, male or female, there are absolutely no boundaries when it comes to munching.
The brand has gone out-of-its-way to promote its new campaign via ATL & BTL mediums like TV, Radio, Digital, Outdoor and in-store Point Of Sale Material to ensure a 360ᵒ visibility covering all touch-points of the audience.
So, which dish will you binge-eat?