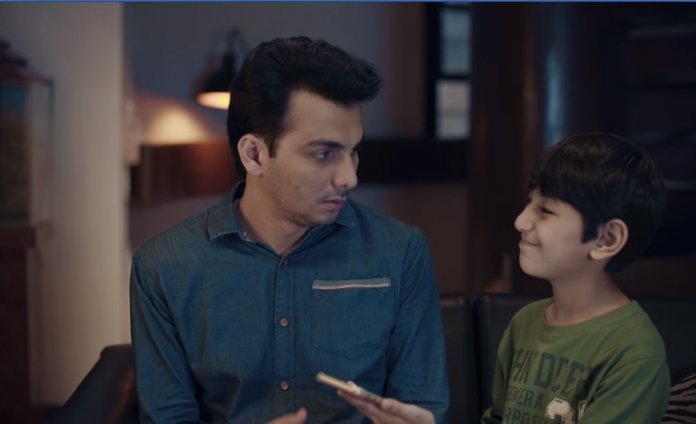 Popularly referred to as the leading ride-hailing app in the region, Careem has now got much more to offer to its customers. Recently, the popular app introduced itself as the internet platform of the greater Middle East and Pakistan with the launch of its Super App, offering much more than transport, including grocery delivery, mobile recharge, bill payments, and our personal favorite food delivery services.
The recent Digital Video Commercial (DVC) by Careem is making rounds on the internet for all the right reasons. Known for adding the perfect amount of humor in their marketing communications, Careem was once again able to hit the mark and catch the attention of the audience with its first large-scale food delivery campaign.
The video commercial is a part of the 'Hangry' campaign, which claims that Careem's food delivery service always delivers on time committed and will not let you reach a point where you get uncontrollably 'Hangry.' The pop-culture term 'Hangry,' which is a common word for angry and hungry, was able to resonate with the audience.
Bhook ka janwar math jagao…
Sirf Careem sey waqt pey bhook mitao! 😋

Order Food from the #CareemSuperApp & get your order while you're hungry, not hangry 😉
Plus, get up to 50% off on Hangry Deals & win FREE* Meals for a month too!

Careem – Delivering at Hungry, not Hangry! pic.twitter.com/h72qusvjRq

— Careem Pakistan (@CareemPAK) July 23, 2020
The DVC depicts how an average food delivery app does not deliver on time, which may lead one to be hangry and out of control. This is something that many food delivery app customers complain about, which is probably why the audience was able to identify with being 'Hangry' immediately.
Before the launch, Careem dropped not-so-subtle hints of being hangry. This notification also caught the attention of many people and was able to develop intrigue among the customers.

This was followed by another notification which revealed the idea of the campaign and the discounts offered.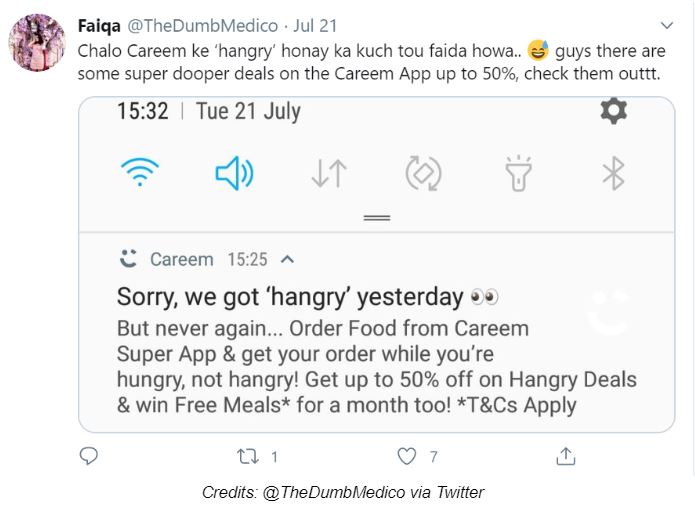 Soon after the DVC was released, some scenes were even turned into memes by the Pakistani audiences.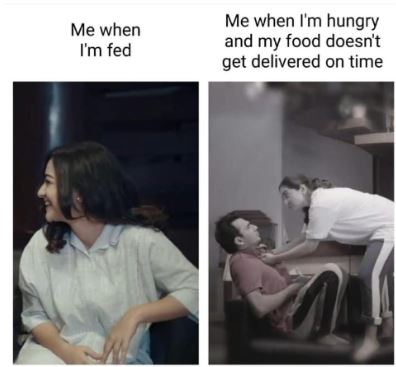 According to the bloggers' posts on various social platforms, the campaign has been quite a hit. One of the highlights of the campaign is the significant discounts Careem is offering on its food services along with a chance to win free meals for a month for the customers. To our surprise, the cuts in Careem's 'hangry' deals include some of the people's most adored restaurants such as Ginsoy, Ginsoy Live, Oh My Grill, Broadway Pizza, OPTP and many more.
Some would say that it was a far-flung shot by Careem since usually food delivery apps have had trouble managing such discounts due to the excessive ordering by consumers, however as per the public's sentiment, Careem has managed to pull it off so far. As the food is very close to our hearts and tummies, we hope they continue to keep up their service.
One exciting feature is that the new Careem interface also offers real-time order tracking with constant notifications as to where your captain is, along with an option to contact your captain.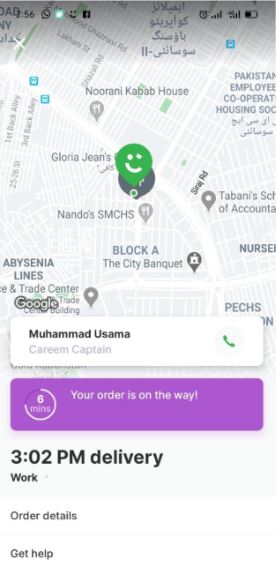 It wouldn't take a genius to say that this option alone can be a USP, let alone combining it with the overall experience that may pave the way for Careem to win customers over.
Another exciting feature that goes hand-to-hand with Careem's ideology is the 'Tip your Captain' option at the time of payment. With people opting more and more for online payments, this feature has proven to provide a genuinely contactless delivery experience with no cash exchange and guilt-free experience. It is safe to say that with fast delivery and immediate customer support, who knows Careem may very well take the lead in food delivery pretty soon?
With the food delivery market getting more competitive, we cannot help but get more excited about more discounts, better service, and great variety.
Towards the end of Careem's ongoing campaign, the company sent out another interesting notification to its customers, which might have gone unnoticed by some, however for an avid customer using food delivery apps, it might have been very apparent. We'll let you decide.