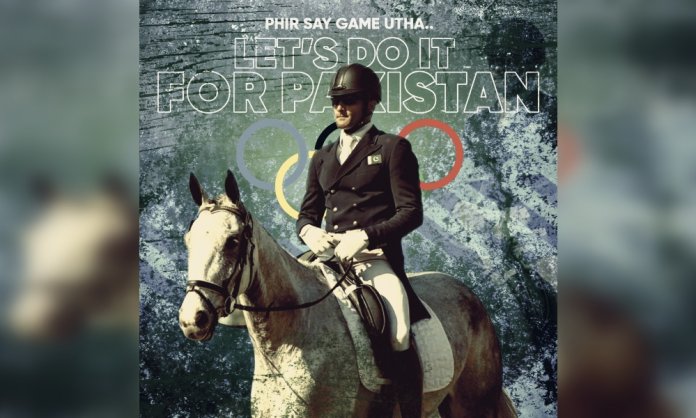 Elimination of terrorism, poverty, improvement of a better health system, and the emergence of a new welfare system must flourish side by side with sports development. Pakistan must not wait to overcome these issues, Pakistan has to progress in world sports and needs to be competitive.
Equestrian was the new buzz. Pakistan's vision to secure the first equestrian Olympic quota was the benchmark of a 73-year long journey.
An unknown 23-year-old Pakistani boy in 2005, launched a so-called project with $50, with a goal to take Pakistan equestrian to Olympic Games – something, which was never achieved ever before. What was this kid thinking? A near-impossible goal, normally thrived by millions of dollars funding by a state. Saudi Arabia spent approx.+$25 million for the purchase of horses, in order to qualify the national team for London Olympic 2012.
Indeed, the boy's idea was laughable, mocked and coaches would not train him. His own equestrian skills so feeble, coach quote 'can't get any worse than this, the only way is up'.
Diplomacy in the new world order holds very little credibility. The boy who lived through 9/11 in Australia was convinced; Pakistan's softer image will come through sports.
Australia
Usman Khan started training in Australia, and for the next 15 years, spent everything he had, earned or he could save, on his training and Olympic qualification. As if that wasn't enough, he put his blood, and sweat into Pakistan's vision to reach the Olympics. He encountered failures, setbacks, financial strife, even broken bones, and much more. No life dream comes cheap, and any aspect of equestrianism is not cheap either. In the process introduced a different type of riding 'eventing' affordable for every class of society. So Pakistan can begin to create equestrian riders in three Olympic disciplines – dressage, eventing, and showjumping.
Lifetime Struggle
By the end of 2019, after the struggle of a lifetime, Usman Khan finally made it BIG, as Pakistan equestrian qualified for the Olympiad in Tokyo. This happened after a wait of 73 Years, since Pakistan's independence in 1947. The Federation Equestrian International (FEI) confirmed Pakistan's entry to the Tokyo Olympics in Feb 2020. Usman Khan became the first Pakistani to achieve this milestone. Pakistan Khan made to the Olympic Team after trying for 15 years.  He is the oldest member of the team.
Rise in World Ranking
Usman's remarkable story continues to create shockwaves around the world. After the Olympic qualification, he won two major FEI events after a wait of 13 years. Once ranked at the bottom of the table, Pakistan Khan is now ranked No 1 FEI Eventing Zone Africa and Middle East and ranked No 2 in Olympic Ranking Group F.
Media Shocked – Al Jazeera reported
Pakistan equestrian Usman Khan rides Azad Kashmir to Olympics
This was BIG news, not only in Pakistan but very well reported across international media, with over 300k + followers and growing. Facebook | YouTube | Instagram
Cost
Having already spent $3mln from his own pocket through this time, Usman Khan still had to leave his well-paid IT consulting career in 2019 to fully focus and prepare for Tokyo 2020.
Azad Kashmir Controversy
In Feb 2020, Indian Olympic Association (IOA) raised an issue with International Olympic Committee (IOC), about a breach of IOC rule-50 and to suspend Pakistani rider. Usman and Azad Kashmir have been competing for 8 months at events where Indian officials were present. Interestingly, this violation was raised only 1 week before the FEI announcement of the Olympic quota. This was the first time Pakistan was given a quota in the equestrian category. IOC through backdoor channels tried to pressurize Usman to change the name of his horse 'Azad Kashmir'. Usman Khan boldly refuses to accept the rule-50 violation and engages Pakistani and Australian lawyers to address the issue. Ultimately, Usman Khan stood his ground and 'Azad Kashmir' name was never changed.
Azad dies
As if all struggles weren't enough; COVID struck and season to be canceled. In Sept 2020 there was another huge setback in this journey, as his horse Azad Kashmir in prime form died due to heart failure. As much as it is a great loss for the Pakistan Olympics campaign, it is a huge financial burden for the Pakistan Equestrian to continue to prepare for the Tokyo Olympics.
Business
This is a game-changer for Pakistan Army. Remount Depot Mona, is the largest functional remount installation in the world and is spread over 10,000 acres. If Pakistan can establish dressage and show jumping bloodlines, it will open the nation to an untapped market. Most likely to change the breeding industry of the country and provide opportunities to the international and local markets.
Support factor
It has become a much bigger financial setback for Pakistan, as they are financially stretched and Pakistan Roadmap to Tokyo 2021 requires support from the private sector. The government of Pakistan or Pakistan Sports Board (PSB) has not acknowledged and supported Usman's efforts
Imagine, if Usman Khan had a sponsor. Will Pakistan emerge from the shadows, as a strong equestrian nation?
After 15 years of training and performing on foreign soil in isolation. Usman is mostly self-driven and his progressive achievements reflect, he is only getting better.
One thing is for certain. The boy's vision made him a man today. Pakistan has arrived at the World Stage of Equestrian Sports. Alhamdulillah
If you want to support Usman, you can click here to donate.
Stay tuned to Brandsynario for the latest news and updates!