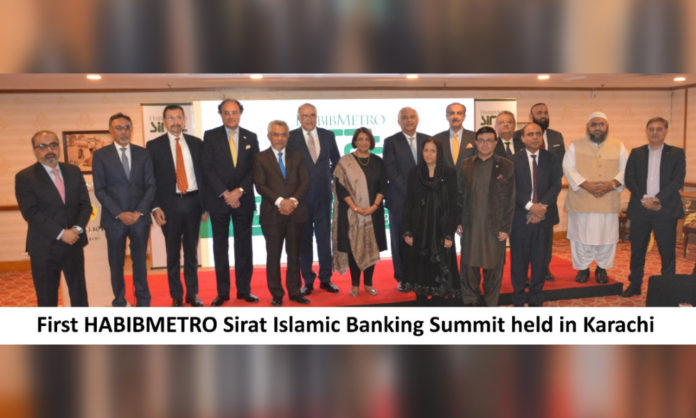 The first HABIBMETRO Sirat Islamic banking summit, which was attended by a number of stakeholders including SBP, PSX, and SECP officials as well as CEOs and Shariah Board Members of various banks, Shariah scholars, and businessmen, was organised by HABIBMETRO Sirat, the Islamic banking brand of HABIBMETRO Bank.
The Summit was arranged to commemorate the arrival of Tan Sri Dr. Daud Bakar, the chairman of the HABIBMETRO Sirat Shariah Board and a renowned international expert on Islamic law and award-winning author from Malaysia. Dr. Daud is the Founder & Group Chairman of Amanie Group and is a Shariah Board Member of various foreign banks. He has been awarded with 'The Royal Award for Islamic Finance 2022' by the King of Malaysia.
Tan Sri Dr. Daud Bakar presented interactive sessions with a variety of audience groups throughout the day-long summit and covered new prospects and difficulties in the international Islamic banking sector.
Tan Sri Dr. Daud Bakar gave a speech at the event and said, "I am extremely pleased and privileged to be here in Pakistan and to represent HABIBMETRO Bank, which has established itself as one of the most trusted financial institutions here in Pakistan, courtesy of its global vision of progressing and playing a crucial role in shaping the Islamic finance sector of the country.
Deputy Governor of the State Bank of Pakistan, Ms. Sima Kamil, presided over the Summit's opening session. The Deputy Governor stated during her speech that "money is a crucial prerequisite for the success of any economy, and Islamic finance by virtue of its faith-based structure has natural synergies with risk and reward mechanisms that offer an appropriate solution. Islamic financial structures stem from Shariah, which emphasises a close connection between financial transactions and the actual economy and requires that Islamic financial transactions be supported by underlying productive activity.
She continued, "The fundamental difficulty here is the adequate supply of Islamic finance professionals. This is a challenge that has to be overcome in order to convert conventional banking into Islamic banking. However, she reassured that the State Bank of Pakistan remains fully committed to providing all possible support and facilitation to the banks during their conversion process. There is an increasing need for qualified Islamic finance professionals who can lead the financial industry to the next stage.
When he welcomed the distinguished attendees to the Banking Summit, Mr. Mohsin Ali Nathani, President & CEO of HABIBMETRO, remarked, "We are extremely proud to have Tan Sri Dr. Daud Baker, a scholar and author of international renown, chair HABIBMETRO Sirat's Shariah Board. For all of us, his trip to Pakistan is a tremendous learning experience. His direction and vision significantly bolster HABIBMETRO's Islamic banking division. Insha'Allah, under his direction, and with the SBP's encouragement of Islamic Banking, HABIBMETRO Sirat will experience significant growth.
Since 18 years ago, HABIBMETRO has promoted Islamic banking. The Bank's strategy objective for promoting and expanding Islamic banking in Pakistan is in line with that of the government and SBP. The main market for Islamic products is in Pakistan, which is where the Sirat brand originated. It is also sold in the UK, the United Arab Emirates, South Africa, and Switzerland. HABIBMETRO Sirat is one of the top 5 Islamic Banking Windows in Pakistan.
A division of Habib Bank AG Zurich, which conducts business in 10 nations on four continents, is HABIBMETRO Bank. 500 branches of HABIBMETRO Bank are spread over 194 cities in Pakistan. There are 242 windows and 61 dedicated branches of HABIBMETRO Sirat operating in 59 cities.