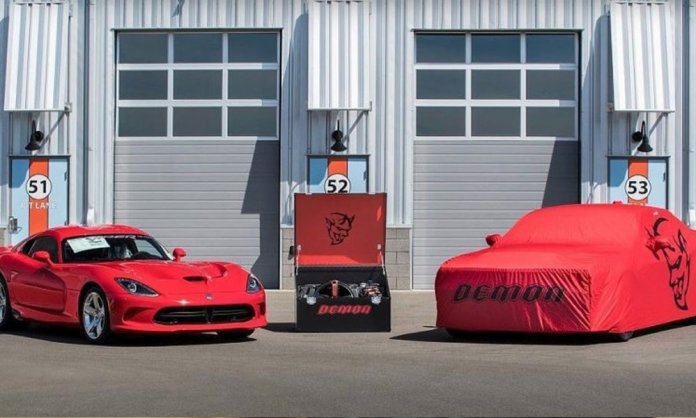 The astronomical sums that classic cars go for at auction frequently make headlines, but brand new cars straight off the production line can also go for a lot of money — as long as they're special enough, of course.
It also helps if a charity is going to be the beneficiary of any proceeds too, and a pair of Dodge models that were sold by Barrett-Jackson at the Northeast Auction in Connecticut on the weekend certainly tick all of those boxes.
The cars in question were the very last examples of the Dodge Viper and the Dodge Challenger Demon to be produced; they were both finished in Viper Red and were sold together as one lot along with a number of pieces of related memorabilia.
The final hammer price was a spectacular $1 million that all went to the United Way charity, and the 10 percent buyer's fee goes directly to the American Heart Foundation.
When combined, these two stunning cars produce a total 1,485 horsepower, so for the winning bidder, it meant spending an incredible $673 for each individual horsepower. That sounds like a lot, and it is, but it's still a bargain when compared to the price-per horsepower of something like a Bugatti Chiron.
The winning buyer was a renowned collector of all things Dodge called Dan Snyder, who currently counts more than 70 cars in his collection, including more than 30 Vipers and Hellcats. And according to the Dodge Garage website, Dan is now the owner of not one but two Challenger Demons.
FCA's Steve Beahm said of the sale: "We know the power of the Dodge Viper and Dodge Challenger SRT Demon to put a smile on people's faces; we're smiling today because we know the power of this donation to the United Way. These particular vehicles mark the end of their eras as the last vehicles of their kind to be built; it's rare to have just one such vehicle cross the auction block, much less a pair at the same time."
The 2018 Dodge Challenger Demon was a limited run of just 3,300 units, and this last one rolled off the assembly line at the Brampton Assembly Plant in Ontario, Canada on May 30. It was then fitted with a Viper Red paint job and a one-of-a-kind VIN instrument panel badge.