Human beings can be considered complex creatures. They often pull acts and stunts that make one wonder about their sanity. Yes, some of these are so intense, it leaves out heart pounding away in our chest. Remember the reality show 'Fear Factor'? It was built on the premise that human beings can accomplish quite a lot of impressive stuff.
Similarly, shows by Bear Grylls show how we can survive in the toughest of conditions. Even Obama has made an appearance on that show, tagging along on a trip to the jungle. So when we talk about 'Daring' acts in Pakistan, what comes to your mind? Remember, they may not always be the sanest of acts. Speaking of Daredevils, you must have heard of the Mardan push-up driver. We have more news!
The Driver:
Recently, an interesting piece of news went quite viral. It was similar to one of those videos where people perform stunts. However, here the stunt seems to be one out of a million ones to do. We have seen people hanging from cars and doing wheelies with them. They have also been seen standing on bikes. So, what is this Mardan driver getting the fame for?
You must have guessed the answer by now. It might have been guessed when you read the title. That is exactly what the Driver was doing in the video shown below. He is a driver from the region of Mardan. The Driver seems to be doing push-ups on top of the moving car! Push-ups on a car, with the driver door open!
Check this out!
Mardan famous driver
Ladoo khan 😳 pic.twitter.com/CDwCo8go3U

— Shoaib Ahmad (@shoaibahmadsh) February 24, 2021
Update On The Driver:
The video went so viral, people began to make memes and further jokes out of it. Others criticized the driver for pulling such a dangerous stunt. It had no special purpose behind it so people spoke up. However, on the other side, people also started to cheer on and support the video. It seems there are two sides to this coin.
However, we have even more news on the driver. The person doing the stunt is reportedly someone called Ladoo Khan. In recent news, it seems that the police have arrested the person. In the picture below, we can see the person posing in handcuffs as the police booked him.
However, people are also calling the image fake.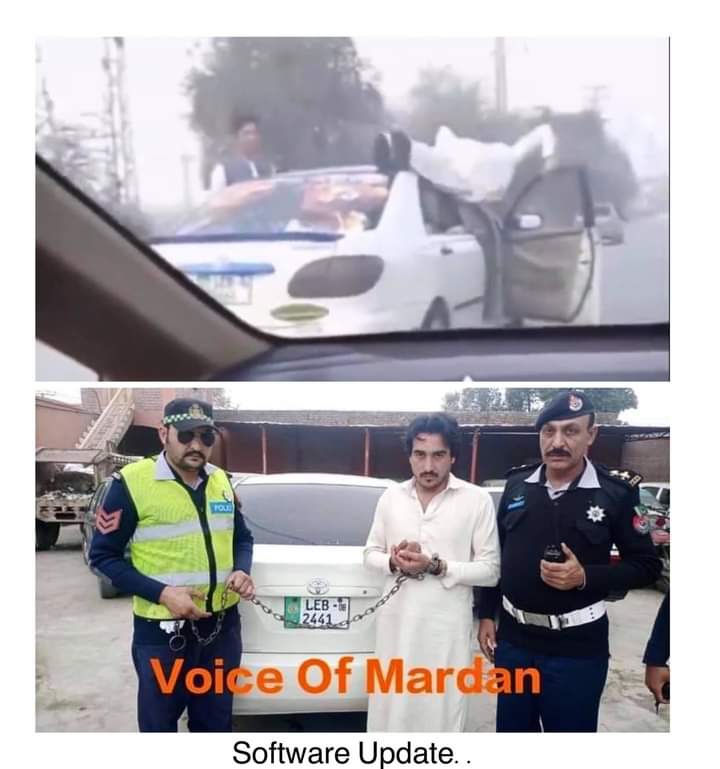 Strange Acts:
Strange, bizarre stunts and acts like these might just have become a norm in this country. It is not necessarily always a bad thing because some ideas go further than others. However, we must have care about how we are moving about on the road.
You never know if an act of yours may cost the lives of other people on the road. It is a place where we must tread with care. Let us see how the story develops further on the Mardan Push up Driver. For now, we have speculation that he has been arrested. Maybe he escapes and does Burpees this time!
Stay tuned for more from Brandsynario!