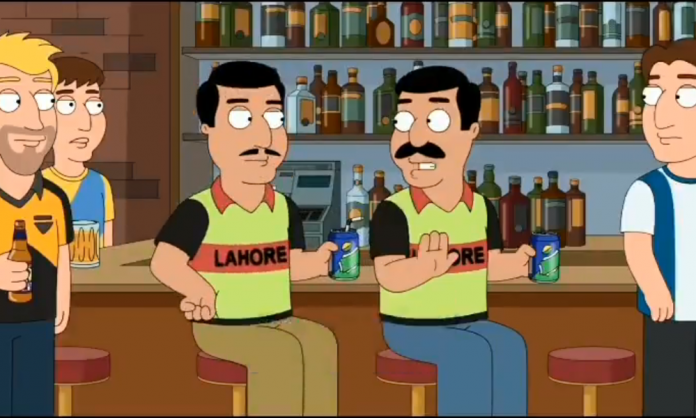 Who doesn't love it when their country's achievement is recognized worldwide? We sense a rush of pride, and we respect those who have helped our country's name reach around the globe.
Pakistan and Pakistanis have been recognized worldwide from time to time, whether for making Kashmir's side at the United Nations, our fight against Coronavirus, or even breaking India's Guinness World Records.
This time around, its Pakistan's very own cricket league, Pakistan Super League (PSL), which has been in a way recognized on American television. The famous American animated comedy show 'Family Guy' is now running its 19th season on the air and kick-started with its first episode called 'Stewie's First Word.'
The new Family Guy season has kicked off with a PSL joke featuring 2 of the franchises, Karachi Kings and Lahore Qalandars. In the clip, we see that the main characters, Peter and his friends, are sitting at the Clam (bar).
One of the characters, namely Quagmire, points out his frustration for the influx of foreign sports fans crowding the place every Saturday morning. He then points at two Pakistani men who are wearing Lahore Qalandar shirts to support their team.
We then see that one of the gang members, Joe, is wearing a blue cricket tee that reads Karachi. He then says, "I am rooting for Karachi, but I don't have a death wish about it."
The witty joke got caught-on by Pakistanis and PSL fans all around the world in no time and soon took over social media. However, some fans are unhappy with the clip as the accent of the Lahori men sounds more 'Indian' than Pakistani.
Since when do Lahoris sound like that? Ignorant much. https://t.co/duJYPBy24U

— Nandz (@NandanaKamal) September 28, 2020
i mean the Lahori accent is ☠️ but thinking its same as South Indians ✖️ https://t.co/4pJEOa5UHS

— mustafa (@shitpostafa) September 28, 2020
Indian accent suggests as if joke was meant to be about IPL teams. Perhaps a last minute change. https://t.co/L1tyHdGzoX

— Abdul (@abdullmuqeett) September 28, 2020
But, then many were just happy regardless of what the accent was that their home cricket series was mentioned in the show, and that was good enough for them.
PSL making it's presence felt in an unexpected way https://t.co/Acw7kWsryM

— hellzking_316 (@hellzking_316) September 28, 2020
So cool https://t.co/N9sFgxOcct

— Omar (@omarion_15) September 28, 2020
Awesome !! @thePSLt20 has become much more famous 🙂 https://t.co/fvdQGaBdoF

— Talal Ahmad (@TalalSalimi) September 28, 2020
What do you think of Family Guy's clip? Please share your thoughts with us and let us know.
Till then, don't forget to stay tuned to Brandsynario for all the latest news and all the latest updates!