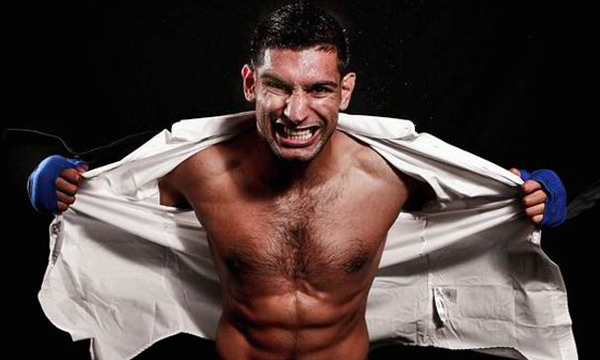 The British-Pakistani boxer Amir Khan is quite in the limelight these days, courtesy his much-hyped appearance on the reality show 'I'm A Celebrity'.
Over the past few months, his controversial clash with his wife Faryal Makhdoom drove everybody crazy. Apparently, the duo loves to wash their dirty linen in public and make their private lives a case of 'Keeping Up with the Khan-dashians".
So yet again, Amir has landed himself in a scandal and is being thrashed by haters for some pretty chauvinist statements.
But it seems like readers on the web have become a victim of BIG confusion as the statements have NOT been said by Amir Khan.
While we can expect Amir Khan to release such a bizarre statement, this time its really not his fault!
Apparently, BBC tweeted Asian Network tweeted a recording of various callers reacting to Amir Khan claiming that he doesn't cook at home. Some really negative remarks about 'women belonging to the kitchen' were exchanged by the callers.
But now everybody is believing that Khan uttered all those sexist comments!
Amir Khan admitted in the I'm a Celebrity jungle that he never really cooks at home because he has his sisters, wife and mum to do it. Our callers share their reactions to this pic.twitter.com/WK2cXiKB5B

— BBC Asian Network (@bbcasiannetwork) December 1, 2017
Here's how the conversation went between the anonymous callers!
Caller 2: I would never cook. In my culture, women, that's their job to do the cooking. They're best at cooking. It's a man's job to actually do other jobs like the hard work, the hard labor jobs around the house."
Caller 1: Doing housework is harder. I would not get as tired of my job as I do when I work at home. Until you don't do it for yourself, you won't realize how hard that is."
Caller 2: I've got a dishwasher, washing machine, I've never actually known how to use these things. I would never touch those machineries, ever. You would turn into a woman. I'm a man. If I started dishwashing —"
Caller 3: If you use the machine, you would turn into a woman?
Caller 2:  Yeah.
Some people were smart enough to point it all out!
That fake article about Amir Khan is getting everyone rattled (me too at one point) he should sue them.

— Abdullah Afzal (@Abdullah_Azfal) December 4, 2017
Whatever the media is claiming is totally wrong!
People have been sharing this article about Amir Khan allegedly making a sexist comment. What they don't realize is that it was a caller on the BBC Radio show.

— ST (@shobz) December 4, 2017
Even the 'Goras' are standing up for Amir!


Others are bashing BBC for creating all the furor with the audio clip.

Well, we know social media has enough reasons to take a dig at Amir Khan! However, this time this Amir's negative publicity is simultaneously pointing fingers to the mindset of desi men, especially those from Pakistan. And that's really not COOL!
Stay tuned to Brandsynario for more updates.