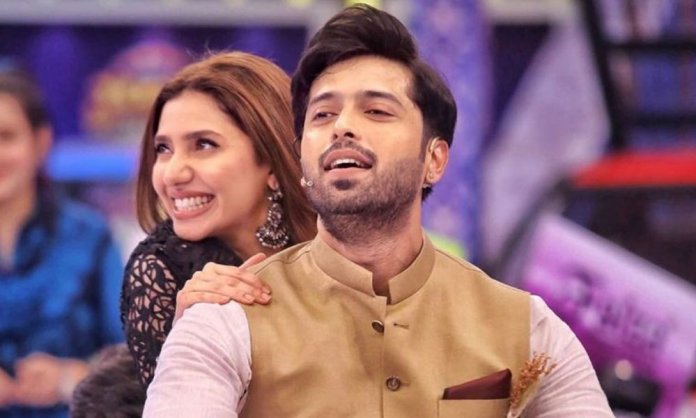 After some long anticipation, Mahira Khan has been confirmed as the lead in Nabeel Qureshi and Fizza Ali Meerza's Quaid-e-Azam Zindabad opposite Fahad Mustafa.
Further confirming the update, Mahira responded to a tweet by Nabeel Qureshi. 
Fahad Mustafa will be playing the role of a cop in the movie set to be released in 2020 however, Mahira's role is still not revealed. 
Now, it's definitely going to be a treat to watch the two stars in a project together. 
Jeeeee haaaaan! 🥰 #quaideazamzindabad
waisey.. Fahad never replied to my question in the video 🧐 @fahadmustafa26 https://t.co/sSTt697TZg

— Mahira Khan (@TheMahiraKhan) October 22, 2019
We got in touch with Nabeela and Fizza to get the inside details about this exciting new project.
Here's what Fizza had to say:
Q. What made you cast the two and what expectations do you have?
Ans: We are very lucky to be able to forge this collaboration. Mahira Khan is an incredibly talented and versatile actress. She has a tremendous body of work ranging from critically acclaimed films to comedies.
She is the best in the business and can transition from and between drama and comedy. Given that Quaid-e-Azam Zindabaad requires a significant level of tenacity, we felt that Mahira would be the best to convey the feel and style we are looking for.
We are stoked to have Fahad Mustafa on board for this film. We have had a working-in-tandem relationship with him for a while now; specifically in all of our previous films and now our fifth collaboration on Quaid-E-Azam Zindabad.
We continue to work with Fahad because of his ability to do comedy, action, drama, and romance. He gets the tone that we are going for and we feel that he plays into it tremendously.
Q. Can you tell us a little about the film and their roles? 
Ans: After being exposed to the reality of life early on in his childhood, Fahad's character's moral compass breaks. He spirals down the path of being a shrewd and corrupt police officer who does whatever it takes regardless of the outcome.
On the other hand, Mahira's role is the complete opposite. She is a law-abiding citizen with not a single mean bone in her body. She's the type of person who goes out of her way to help others.
The two couldn't be more different in their ways of life, one is selfless while the other is selfish. Along the way the two meet and get together, making them a very peculiar couple.
Social Media Reaction to Quaid-e-Azam Zindabad
Two of my favourite Pakistani stars are coming together for a new movie – @TheMahiraKhan & @fahadmustafa26! That too, with one of my favourite producer-director duos – @nabeelqureshi & @fizza999! It's called Quaid-e-Azam Zindabad and will release in 2020. pic.twitter.com/BLRsGUWrkj

— Haroon Rashid (@iHaroonRashid) October 22, 2019
It's finally happening! I've been pushing these 2 to do a film together for a while!
If I don't get idea credit for this @nabeelqureshi tau phir puchun gi!

Mubarak @fahadmustafa26 & @TheMahiraKhan 2 of my closest friends in the industry. Love you both ♥️♥️♥️ https://t.co/RATAkcPslK

— Fifi Haroon (@fifiharoon) October 22, 2019
These two are coming together finallyyy 😍❤#QuaideAzamZindabad #Mahirakhan #FahadMustafa pic.twitter.com/n3tldSEpl8

— Durray. (@shafaq_durray) October 22, 2019
I always wanted you to work with Fahad. Hopefully you have a solid role in it. All the best to you and the team @TheMahiraKhan 😘 Love You! #QuaideazamZindabad https://t.co/26vu6ePyUK

— Faria (@FariaSays) October 22, 2019
Quaid-e-Azam Zindabad is set to be an entertainer, packed with action, drama, and comedy.
The film is scheduled to release on Eid-ul-Azha 2020.
Are you just as excited to watch it as us? Let us know in the comments!
Stay tuned to Brandsynario for more news and updates.