If you are an internet enthusiast and love to stream TV shows and movies, play online games or just enjoy surfing the internet, then having smooth internet connection must be your priority. Fiber internet using the optic fiber broadband service is exactly what you need!
Having the internet as an integral part of our lives, we fully understand that selecting the perfect connection can be an uphill and critical task and we are here to the choice easy for you. With the current demand for the internet, we have a number of players in the market offering Fiber optic connections.
Recently, we have seen PTCL with a fresh look and branding with its FTTH offering under the name 'PTCL Flash Fiber'. Not only this, but we can also view various packages that are customized according to the needs of different users.  PTCL, is by far the most accessible and most used network in the country and has a strong fiber backbone that is connecting the entire nation being the national carrier. The company's cutting-edge technology of Flash Fiber is the fastest internet in town and is able to serve the customers with blazing speeds up to 100 Mbps. The company is certainly is striving to supersede the expectations of people and ensure that it is a reliable connection for its customers.
Offering not just the fastest speed, but seamless connectivity, Flash Fiber is bringing a quality experience for its users. You can now check availability in your area and upgrade to PTCL Flash Fiber packages through www.ptclflashfiber.com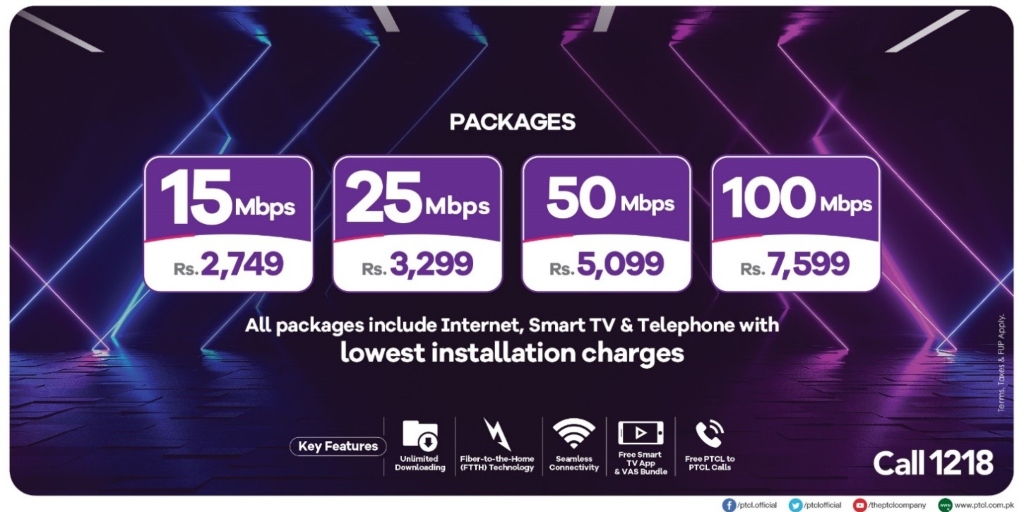 Summing up the key features:
Triple play service without any additional charge
Unlimited downloading to facilitate your home and office needs
Free Smart TV service with 130+ Live channels pause & forward feature and Video on Demand
Free PTCL to PTCL calls that connects you to over 2 million telephone users around the country
What else does one need from an internet connection other than free services and reliable connectivity? PTCL Flash Fiber is catering to households and businesses alike as fiber broadband connectivity can meet high internet demands for both individuals and communities while maintaining service quality.