The famous Pakistani Youtuber living in Canada Shahveer Jafry recently had his engagement ceremony. After seeing fans grabbing at rumors, he confirmed the news himself by posting his picture from the event. But then a war ensued between the photographers of the event and the Youtube himself.
Shahveer's take was that the photographer shared the images on their account without his consent.
The Instagram status read:
"I usually don't take up complaints to social media, but this has affected me personally," wrote Jafry. "I'm highly disappointed by the photographers working on my engagement. Since the engagement was a publicized event, they took advantage of that and posted whatever pictures and videos they pleased on their social media handles without our consent. This was supposed to be a personal and private event, but they just went public with it.
"Some of these photographers are vultures, and people deserve to know them."
He tagged the event photographers at the end of the story: @Muazcaughtthis and @Coffee_cloud_photography.
The photographers were not far behind, though. @Muazcaughtthis shared a screenshot of Shahveer's complaint that he deleted. And added his own comment that Shahveer has no copyright claim whatsoever over the pictures.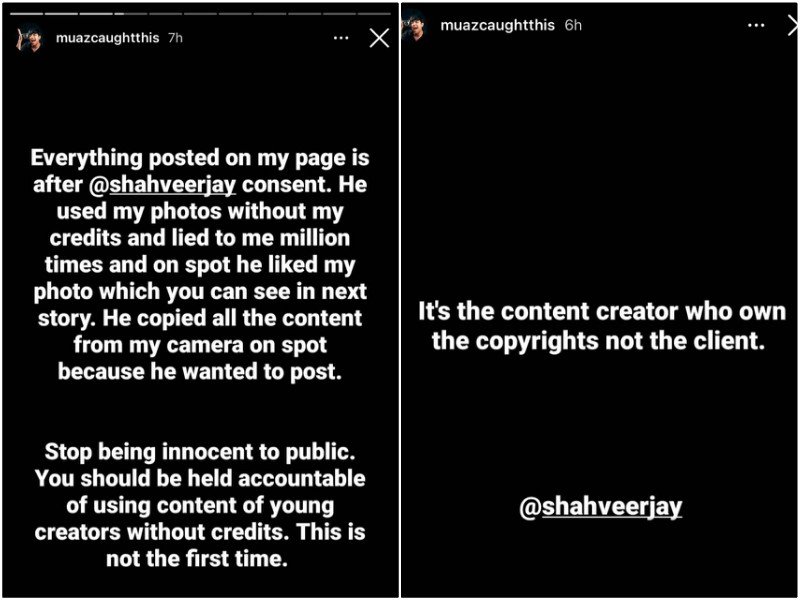 The photographer goes on saying that Shahveer copied all the content on the spot after the event because he said he wanted to post them himself. And he did but without crediting the photographers. Muazcaughtthis asked the public to hold the content creator accountable for not giving him credits.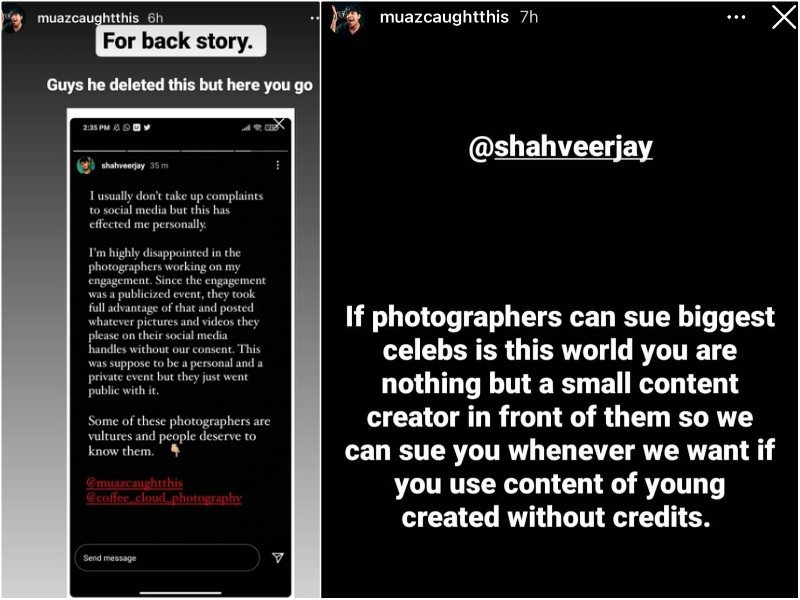 The other tagged photographer's page @Coffee_cloud_photography addressed the same issue, and they also shared a screenshot of a message thread by Shahveer Jafry's fiancee. The fiancee permitted the message saying that since the pictures had already circulated everywhere, the photographers could post the picture wherever they liked. She later deleted the message.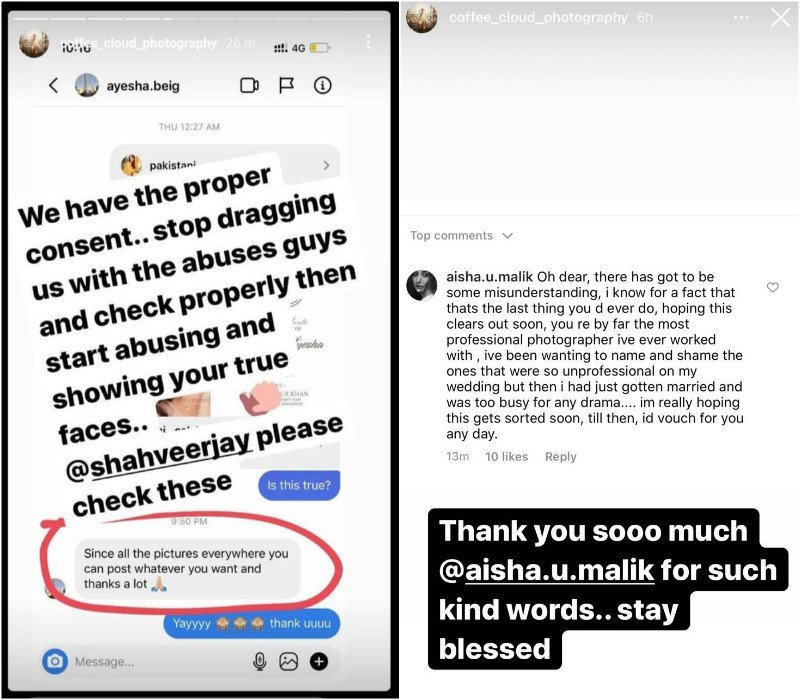 The photographers also brought in celebrities in their feud. The page tagged the actress Ayesha Khan asking her to vouch for them. She commented: "Oh dear, there has got to be some misunderstanding. I know for a fact that that's the last thing you'd ever do. Hoping this clears out soon, you are by far the most professional photographer I've ever worked with. I've wanted to name and shame the ones who were so unprofessional at my wedding. But I'd just gotten married and was too busy for any drama. I really hope this gets sorted out; till then, I'd vouch for you any day."
This has been quite an entertaining war, although not as fun as Ducky Bhai and Sham Idrees debacle, we will give points for trying.
---
---
Shahveer Jafry has sent the internet and especially his fans into a frenzy as he announced his engagement. If you've been waiting to get an eagle eye's view into the event, try your luck here!
Exclusive Pictures
Shahveer Jafry, the YouTube sensation, shared pictures with his fiance on Instagram. Though many couples turn old waiting for their professional digital photos, it seems these two got theirs in a day! Check out the amazing images here:
View this post on Instagram
View this post on Instagram
About The Bride
Jafry's fiance, Ayesha Baig, is a designer by profession. She has an Instagram page of hers on which her designs are available names, Ayesha Baig Couture. Naturally, her dress would be an awe-inspiring and unique one, and it was. 
Ayesha looked nothing less than a charming diva on her day. If you want to get to know more about her preparations for the engagement day, feast your eyes:
View this post on Instagram
The Ring!
At any engagement, the first and foremost question anybody asks or the first thing they want to see is The Ring! The YouTuber did not compromise on a beautiful ring for his fiance, and we must say, it is a gorgeous one. 
A wedding ring is perhaps the most sentimental piece of jewelry one can possess; it only makes sense if it's beautiful. See Ayesha's engagement ring here: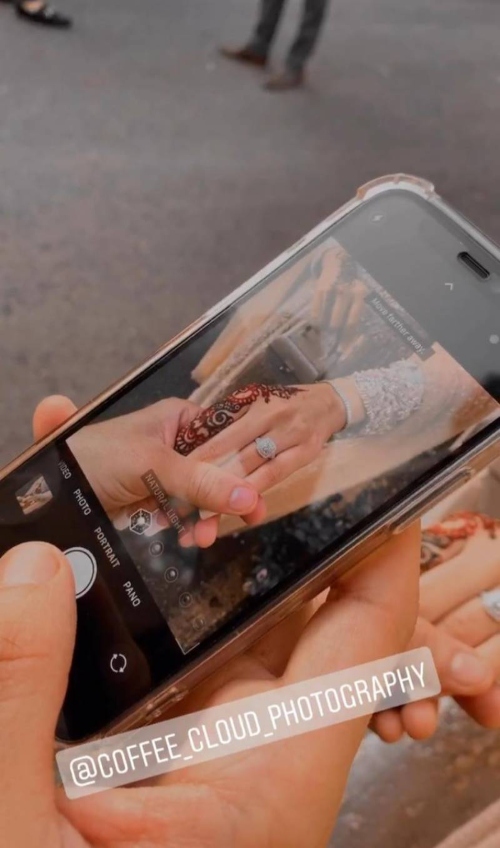 Couple Coordination
It seems that the couple had coordinated beforehand to match their outfits. While Ayesha Baig donned an outfit in the beiges and a dupatta in pink to contrast the outfit, Jafry tried to follow suit. Jafry should be commended for making the bold decision to go for a pink suit. 
View this post on Instagram
 However, not all bold decisions reap bold results positively! The suit is perhaps not suitable for an engagement or maybe not his color.
Shahveer Jafry
Shahveer Jafry is a Youtube sensation who rose to fame only with his content on the site. He's friends with all the big guns on Youtube top, be it Zaid Ali or Rahim Pardesi, who can be understood to be pioneers of YouTube vlogging. 
He has amassed millions of followers on Youtube, and it seems they will only rise now. The popularity he will gain from the publicizing of his marriage will only attract more people. Plus, it seems that most YouTubers have used their wives to further their reach— anyone saw Yumna and Zaid's videos yet?
Stay tuned to Brandsynario for the latest news and updates.