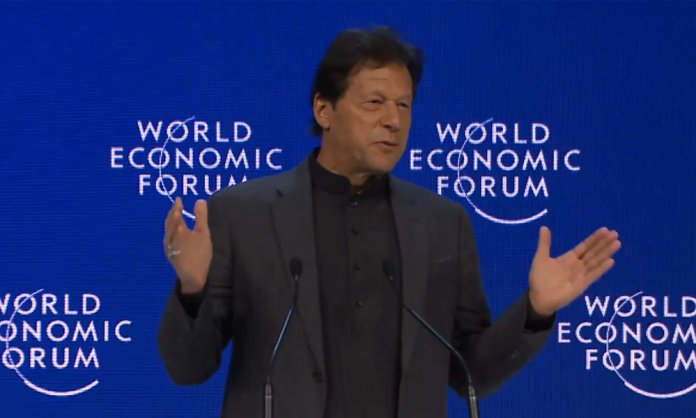 Prime Minister of Pakistan, Imran Khan pitched Pakistan as a viable investment destination for foreign firms at the World Economic Forum 2020.
Khan emphasized the fact that stability in the region is the utmost concern for his government as it as one of the key elements that strengthen any county's economy.
Khan stated, "Pakistan in the '80s became part of what was the Afghan Jihaad. Pakistan became allied with the US to fight for freedom in Afghanistan from the soviets. We had militant groups in Pakistan trained to do guerilla activities in Afghanistan. Once that ended, once the Soviets left. We were left with the militant groups and Pakistan suffered the consequences."
The consequences of the militant groups left behind in Pakistan greatly affected the economic growth of the country.
Khan also stated, "We inherited the worst economic crisis in our country. The biggest current account deficit, the biggest fiscal deficit. Reserves that would have lasted a month."
He appreciates the efforts of his team who helped him take tough economic decisions for which he also received massive backlash. He further added that due to the efforts undertaken by the Pakistan Tehreek-e-Insaf government, foreign investment "rose by 200pc in just one year".
Khan mentioned that our economy has now stabilized, the stock market has gone up and things are looking better for us. As per the prime minister, we are heading in the right direction.
Pakistan's population is its biggest advantage as 60% of the population is under the age of 30. The young population can be provided with skills and trained to start their own business to uplift the industries in the country.
World Economic Forum has partnered with Pakistan to help equip the young generation of the country to eventually boost the economy in the long run.
Khan also mentioned that it is unfortunate for Pakistan as it's mineral reserves (Gold and Copper) are untouched.
During the dialogue, he also spoke about the fertile agricultural land but unfortunately with very low productivity. He pointed out that China has been a great help in this regard as CPEC affects the agricultural lands of the country.
He further said his party is looking towards digitization. He added,  "We have young experts working on a digital Pakistan. We have invited foreign companies to invest."
Pakistan's strategic location is one of the best in the world with China, and India as its neighboring countries. The biggest challenge right now is to stabilize the relationship between India and Pakistan to enhance trade in the region.
"The first year was spent stabilizing the economy. This year is the year of growth. We are doing everything possible to attract investment, make it easy for our local industries to invest by giving them incentives. It is for the first time since the 1960s that the government is consciously planning to help its industries grow."
For more news and updates, stay tuned to Brandsynario.