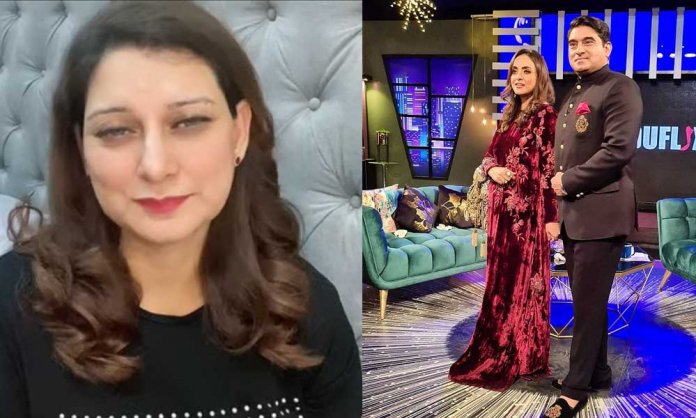 [Update]: In recent events, we saw a controversy emerge. It was about the husband of Nadia Khan, the renowned Pakistani celebrity. It turns out that while this was Nadia's second marriage, it was Faisal Rao's third rodeo. Faisal's second ex-wife, Lubna Farooq took to her Youtube channel exposing Faisal's 'shady' way of divorcing her.
Nadia Khan responds 
But Nadia Khan gave her own statement that this was Lubna slandering an innocent man. The post has now been deleted. But Lubna decided to answer what Nadia had said and what queries others have for her. She talked about the allegation of using the woman card as well as the statement that Lubna should 'leave Faisal alone, it's not like he committed murder.'
To this, she answers that she understands the divorces happen, her problem is how she was divorced. The way it was planned, she termed it a crime. Because according to her, Faisal planned it in a way that even though she was being wronged she facilitated Faisal and was left alone during the lockdown when people were already suffering due to pay cuts and unemployment. But she never brought that part up so she was not using any woman card.
She also said that it's Nadia who should thank Lubna because now that his ex-wives have taken this to the internet, what happened to them will not repeat with Nadia.
---
---
[Feb 12, 2021]: Nadia Khan is the epitome of women's empowerment. She is all that we hope for when we imagine strong women, certainly not what our Pakistan dramas portray. And why is that? Because even though Nadia has been through quite some trouble in her first marriage, it did not stop her from living her life her way. And now, when you see Nadia Khan's husband and Nadia herself happy, you just feel nice.
The husband of Nadia Khan, Faisal Rao
Moreover, the two of them together just look so adorable and very much in love. Upon seeing similar reactions, Nadia even decided to interview her own Youtube channel and brought her second husband, Faisal Rao, to light.
In that video, they discussed how they fell in love and how they were made to interact by mutual friends. And within four months of knowing each other, they fell in love and got married.
His Second Wife
But you will always find negativity surfacing whenever something gains momentum. And you will never know until proven what is right and what is wrong. Something similar has reached our ears concerning Nadia Khan's husband.
Lubna Farooq has come forward saying that she was Faisal Rao's second wife while Nadia is the third. She mentions that Faisal, it seems, has a habit of quickly falling in love as he did with her. She says that even when he was with her, it was similar to what Nadia was experiencing. They quickly fell in love and got married. Soon after, he divorced her, saying that whatever he was doing was because of his first wife's black magic.
Although this has happened and Lubna Farooq made her own channel and already gained more than a thousand subscribers, what is hard to grab is the point of it. He married her, and then he divorced her. He fell in love with someone else, and he married her now. If you are trying to say that he is a serial monogamist, then maybe Nadia Khan's husband should come forward and address this. Or another story could be how Faisal is just terrible at coming up with excuses for breakups.
Stay tuned to Brandsynario for the latest news and updates!