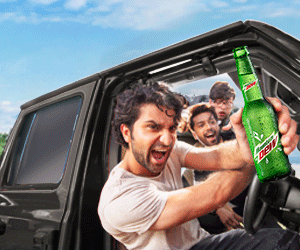 'I've found my No. 1 in Pakistan' – A single tweet by the beloved Halime Sultan from the famed Turkish drama Dirilis: Ertugrul was enough to break the internet in Pakistan.
While some believed the much-loved Turkish actress, Esra Bilgic found her first love in Pakistan, others were speculating on what she was up to next, after gaining massive popularity thanks to Ertugrul being dubbed in Urdu to be aired on local television.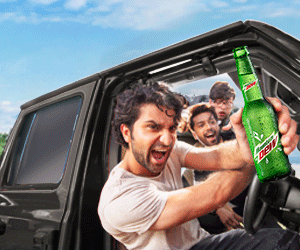 And lo and behold; her No. 1 in Pakistan turned out to be none other than Jazz Super 4G.
As many had guessed, Esra Bilgic's mysterious tweet was a teaser leading to her partnership with Pakistan's leading digital services company, Jazz. A social media post shared a few days later by Esra's official Instagram handle, featuring the actress donned in Jazz's signature bright red, confirmed the rest.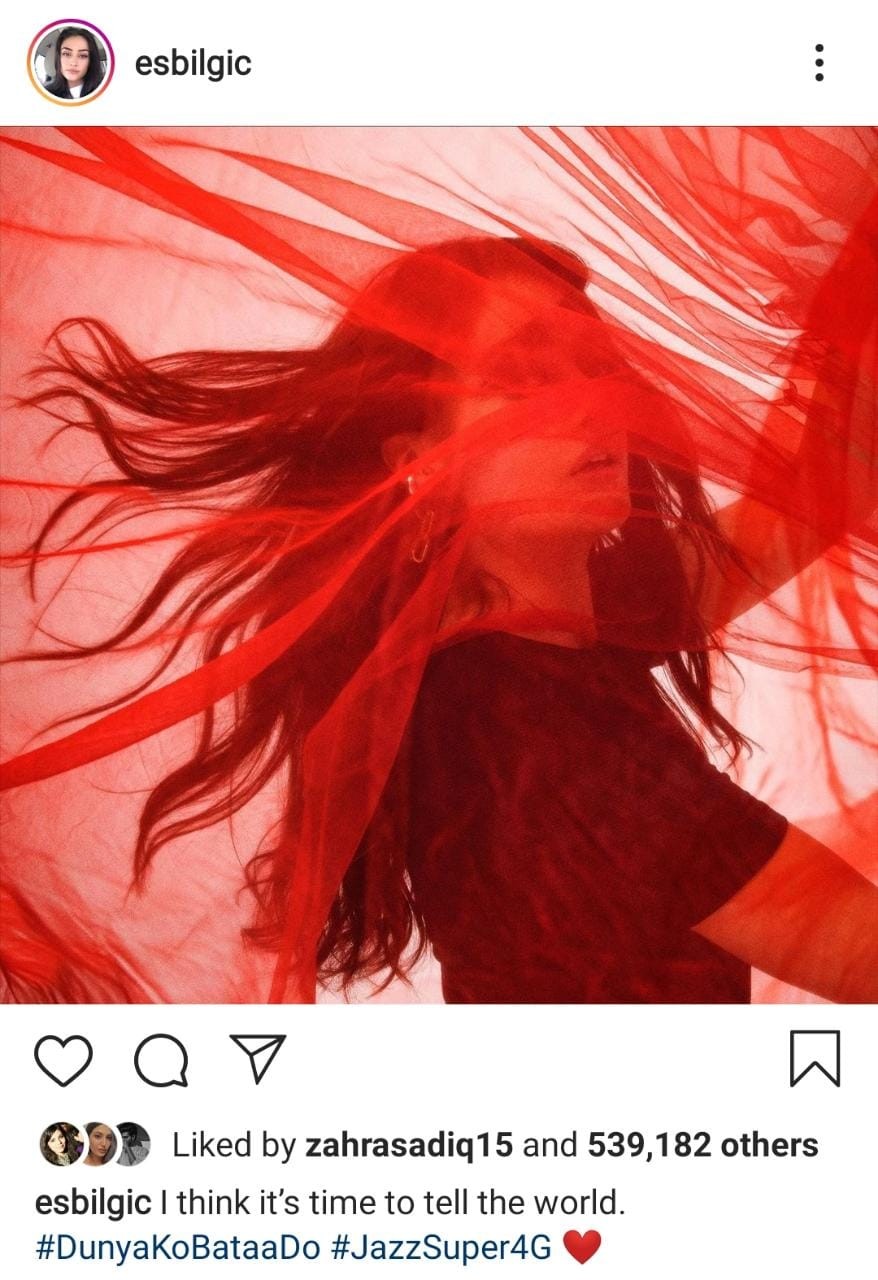 Undoubtedly, the strategic pairing of Jazz's tagline #DunyaKoBataaDo with the post's caption 'I think it's time to tell the world' was quite impressive.
As was expected, social media blew up with multiple responses from people in Pakistan, who seemed to be surprised and mostly happy about the Turkish actress partnering up with one of the biggest brands in Pakistan.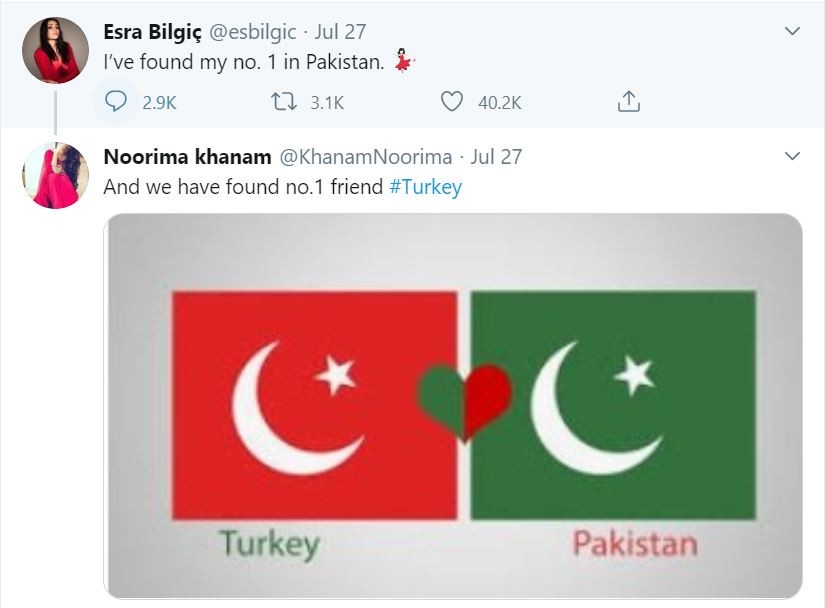 Even more impressive was the instantaneous outrage a few local celebrities showcased at brands hiring international talent for their ad campaigns instead of them. While Yasir Hussain, in his typical angst, was the first to lash out virtually, Zhalay Sarhadi, a famous model and actress, closely followed suit.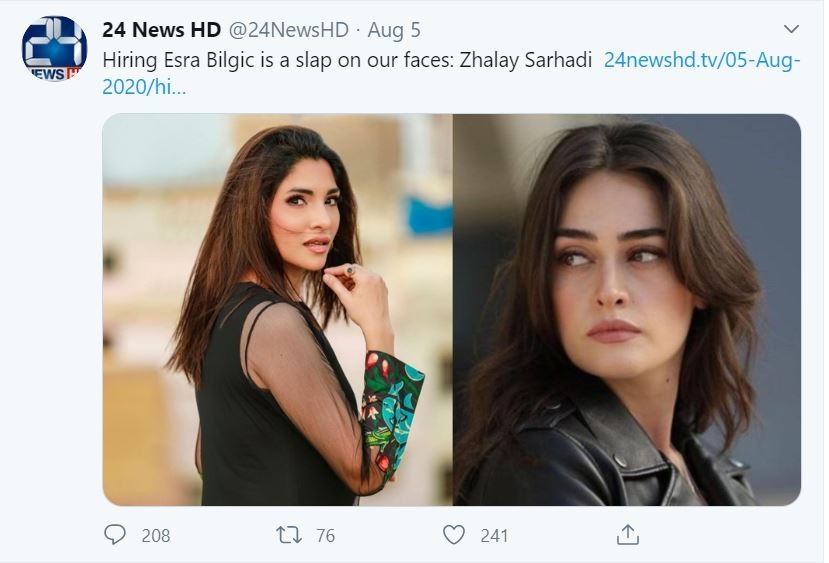 However, as in many cases in the past, we have seen the masses support an influx of foreign celebrities in Pakistani media to highlight the inclusivity we as a nation try to portray, and it was with a sense of pride we noticed similar sentiments this time around as well. The controversial statements given out by the local celebrities caused an uproar on digital media, and many came out to support the Turkish actress and brands. They have collaborated with her to bring Pakistan in a better, more inclusive light.
It didn't come as a surprise when Zhalay Sarhadi took to Twitter once again to backtrack on her statement and express some newfound solidarity with the Turkish community.

There is no doubt that Esra Bilgic working for the Jazz ad campaign has caused quite a stir among the local masses, and thankfully the collective response has been appreciative. The ad itself is an impressive show of graphics, content, and quality production that stimulates all the senses and gives out a general vibe of thrill and inspiration. If you're a fan of VR games, you wouldn't be disappointed.
More importantly, the TVC communicates a highly motivational message of striving to achieve 'greatness' instead of just settling for what's 'good,' just the way Jazz does with its leading position within the local telecom industry. It's a communication concept that's rarely been seen before and works well with the overall brand identity.
Esra's mysterious 'I've found my No. 1 in Pakistan' makes perfect sense now, doesn't it?
Check out the TVC here!
Other than working with Jazz, the actress has also bagged several other projects in Pakistan. She is currently the Brand Ambassador for Q Mobile and will be present at the Pakistan Super League (PSL) as a representative of the Peshawar Zalmi. Furthermore, HELLO! Pakistan did an exclusive interview and cover shoot with Esra Bilgic recently as well.
Esra Bilgic is on the road to becoming a massive name in Pakistan, and her large number of fans here can't seem to wait for her to visit Pakistan soon finally.